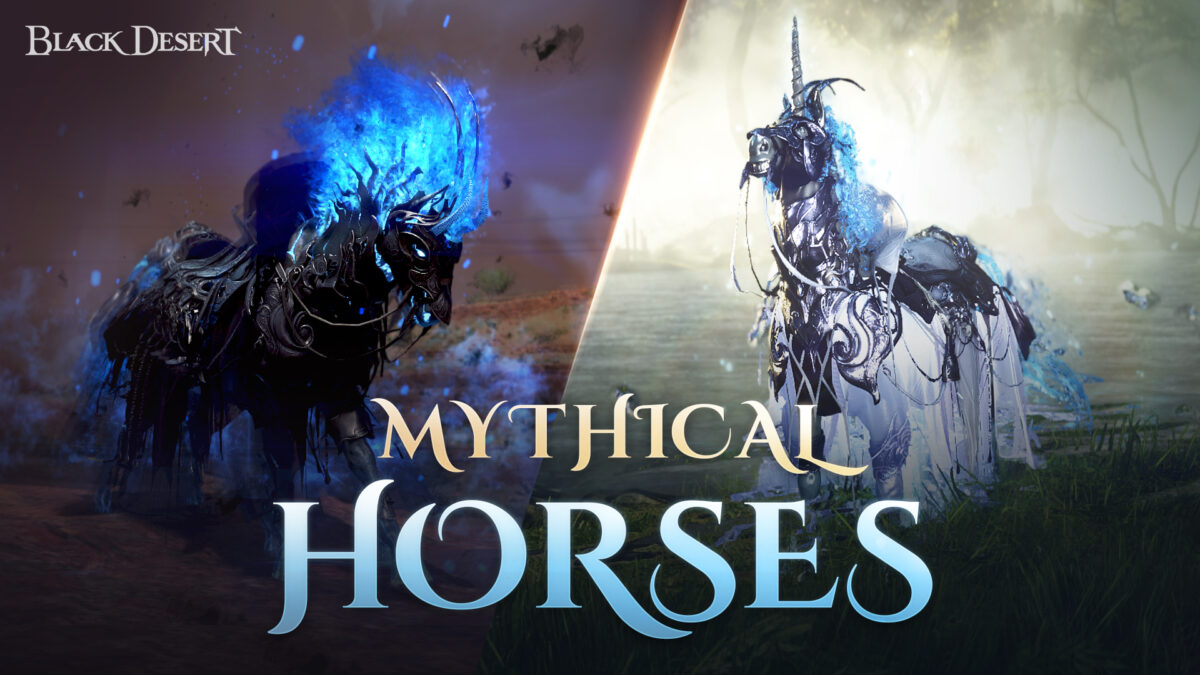 Embark on a New Seasonal Adventure: Earn Exclusive Gear and Accelerated Progression with the Latest Season Server Upgrade
Manhattan Beach, CA — October 4, 2023 — Korean developer and publisher Pearl Abyss launched major updates today for Black Desert Console, including the arrival of three highly coveted Mythical Horses, new character Maegu Awakening, and a revamped season server that provides much-desired custom player choices.
Watch the Mythical Horses trailer here
Watch Maegu Awakening's combat trailer here
Download key art and other assets here
Ride in Style with Three New Mythical Horses
Introducing three Mythical Horses, the top-tier horse mounts in the game. Players can acquire these mounts with superior skills by possessing both a male and female Dream Horse of the same breed, both of which must be at least level 30. Once this criterion is fulfilled, players can transport them to either Stonetail Ranch or Grana Stable. The "Mythical Censer" item is required for each Mythical Horse Awakening attempt.
Mythical Diné: Speed across the Great Desert, gallop on top of bodies of water, or float safely down to the ground from great heights.
Mythical Doom: A unique mount designed for combat, Doom's mighty hooves deal area-of-effect damage. Doom can also clone itself, allowing up to five allies to ride along temporarily.
Mythical Arduanatt: An ideal mount for rocky terrain, use Arduanatt to jump and glide through the sky, piercing through winds. Arduanatt enables players to travel quickly across rough landscapes like towering mountains and rolling hills.
Saddle Up With New Horse Gear
Introducing new horse gear designed exclusively for the Dream and Mythical horses. This new horse gear is available for acquisition in the Pearl Shop. Players can now garnish their horses with either the resplendent Sky Knight Gear or the fiery Flame Knight Horse Gear.
Unlock A Rare Treasure Item: After collecting all three Mythical Horses, players can begin a quest to earn the Krogdalo's Sanctuary, a treasure item enabling players to store and retrieve from any of the three Mythical Horses at any location.
Become Maegu Awakening, Do Wielder of Enlightened Flames
Maegu Awakening is available now on Black Desert Console, enabling players to wield a deadly fan and pierce through enemies with fiery melee attacks. Players who successfully complete the Maegu Awakening quest can participate in the Black Spirit event and receive two boxes of Relics, each offering an opportunity to earn valuable items.
Enjoy a Revamped Season Server
Season end dates have been removed and players can choose when to start leveling and graduating their character. Earn season-exclusive gear, enjoy accelerated progression, and discover unique content and rewards through Season Pass challenges, quests, and more. New and veteran players can participate in the revamped season servers.
---
ABOUT BLACK DESERT IP
The Black Desert IP is Pearl Abyss' open-world action MMORPG franchise with cutting-edge visuals and skill-based combat that redefines the genre. With the most developed character customization system of any game currently on the market, users can break out of the norm and make unique characters that truly represent themselves. Its intuitive controls, beautifully designed world, and extensive lore will excite both newcomers and veterans of MMO games and action RPGs. Pearl Abyss is currently servicing the Black Desert IP, which has gained 50 million players across the world on PC, mobile, and console. 
ABOUT PEARL ABYSS
Established in 2010, Pearl Abyss is a leading developer in the game industry with its renowned MMORPG franchise Black Desert, which is available on PC, mobile, and console. All of Pearl Abyss' games are built on the company's proprietary engine and are renowned for cutting-edge graphics. Pearl Abyss is currently developing Crimson Desert, DokeV, and PLAN 8 using its next-generation game engine and is poised to grow its overseas market. More information about Pearl Abyss is available at: www.pearlabyss.com.
###
MEDIA CONTACTS
TriplePoint on behalf of Pearl Abyss
pearlabyss@triplepointpr.com
Douglass Perry
Head of Public Relations, Pearl Abyss America
douglass.perry@pearlabyss.com