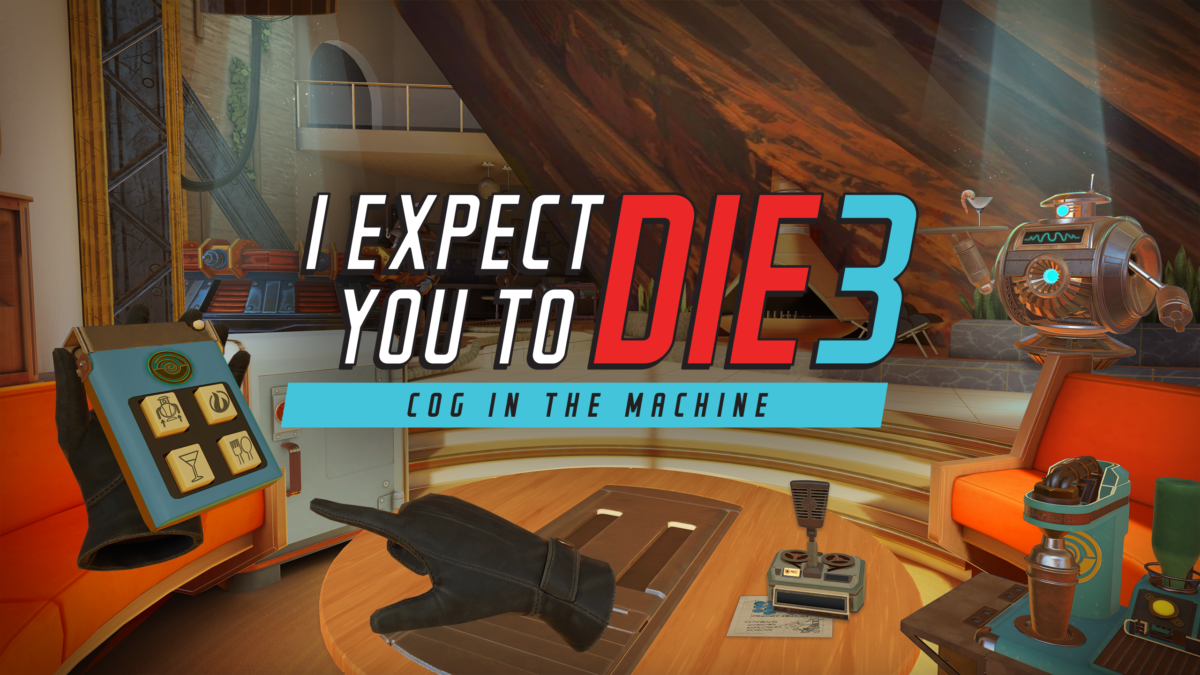 Download this popular spy-fi VR puzzler now on Steam for $24.99 USD
PITTSBURGH, PA – September 28, 2023 – Schell Games today launched I Expect You To Die 3: Cog In The Machine, the latest title in the award-winning spy-themed VR puzzle series, for SteamVR. Agents can purchase the game now for $24.99 USD on Steam.
Get a glimpse at the fun, surprising hijinks unleashed by the game's robots in the Robot Antics trailer here: https://youtu.be/0pxQ8R-WYbs
The most intricate installment of the series, I Expect You To Die 3: Cog in the Machine transports players to a revamped world of high-stakes espionage where they follow a gripping main storyline full of twists and turns. Players traverse six action-packed locales using telekinesis with spy-tastic gadgets to solve unique puzzles and foil the plans of the evil megacorporation Zoraxis. Throughout their journey to save the world, players will meet the cunning Dr. Roxana Prism, the newest villain in the series, along with her cheeky sidekick Robutler, and experience even more hilariously unexpected ways to die.
I Expect You To Die 3: Cog in the Machine offers a comfortable, seated VR experience from start to finish, requiring minimal movement and preventing motion sickness. Select levels in the threequel offer an added movement option for players looking to get up close and personal with their surroundings. With accessibility in mind, more people can enjoy the I Expect You To Die experience now without sacrificing gameplay.
In this game, players will
Master the Art of Espionage: Fans, old and new, will embark on six heart-pounding missions transporting them into the secretive world of elite spies. As each level unfolds, a cascade of challenges emerges, guiding players closer to the puzzle's solution. Wield complex gadgets and use the power of telekinesis to conquer unforeseen obstacles.
Unravel the Web of Deception: Players should prepare to be immersed in a gripping narrative that unravels the mystery of a missing inventor. They will delve into the depths of deception as they take on the role of a secret agent, using their skill and cunning to solve deadly puzzles and save the world from the clutches of evil.
Go Undercover in Style: For the first time in the franchise, players can choose from an array of Agency-approved super-spy attire before jumping into the action. Equipped with hats, watches, and gloves, VR spies can personalize their experience before every new level..
Discover an Immersive Experience: Players will step into a comfortably seated VR adventure that promises a wild ride from start to finish. The game's design minimizes movement, ensuring a smooth and enjoyable gameplay experience free from motion sickness. For those seeking an extra level of immersion, select levels in the threequel offer an added movement option, allowing players to get up close and personal with their surroundings and truly feel like a secret agent on a mission.
For more information about I Expect You To Die 3: Cog in the Machine, sign up for the email newsletter on the game's website, join the community Discord, or view the press kit.
---
About Schell Games
Schell Games is the largest full-service entertainment and educational game development company in the United States. Founded in 2002 by award-winning game designer and author Jesse Schell, the company's talented array of artists, engineers, producers, and game designers create original games for PC, VR/AR, and mobile, including Among Us VR, a brand new VR experience inspired by the award-winning original game; I Expect You To Die, an award-winning VR puzzle game franchise; Until You Fall, a VR sword fighting game; Happy Atoms, a digital and physical interactive molecular chemistry learning set; Lost Recipes, a VR historical cooking simulator; and HoloLAB Champions, a VR chemistry lab practice game. In addition to creating original games, the company counts some of the world's most respected brands as clients, including The Walt Disney Company, Google, Meta, Microsoft, LEGO, Yale University, Universal Studios, Fred Rogers Productions, holoride, The Smithsonian Institute, and the US Department of Education. For more information on Schell Games, visit https://www.schellgames.com.
Media Contact
TriplePoint
schell@triplepointpr.com
+1 415-955-8500