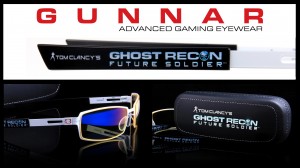 Gear Up for the Hotly Anticipated Title With GUNNAR Optiks' Gaming Eyewear and Save
SAN DIEGO – May, 17 2012 – GUNNAR Optiks, the world's leading manufacturer of computer and gaming eyewear, together with Ubisoft announce the Tom Clancy's Ghost Recon: Future Soldier and GUNNAR Optiks limited edition bundle, available at Best Buy from May 22 to June 5. For a limited time, instantly save $40 when purchasing Ghost Recon: Future Soldier together with a pair of GUNNAR Optiks MLG Phantom Onyx, Vayper Onyx, or RPG Gunmetal styles from BestBuy.com or Best Buy retail stores. With the help of GUNNAR Optiks, Ghost Recon fans can now display their passion for the series while reducing eye strain and fatigue resulting from marathon gaming sessions.

To further promote the game and their partnership, GUNNAR and Ubisoft have also created limited edition Ghost Recon: Future Soldier branded eyewear accessories. The accessories feature "socket sets," interchangeable temples for select GUNNAR gaming eyewear styles, and a Ghost Recon: Future Soldier branded case.
"The launch of Ghost Recon: Future Soldier is one of the most highly anticipated releases of the year and an alignment with Ubisoft just made perfect sense," explains Jennifer Michelsen, co-founder and Chief Marketing Officer at GUNNAR Optiks. "In the game, Ghosts rely on superior training with the latest technology and weaponry to achieve their objectives. For gamers, GUNNAR is providing the latest technology in visual performance in an effort to reduce eye strain while taking out enemies with precision, accuracy, and focus for hours on end. Combined, gamers can save a little cash with the bundle and experience Ghost Recon: Future Soldier with the highest visual quality possible."
To learn more about GUNNAR Optiks, how to purchase or win the limited edition accessories, and to find a Best Buy location with GUNNAR's eyewear collection, please visit: www.gunnars.com/grfs
Key features of GUNNAR Optiks gaming eyewear:
Tint: GUNNAR's patented amber tint filters out harsh artificial light, reducing eye irritation while enhancing contrast for a more vivid picture quality when gaming in hi-def.
Wrap/Shape: The frames feature highly wrapped, curved lens shape limiting air flow and maintaining moisture near the eyes, while providing a slight magnification effect optimized for viewing digital screens and helping the eye muscles to relax.
Material: GUNNAR's proprietary lens material is optically pure, insuring the clearest image by eliminating distortion, impurities and haze.
Coatings: Reduces distractions caused by glare and reflections to help minimize eye fatigue and strain.
Design: Large lens surface area for wider viewing angles and flat temples that allow for comfortable wearing of headsets.
20/20 or Rx: Out of the box ready for 20/20 vision or used with corrective contact lenses, and also prescription compatible in partnership with Carl Zeiss Vision with optional coverage by VSP Insurance.
Versatile: Don't just use them for gaming, they also help reduce eyestrain during any activity that requires looking at a digital screen for extended periods of time. Work, writing, studying, etc.
Assets
A press kit containing a Fact Sheet, Product FAQs and other assets may be downloaded here.
About GUNNAR Optiks
Founded in 2005, GUNNAR Optiks, LLC designs and engineers Advanced Computer Eyewear and Advanced Gaming Eyewear to protect and enhance vision using revolutionary technology solutions. GUNNAR introduced the Technology Eyewear category in 2008 and pioneered eyewear to combat eye strain associated with long-term viewing of digital screens. At CES 2010, GUNNAR unveiled the first professional-grade, optically correct 3D glasses on the market, utilizing the latest in lens technology. GUNNAR is a privately held company headquartered in Carlsbad, California. For more information, visit www.gunnars.com.
Official Website | Facebook | @GUNNAROptiks
GUNNAR, the GUNNAR logo, and i-AMP are registered trademarks of GUNNAR Optiks, LLC. All other trademarks are the property of their respective companies. Copyright 2010. GUNNAR Optiks, LLC. All rights reserved.
About Ubisoft
Ubisoft is a leading producer, publisher and distributor of interactive entertainment products worldwide and has grown considerably through a strong and diversified line-up of products and partnerships. Ubisoft has offices in 26 countries and has sales in more than 55 countries around the globe. It is committed to delivering high-quality, cutting-edge video game titles to consumers. For the 2010-11 fiscal year Ubisoft generated sales of € 1.039 billion.
Official Website | Facebook | @Ubisoft
---
Media Contact
Quinn Wageman, TriplePoint for GUNNAR Optiks
qwageman@triplepointpr.com
+1 (415) 955-8500