Design team channels BMW, Apple, Tesla, and NASA experience to create advanced coffee machine that delivers unparalleled brew precision and quality
SAN FRANCISCO – September 19, 2012 – Blossom Coffee (www.blossomcoffee.com) today unveiled its first product, Blossom One Limited. Designed to combine the best parts of immersion brewing with the ease of a standard coffeemaker, the revolutionary Blossom One Limited makes the perfect cup of coffee every time by allowing precise control of every aspect of the brewing process. Available for a brief time only, buyers can select custom materials for their handcrafted machines. Additionally, Blossom One Limited customers will receive personal support and no-cost maintenance for one year. All limited units come with an official signed build placard, and will be hand-delivered by the Blossom team.
"The world is ready for truly great-tasting coffee," said Jeremy Kuempel, president and founder, Blossom Coffee. "To achieve this, our Blossom One Limited machine employs a novel brewing process that perfectly controls important brewing variables independently of environmental influences, empowering baristas with the right tools to make truly great-tasting coffee."
Intended for café, hotel, and restaurant clientele, the premium Blossom One Limited machine requires little instruction to operate, enabling brewers of all experience levels to create the absolute best cup of coffee for the most discerning coffee aficionados. To create their revolutionary machine, Blossom Coffee assembled a team with specialized experience and scientific know-how:
Jeremy Kuempel, founder and president, is a mechanical engineer from MIT. He previously worked for Apple, specializing in iPad product design, and Tesla, designing the 17-inch touchscreen in the company's new fleet of Model S vehicles. His research in coffee brewing science led to MIT backing him on his first patent in 2011.
Matt Walliser, chief engineer at Blossom, is a mechanical engineering graduate from Cal Poly San Luis Obispo who joined Blossom from the NASA Ames Research Center in California's Silicon Valley.
Joey Roth, lead designer, is the owner of the Joey Roth Design Studio in Los Angeles. Roth received industry accolades for his "Sorapot" design and won the Red Dot Award in 2005 for his "Totemo" computer concept.
The machine features paper filters and is compatible with standard E61 espresso portafilter baskets, a first for high precision coffee brewing technology and a critical step for proper control of coffee quality. Included WiFi also allows users to connect directly to a roaster's preparation recommendations making it easy to share complex coffee brewing recipes direct from the coffee roaster to the final customer. The small, easily-portable machine grants complete control of the brewing process—including temperature, pressure and volume, and time—allowing the brewer to create drastically different cups of coffee from the same beans. 
Blossom Coffee received seed funding from Lemnos Labs, a hardware incubator in San Francisco. The company's advisors include Jorah Wyer, Clover coffee machine co-inventor and VP of Engineering at Mission Motors, Rich Menendez, former VP of Operations at One Medical Group, and Timothy Skowronski, former iPhone new product operations at Apple Inc.
Blossom Coffee can be experienced now in these Bay Area Locations:
Blossom Coffee provided hands on demos and tastings of its Blossom One Limited machine last Wednesday at TechCrunch Disrupt 2012. The Blossom One Limited is currently available to pre-order for $11,111, and will ship in the spring of 2013.
To learn more about Blossom Coffee and how to obtain one of the first Blossom One Limited machines, please visit http://www.blossomcoffee.com/one/.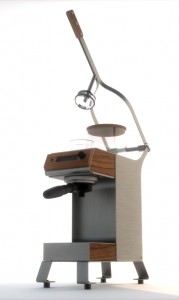 About Blossom Coffee 
Blossom believes that it takes science, engineering, and art to brew a cup of insanely great coffee. The company started by trying to answer this simple question: What really happens when coffee and water are mixed? In pursuit of the answer, the process of coffee brewing was broken down to a combination of fundamental brew parameters that affect the extraction of flavor. Next, a system was designed and patented that could execute precise control over all of those parameters, and decoupled variables that are linked in traditional coffee brewing processes. Simply having great technology isn't enough, as Blossom is now reaching out to the community at large and eliciting input from those who are truly crazy about coffee.
Brew it. Share it. Love it.
Official Website | Facebook | Twitter
---
Media Contact
TriplePoint for Blossom Coffee
Press@blossomcoffee.com, Blossom@triplepointpr.com
(415) 955-8500