Update for Millions-Strong XBLA Battler Improves Multiplayer Stability, Adds New "Special Challenge" Mode, Brings Holiday Cheer
TOKYO – December 18, 2012 – Toylogic today announced the arrival of a major holiday update for Happy Wars on Xbox LIVE® Arcade (XBLA) for the Xbox 360® video game and entertainment system. The new content should bring tidings of joy to a lot of players around the globe, as the studio has also revealed that the free-to-play multiplayer battler has been downloaded more than 1.2 million times worldwide, as shown in the game's leaderboards!

"We put a lot of effort into making a game that would appeal to every type of player, but it is still incredible to see so many join the battle so quickly," said Yoichi Take, Happy Wars Game Director. "I hope all of our players enjoy today's holiday-themed update, and I look forward to welcoming even more warriors, mages, and clerics to Happy Wars over the holidays."
The Happy Wars Holiday Update includes:
A Special New Mode – The "Special Challenge" game mode dares players to take on sets of co-op battle situations and tackle dastardly boss characters. Complete the challenges to win unique loot, but don't dawdle! The new mode is only available for a limited time, after all.
Festive Fields of War – The holidays have arrived in Happy Wars, and they've brought everything from wintry map decorations to seasonal models. No need to worry about being naughty or nice!
Network Improvement – Matchmaking is now far easier for players who have good network connections, and the length of time required to complete matchmaking has been shortened drastically. Now everyone can focus on the game and have fun without delays!
To see Happy Wars in action, check out the most recent trailer here, or visit the official website at http://playxbla.com/ee/happy-wars.
About Toylogic Inc.
Toylogic Inc. is an independent game developer established in December 2006 with staff members experienced in creation of popular titles at major Japanese game enterprises. The staff features members with rich experience in game development for the current generation of consoles, including Xbox 360.
Official Website | Facebook
---
Assets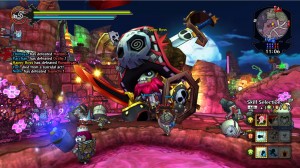 For Happy Wars Holiday Update assets, click here.
---
Media Contacts
Yoshiya Nishii
Marketing Manager, Toylogic Inc.
nishii@toylogic.co.jp