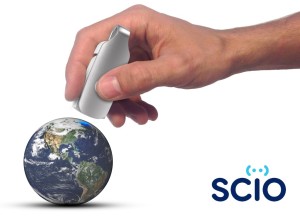 Handheld Molecular Scanner Attracts More Than 10,000 Backers to Help Build the First Database of Physical Matter 
MENLO PARK, Calif. and TEL-AVIV, Israel — June 3, 2014 — Consumer Physics today announced that the Kickstarter campaign for SCiO, its handheld molecular scanner that will enable consumers to better understand the physical world, has raised more than $2,000,000 in less than 30 days and from more than 10,000 backers. SCiO is now the fifth most funded tech campaign in Kickstarter history, and it still has more than two weeks left before its fundraising drive ends.
"I'd like to extend a huge thank you to everyone who has supported our project," said Dror Sharon, CEO of Consumer Physics. "We have been blown away by the enthusiasm and are eager to start helping people explore the world around them."
As of today, Consumer Physics has also garnered support from more than 600 developers, hackers, makers, and researchers who have signed up to build their own apps and form factors for SCiO. With this milestone, Consumer Physics has also announced a new backer reward – all first-party non-commercial SCiO apps created by the company will be provided free of charge to all Kickstarter backers for life.
For more information on Consumer Physics and SCiO, please visit the SCiO crowdfunding campaign on Kickstarter and the Consumer Physics website at http://www.consumerphysics.com/myscio.
About Consumer Physics
Consumer Physics' mission is to give people a tool to help them better understand their physical world. The company's first product, SCiO, is an affordable and sleek molecular sensor that launched on Kickstarter in April 2014. Founded by Dror Sharonand Damian Goldring in 2011, the company is backed by Khosla Ventures. Early investors also include Dov Moran, founder of Comigo, the future TV company and the inventor of the USB flash-drive, and other leading angel investors. Consumer Physics has also raised money through OurCrowd, a hybrid VC-equity crowdfunding platform.
For more information, please visit: http://www.consumerphysics.com/myscio.
Follow the company on Twitter and Facebook.
---
Media Contact
Andrew Karl, TriplePoint for Consumer Physics
consumerphysics@triplepointpr.com
(415) 955-8500