Temple Run Second Mobile Game Franchise Ever to Reach Milestone
RALEIGH, N.C. – June 4, 2014 – Independent game developer Imangi Studios announces today that its mobile games Temple Run and Temple Run 2 have together reached the milestone of one billion downloads. Since the launch of Temple Run in 2011, Imangi Studios has evolved from a husband-and-wife team working in their apartment to a thriving company. Temple Run is now one of the most downloaded series in mobile gaming history, having grown into a household name that remains popular with first-time runners and avid fans.
Some incredible milestones from the Temple Run series:
Players have collectively spent over 216,018 years playing Temple Run.
Over 32 billion games have been played.
Temple Run players have run a total of 50 trillion meters.
The massive success of Temple Run even spawned a new genre of 3-D endless-running games, which has grown into a top mobile gaming category.
"Having Temple Run reach the one billion downloads mark is a milestone we couldn't have imagined when we first started out," said Keith Shepherd, co-founder of Imangi Studios. "We're incredibly grateful to all the Temple Run players and our wonderful team. We look forward to continuing to grow the Temple Run franchise, as well as creating additional innovative games."
While the billion downloads milestone exclusively refers to Temple Run and Temple Run 2, Imangi has also launched Temple Run: Brave and Temple Run: Oz with Disney Mobile, both #1 hit apps. The company is also dedicated to growing its brand well beyond mobile. Temple Run has expanded to include apparel, plush toys and arcade games, among other licensing partnerships.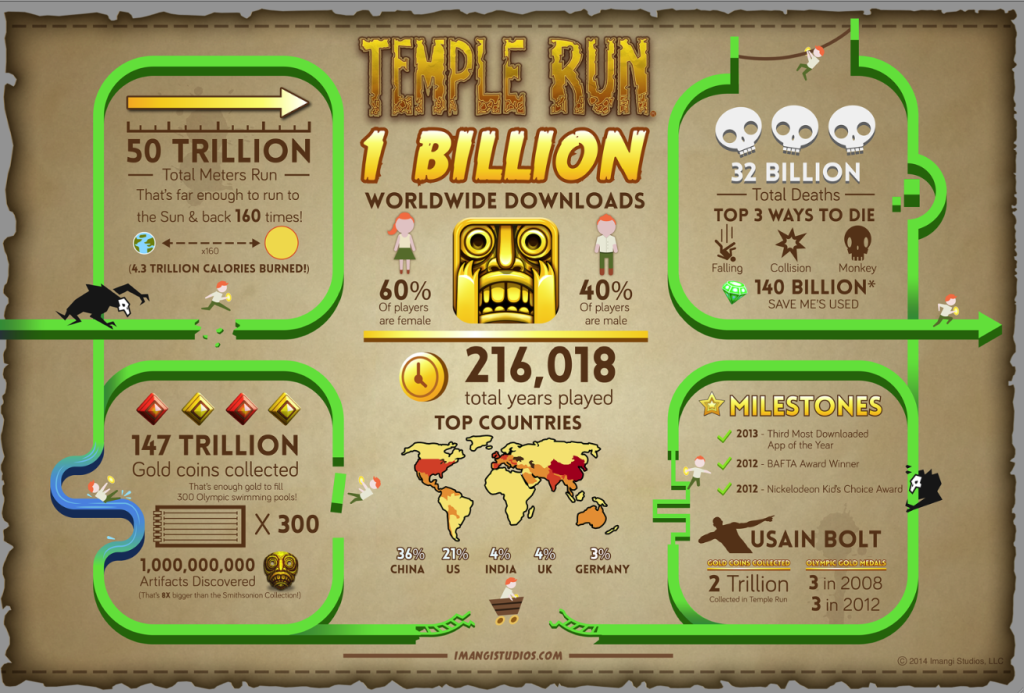 Assets
For Imangi's infographic and latest photography, download the press kit.
About Imangi Studios
Imangi Studios was founded in 2008 by husband-and-wife team Keith Shepherd and Natalia Luckyanova with the goal of creating small fun games for everyone to enjoy. What started as a dream job for the couple has evolved into a successful business, with Keith and Natalia now working with a team of other talented game creators. In June 2014, Imangi announced that its mega-hit Temple Run series had amassed over a billion downloads, defining it as one of the most popular mobile games in history. The Temple Run franchise has expanded to create Temple Run: Brave and Temple Run: Oz, as well as over 30 global licensees from apparel to publishing. These partnerships and more have helped make the brand a household name.
Official Website | Facebook | @TempleRun
---
Media Contact
Valerie Turpin, TriplePoint PR for Imangi Studios
vturpin@triplepointpr.com
(212) 730-9744