Industry Veterans to Meld Cultural and Political Content with Social Gameplay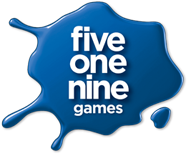 DURHAM, N.C. – February 22, 2012 – Promising to blaze new trails in social gaming, fiveonenine Games today officially opened its Durham office for business. A joint venture between top media companies E.W. Scripps and Capitol Broadcasting, fiveonenine will create high-quality, engaging social and casual games that entertain while connecting players with culturally and politically relevant content.
"We will be launching titles that are inherently more engaging than what is currently on the market by building gaming situations that are relevant to today's headlines instead of contrived environments," explained Lloyd Melnick, chief executive officer of fiveonenine. "Featuring content that is both entertaining and pertinent is the key to building a large, dedicated community of casual and social gamers."
The team includes industry veterans from numerous companies that are household names in the media and digital categories, including Disney, Washington Post, Motricity, Playdom, RealNetworks, Oberon and Research in Motion, and positions are now available for more talented professionals interested in growing fiveonenine into an industry-leading social and casual gaming company.
"With the extensive resources and built-in coast-to-coast audiences of E.W. Scripps and Capitol Broadcasting behind us, we plan to release a wide variety of engaging games over the coming months," added Sarah Daniels, vice president of creative at fiveonenine. "We will be starting with iOS and expanding to Facebook and other platforms soon after, with the goal of delivering our enlightening content to the largest possible audience."
fiveonenine will release its first game, Political Rampage, in the next few weeks. The title will feature over-the-top caricatures of popular political figures such as President Barack Obama and Sarah Palin facing off in a humorous match-three format.
Find more information on fiveonenine Games on its website.
About fiveonenine games
fiveonenine Games is a joint venture of the E.W. Scripps Company (www.scripps.com) and Capitol Broadcasting (www.cbc-raleigh.com). Its mission is to not only entertain players, but also engage and enlighten players with great social games based on cultural, social and politically relevant content.
About Capitol Broadcasting Company, Inc.
Capitol Broadcasting Company, Inc. is a diversified communications company which owns and/or operates WRAL-TV, WRAL Digital, WRAL-FM, WRAL-HD2, WCMC-FM , WDNC-AM, WCLY-AM, Microspace, CBC New Media Group and Wolfpack Sports Marketing in Raleigh, NC; WJZY-TV and WMYT-TV in Charlotte, NC; WILM-TV and Sunrise Broadcasting in Wilmington, NC; WRAZ-TV and The Durham Bulls in Durham, NC; and real estate interests including the American Tobacco Project and Diamond View office buildings in Durham, NC. Capitol Broadcasting Company's legacy of hard work, creativity, and a commitment to our audiences, our clients, and our employees has made us a successful broadcasting company and industry leader in the communications field.
About Scripps
The E.W. Scripps Company (NYSE: SSP) is a diverse media enterprise with interests in television stations and newspapers that are passionate about the company's long-time vision statement: "Give light and the people will find their own way." The company operates 19 television stations, newspapers in 13 markets, and digital news operations in markets from coast to coast. For a full listing of Scripps media companies and their associated Web sites, visit www.scripps.com.
---
Media Contact
Zach Fuller, TriplePoint for fiveonenine
fiveonenine@triplepointpr.com
(212) 730-9744