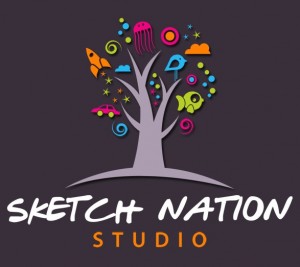 Design your own iPhone game and sell it on the App Store for real money!
MOUNTAIN VIEW, Calif. – May 3, 2012 – Sketch Nation Studio, released just two weeks ago from Engineous Games, already has over 2,000 free user-generated games, all available to play within the app. Sketch Nation Studio users have also created dozens of original games that will soon be published by Engineous and will be available for download on the App Store for only $0.99. The free iOS app lets you create your own game in mere minutes, with no technical knowhow needed. There are currently five different game genres to choose from to create a game, with more coming soon. The list of games available under the Sketch Nation banner is growing rapidly – check out Sketch Nation Studio today!
To celebrate the app's early success, some of the apps made with Sketch Nation Studio are now free for a limited time! To get a taste of what you can create in Sketch Nation, try out these games while they are still free: Spooky Jump, Turkey Run and Draakon.
Or better yet, support aspiring game designers and check out these brand new games: Kooba HD, Treasure Diver and Sylvita Forest Guardian for just $0.99.
With Sketch Nation Studio, you can be a game designer without writing a single line of code.
Download Sketch Nation Studio today and watch the trailer on YouTube!
About Engineous Games
Based in California and Israel, Engineous Games Inc. was formed in 2008 to begin development on mobile titles. Their premier title, Sketch Nation Shooter, has been downloaded over 800,000 times and was the winner of AppsFire App Star Award in the games category. Learn more at http://blog.sketchnation.com/.
---
Media Contact
Rich Jones, TriplePoint for Engineous Games
rjones@triplepointpr.com
(212) 730-9744
---
Assets
Watch the trailer here.
Download the press kit here.