By Incorporating Chartboost's Powerful Interstitials, Developers Can Net $21 eCPMs & $2.50 Per Install
SAN FRANCISCO – July 9, 2012 – Chartboost (www.chartboost.com) — a leading technology platform that drives distribution power for iOS and Android apps — and TinyCo (www.tinyco.com) — a popular mobile game developer with several hit titles, including Tiny Monsters, Tiny Village, and Tiny Zoo Friends — today announced a program to accelerate growth and deliver increased revenue opportunities to game developers on Amazon's Kindle Fire platform.
"Developers were thrilled when we announced a similar deal with TinyCo on iOS last November, and the response was overwhelming," said Maria Alegre, CEO and co-founder of Chartboost. "Chartboost and TinyCo have seen the enormous potential of Kindle Fire games and hope to incent first-mover advantage with this uniquely attractive deal."

"Chartboost has great distribution power; we're pumped to help more developers increase monetization through our partnership," said Suli Ali, founder and CEO of TinyCo. Participating game developers will receive 100% proceeds of this revenue by working with Chartboost's distribution platform, as opposed to the 50% revenue share typical of mobile advertising networks. Kindle Fire developers interested in participating should visit tinyco.com/directdeals for further details.
Amazon has focused on cultivating an ecosystem of high-quality apps in the Amazon Appstore for Android, announcing its growth to 31,000 apps in its first year. TinyCo experienced first-hand the potential of the platform, recently announcing greater Average Revenue Per User on Kindle Fire than on iPad in its top-grossing title Tiny Village. Following that success, the developer confirmed plans to release three additional titles for the device in the next quarter.
TinyCo is offering a guaranteed rate of $2.50 per install driven by Chartboost interstitials in the United States and United Kingdom, and $2 per install in other countries. TinyCo will also provide additional incentives to publishers who generate 20,000 installs or more. Based on average conversion rates on the Chartboost platform, developers can potentially net $16-$21 eCPMs from this campaign. To participate, game developers integrate the Chartboost SDK to serve interstitials for TinyCo's Kindle Fire titles.
"The Amazon Appstore's recent expansion into Western Europe and other countries, combined with its strong monetization potential, makes it an even more attractive platform for developers," said Alegre. "Through the Chartboost and TinyCo program, developers win by getting an early advantage to lock into high rates as they broaden their user base and scalably control the traffic to their game, all while retaining more of the profit through this direct deal."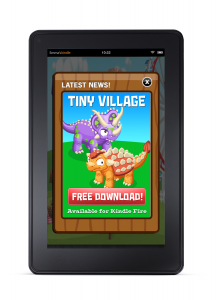 About Chartboost
Chartboost is a technology platform that powers independence for mobile game developers. Founded in 2011 by early Tapulous employees, the company reaches 105 million unique users in over 100 countries, and drives over 2 billion game sessions per month. Headquartered in San Francisco, Chartboost is backed by Translink Capital, SK Telecom Ventures, and XG Ventures. For more information, please visit: http://chartboost.com.
About TinyCo
TinyCo is a leading mobile game developer and publisher headquartered in San Francisco. Founded in 2009, The company has had several major Top 10 hits in the iOS, Google Play, and Amazon App Stores with titles such as Tiny Monsters, Tiny Zoo Friends, Tiny Pets, and VIP Poker. For more information, visit: http://tinyco.com.
Kindle, Kindle Fire, Amazon, the Amazon Kindle logo, and the Kindle Fire logo are trademarks of Amazon.com, Inc. or its affiliates.

---
Media Contact
Alan Dunton, TriplePoint PR
press@chartboost.com, alan@triplepointpr.com
www.chartboost.com/press
(415) 955-8500