SAN FRANCISCO – March 7, 2013 – PlayFirst® Inc., the global leader in mobile games for family and friends, today revealed all-new St. Patrick's Day-themed updates in Cooking Dash® and Mall Stars™ for iPhone, iPod touch, iPad and iPad mini. To round out its "Lucky You" promotion, PlayFirst also announced the "Search for Shamrocks" giveaway, challenging visitors to its website to find hidden four-leaf clovers for a chance to win free Deluxe game downloads.
Flo, the hard-working heroine of Cooking Dash, receives a St. Patrick's Day makeover with an all-new icon and Irish-themed artwork to spice up her restaurant. Additionally, lucky players will find holiday-themed items in Mall Stars including a Shamrock Cupcake, Blarney Stone Sanitizer and Lucky Charm Bracelet. Bold Mall Stars players wishing to make a statement—in green, of course—can also don a brand-new Leprechaun Costume and check out the Pot O'Gold Starter Kit for rookie rainbow-finders.
Starting today through March 17 (St. Patrick's Day), players who channel the luck of the Irish and hunt down the five golden shamrocks hidden on the PlayFirst website can also enter for a chance to win the Deluxe version of their favorite PlayFirst game on iOS. To enter the contest, players must email the five shamrock locations, along with their name, PlayFirst game of choice, and preferred gaming platform (iPhone or iPad) to competitions@playfirst.com. For more information on the PlayFirst Search for Shamrocks giveaway, visit: http://blog.playfirst.com/2013/03/search-shamrocks/
Players can access the holiday-inspired game content from the Cooking Dash level map screen or the Mall Stars in-game marketplace today. The Cooking Dash and Mall Stars St. Patrick's Day updates, along with the Search for Shamrocks giveaway, are only available for a limited time, so fans should act fast.
To get started with the original games, download Cooking Dash and Mall Stars for free on iPhone, iPod touch, iPad and iPad mini via the iTunes App Store.
About Cooking Dash
Cooking Dash follows the adventures of Diner Dash starlet Flo as she leaves behind her desk job to run a bootstrapped restaurant, this time from behind the counter. Offering another spin on the groundbreaking time-management gameplay that made Diner Dash a global phenomenon, Cooking Dash tasks players with prepping everything from burgers and fries to sushi and dumplings. Tap and slide to seat customers, serve up hot dishes, and collect big tips! Players must help Flo keep DinerTown restaurants up and running… if they can stand the heat!
About Mall Stars
In Mall Stars, players build and customize their malls to cater to larger-than-life VIP customers, the 'Stars'. Each Star has his or her own favorite products and attractions. By filling their malls with must-have products and attractions, players excite the Stars into frantically fun Shopping Frenzies and earn special bonuses. Stars make their requests based on players' progress in the game, using PlayFirst's sophisticated StarRequest recommendation system to ensure a fresh, exciting and new level of fast-paced fun.
About PlayFirst
At PlayFirst, we believe you can have fun anywhere, any time and at any age. That's why we're committed to creating mobile games for everyone to enjoy, including the fan-favorite DASH® series of games like Diner Dash® and SpongeBob Diner Dash®. Whether you're in line at the store, on your lunch break or lounging at home, you only need a minute to dive into a PlayFirst game—but you'll find a lifetime of entertainment. PlayFirst games are played by tens of millions of fans worldwide, and we're just getting started. To find out more about our talented team and our awesome games, please visit www.playfirst.com.
Official website | Facebook | @PlayFirst
---
Assets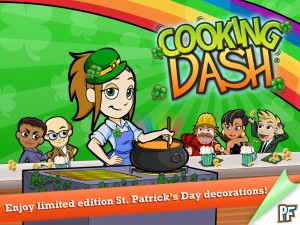 Download PlayFirst St. Patrick's Day assets here.
---
Media Contacts
TriplePoint for PlayFirst
playfirst@triplepointpr.com
415-955-8500
Lauren Quan, PlayFirst
lquan@playfirst.com
510-520-3468