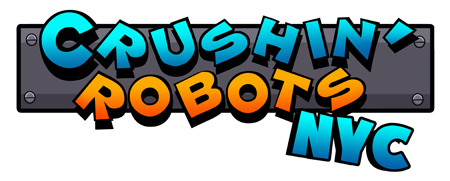 Fight Off The Robot Invasion To Become The Big Apple's Handiest Hero
NEW YORK – March 14, 2012 – Today mobile developer Falling Objects Entertainment releases its debut game, Crushin' Robots – NYC. A lone construction worker on a New York City rooftop is the last line of defense against an evil horde of robots crossing the river to conquer his beloved Big Apple. Turn construction equipment into instruments of destruction and keep the evil robots at bay!
The game is available for FREE in the App Store now. Get crushin'!
Load up the automatic nail gun to destroy enemies at long range, sling heavy wrenches and lob explosive propane tanks to stop the invaders dead in their tracks. As busted robots pile up on the street below, their scrap metal is collected and can be used at the Workshop to buy new weapons and traps, upgrade existing equipment and add additional lives to the health bar.
Crushin' Robots – NYC features:
Endless waves of robots that progressively increase in difficulty
7 types of robot baddies to keep you on your steel covered toes
10 unique weapons and power-ups from the construction yard
A "Scrap Meter" that, once filled with the nuts and bolts of the enemy, calls in speeding boats, trucks and other bonus attacks for massive destruction
Scrap for real-money purchase in the Workshop so you can pack a punch in a hurry
Universal support for iPad, iPhone and iPod touch
High-Resolution Retina Display Graphics
Game Center integration to compare scores with friends, earn achievements and climb global leaderboards
Follow Crushin' Robots – NYC social media for the latest updates:
Twitter: https://twitter.com/crushinrobots
Facebook: https://www.facebook.com/CrushinRobots
Assets
Check out the trailer on YouTube and download the press kit.
About Falling Objects Entertainment
Falling Objects is the brainchild of founder and CEO Joe Zito, a veteran of the film and television industry now dedicated to producing action packed mobile games. Their debut game, Crushin' Robots – NYC, is the first in a planned series of titles featuring epic robot battles around the world.
Official Website |  Facebook | @CrushinRobots
---
Media Contact
Zach Fuller, TriplePoint
zfuller@triplepointpr.com
(646) 462-3166