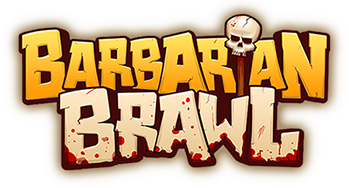 Third Person Multiplayer Action Brawler Smashing onto PC and Mac
CAMBRIDGE, UK — March 4, 2014 — After an epic limb-dismembering crusade, fresh new UK-based publisher, Thrillion, and Artplant, space-faring developers of the Battlestar Galactica MMO, are pleased to announce that Barbarian Brawl is now on Steam Greenlight. The third person action-brawling cartoon frenzy has players defend their peaceful tribe from a hoard of hungry rival barbarians looking to pillage their delicious ham.
Visit the Steam Greenlight page
Barbarian Brawl pits 20 angry barbarians in delectable slaughter served with the finest slice of meat players won't find anywhere else. Choose from six gnarly characters (except for the beautiful Brunhilda) including the hard-hitting Barbarian, the meaty sponge known as Fat Bustard, the voodoo-sharpshooting Shaman, and more!
Barbarian Brawl features:
20 Player Online Brawls
High-definition bloody cartoon visuals made possible by the Unity 3D engine
Six ham-fisted characters ready to slaughter an entire village
A wide variety of weapons to choose from
Multiple maps with various traps… Mind where you step!
DELICIOUS HAM
For more information on Barbarian Brawl and Thrillion visit www.thrillion.co.uk
About Thrillion
Thrillion is a UK-based publisher who always seeks to go somewhere new in games and entertainment. Their philosophy is more genre-buster than blockbuster. They find great teams who can benefit from their experience in production, design, publishing, and monetization.
About Artplant
Artplant is one of the world's leading 3D browser game developers and master of the Unity platform. Their teams in Norway, Russia, and the UK have, collectively, hundreds of years of game development experience between them. They are best known for developing the Battlestar Galactica MMO.
Media Contact
Erin Fan, TriplePoint
efan@triplepointpr.com
(415) 955-8500