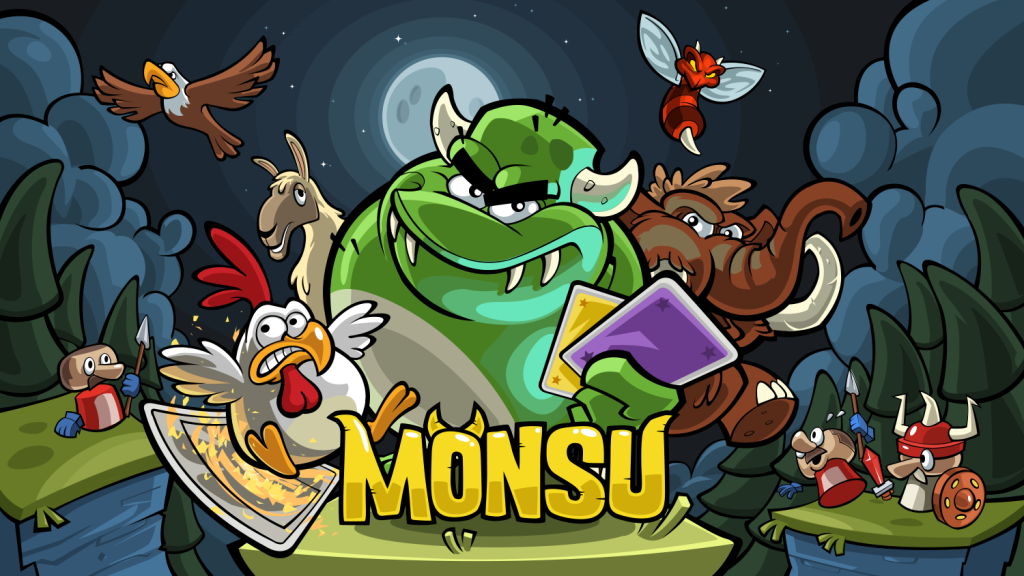 Trailer gives first glimpse of gameplay, ally characters and monstrous abilities for upcoming action-platformer
HELSINKI, FINLAND – July 23, 2014 – Boomlagoon has just released the trailer for Monsu, their upcoming second game that's packed with high-speed platform action. The trailer gives a sneak peak of the world of Monsu, the cartoony green hero, as he dashes off to recover his wizard friend's glittering treasure. The pudgy, lovable beast has no choice but to wreck everything in his path, from wishing wells to castle ramparts to unruly villagers. Nothing can stop the mighty Monsu… except an inopportune spear-point! The free game is slated for release later this summer.
Crash into the game's new trailer: http://youtu.be/i9U1gt_bBpY
Monsu has players rampaging their way through a richly drawn platformer with lush landscapes and an ever-growing cast of companion characters. Along the way, players collect and upgrade cards corresponding to helpful new abilities. Battle through wave after wave of angry, mustached spearman, completing missions and competing in online tournaments alongside friends… and the whole thing is free to play.
Monsu is coming soon to mobile! For more information on the game, please visit Boomlagoon.com or download the press kit.
Be sure to check out the Monsu Facebook page and Twitter for even more exciting updates.
About Boomlagoon
Headquartered in Helsinki, Finland, Boomlagoon is a mobile gaming company focused on making high quality, character-driven, free to play games. Their first title, Noble Nutlings, received multiple Apple features. Boomlagoon is backed by London Venture Partners, Northzone, Inventure, 360 Capital Partners and Jari Ovaskainen. The studio is comprised of games industry veterans from studios like Rovio (Angry Birds), Digital Chocolate, Valve and Recoil. For more information on Boomlagoon visit www.boomlagoon.com.
Media Contact
Olli Laesvirta, Boomlagoon
olli@boomlagoon.com
+358 40 8433 830
Lucas Cartwright, TriplePoint for Boomlagoon
lcartwright@triplepointpr.com
(212) 730-9744