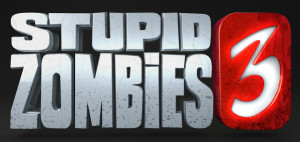 GameResort's zombie-blasting 2D puzzle platformer will be available on iOS and Android
CLAREMONT, Calif. – July 15, 2015 – Save your brains, the undead are alive once again! Mobile games developer GameResort today announced that Stupid Zombies 3, the latest installment in the studio's zombie blasting Stupid Zombie trilogy, will be available for free on iOS and Android on July 22. Stupid Zombies 3 upgrades the puzzle-platform shooting action with new characters, weapons, and power-ups that enhance gameplay.
Traverse a post-apocalyptic zombie wasteland as a slick-haired shotgun man, a fiery-pyro girl, or a grenade launching granny with a simple goal in mind—blow off as many zombie heads as you can in the coolest ways possible. Players will need to plan their shots carefully to  maximize a bullet's range for deadly combo kills, or crush the zombies to mush with  crates, tires, and other junk found in each level. Variations in zombie positions and alternate paths change the angles for potential shots and offer brand new challenges for veteran players trying to maximize their high score.
Key Features:
More than 100 challenging levels in three unique settings
3 main characters with their own unique weapons for players to blast, burn, and blow up the zombie hordes.
Varied zombie positions and paths offer endless replayability
New power-ups let you rewind an errant shot or keep firing when you run out of ammo.
For a look at Stupid Zombies 3, check out the teaser: https://youtu.be/6h1igylfCJw
To find out more about Stupid Zombies 3 and GameResort, please visit:
Download the press kit here.
About GameResort
GameResort is an independent mobile games studio based in Claremont, CA. Founded in 2008, the studio has produced over 14 successful mobile games, and is best known for its Stupid Zombies series. The studio is committed to producing high-quality puzzle platformers and physics puzzlers that are addicting and challenging yet feature simple gameplay. To learn more about GameResort and its current games, please visit http://gameresort.com/.
###
Media Contact
Surabhi Srivastava
TriplePoint, for Stupid Zombies
415.955.8500