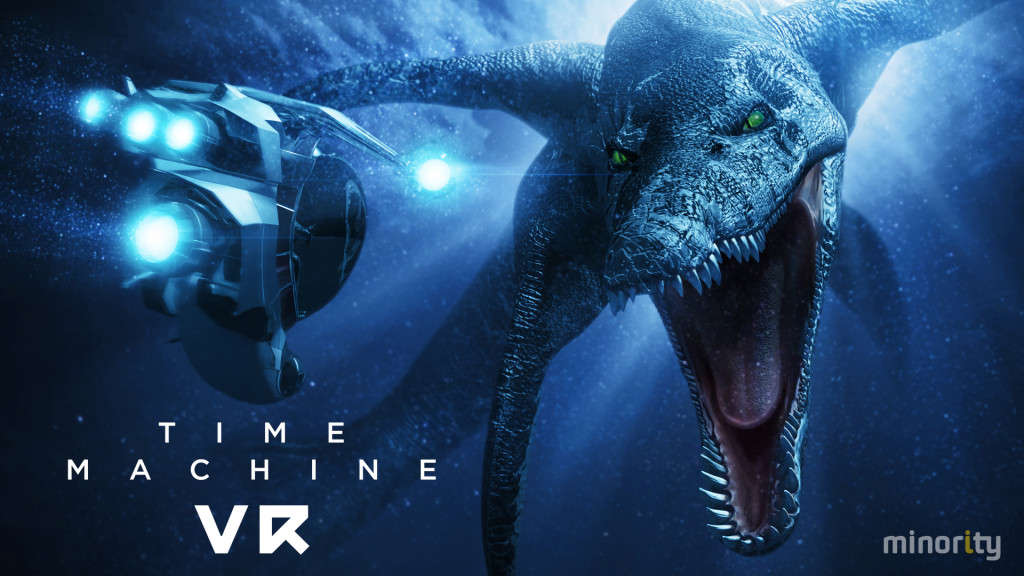 New Trailer Reveals Gripping Plot
MONTREAL, Canada – March 1, 2016  – Minority Media Inc. (www.weareminority.com) today revealed that Time Machine VR (TMVR) will launch on both Oculus Rift and HTC Vive in April. Time travelers who can't wait till April to plunge into the murky depths of Earth's primordial oceans can view a brand new trailer today, as well as get a sneak preview of the game at the Game Developer's Conference this March 16-18 in San Francisco's Moscone Center.
Time Machine VR was one of the first built-for-VR games to hit Steam Early Access in 2015 – rated 8/10 on Steam, 4.4/5 on Oculus Share, and 5/5 on WEARVR –  and will be among the first titles purchasable on Oculus and HTC Vive. Players need only strap on a headset to come nose-to-nose with the leviathans of early Earth in a vivid, scientifically-sound reproduction of the oceans of the Jurassic period. Adrift in ancient waters, players can move around their virtual space in three dimensions and employ advanced, high-tech powers – Time Freeze, Tracker, Probe, Scan, Bait, Echo, Behavior Scan, and Exo Scan – to track and interact with the magnificent monsters around them. In addition, players get to unlock creatures by uploading the data they collect to the DinoDex, a depository of the information they collect from the prehistoric creatures encountered.
"VR triggers responses from our brains that are as visceral as those we have in real life," said Minority CEO, Vander Caballero. "We can now create a new kind of game that inspires a true sense of wonder in players. Shooting and blowing stuff up is not wonderful in VR; it doesn't match the thrill of seeing a living dinosaur face-to-face. This is what drove us during the making of Time Machine VR. We want to put people in a world that evokes wonder as much as adrenaline. This is the beginning of a new era for games, and we're excited to be a part of it."
In TMVR, players will take on the role of a promising cadet from a time-traveling research institution, the Monda Muzeo, assigned to foray into Earth's Jurassic oceans to observe the behavior and analyze the DNA of the ancient titans who ruled the waters of that time. Things take a turn when an ancient and deadly plague lays waste to the present, and the key to the cure lies with the formidable fauna of our planet's prehistory. Players will need their wits, cunning, and very best scientific methods to survive Earth's past and save its future.
To get a glimpse of the watery ancient world that awaits you in Time Machine VR, check out the brand new launch trailer: https://www.youtube.com/watch?v=OOlL50gprRY.
For more information please visit:
Interested media can access press assets at https://minority.sharefile.com/d-s3488fb42863428e9.
About Minority Media Inc.
Minority Media is an established studio committed to cutting-edge VR game development. Founded by Vander Caballero – a leading figure in Canada's video games industry and a pioneer in VR – Minority Media's first title on the platform is Time Machine VR, a time travel adventure game. Our mission is to craft memorable games that set the standard for VR entertainment.
Media Contact
TriplePoint PR, for Minority Media
415.955.8500
minority@triplepointpr.com