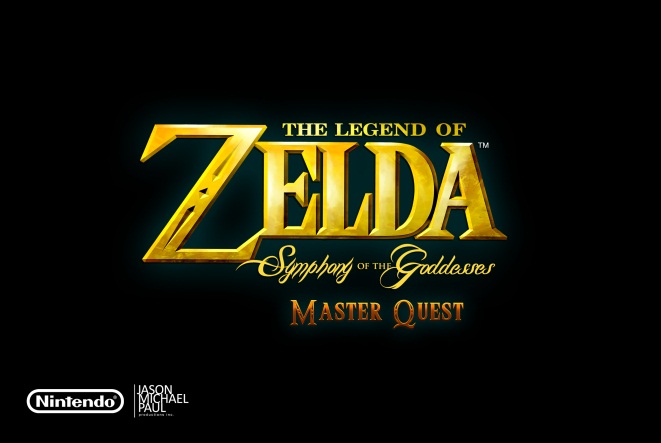 Zelda Symphony Makes Magical Wind Waker Baton from The Legend of Zelda
Available to Consumers for First Time Ever — Pre-orders Now Open
REDMOND, Wash. – April 27, 2016 – Jason Michael Paul Productions, Inc. today announced new show dates for The Master Quest 2016 tour across the world, including Portland, Philadelphia, Milan, Stuttgart, and more. All 2016 shows will now feature the latest HD visuals and gameplay from the recently released The Legend of Zelda: Twilight Princess HD remake. It is the second HD remake of a Legend of Zelda game for the Wii U, with the first being The Legend of Zelda: Wind Waker HD.
The production company also announced that the magical Wind Waker Baton featured in The Legend of Zelda: The Wind Waker, and used in concert by The Legend of Zelda: Symphony of the Goddesses conductor is now available to consumers for the first time ever! Fans can pre-order the legendary Wind Waker Baton through the Zelda Symphony shop starting today for $40.00.
"The Wind Waker Baton is one of the most magical tools we have in our arsenal at Zelda Symphony and it helps elevate our performance at each show," said Jason Michael Paul, President of Jason Michael Paul Productions, Inc, the company producing the concert tour. "I'm glad that fans can now take home and experience a piece of this musical Zelda magic for themselves, and can't wait to see what they create with this powerful baton."
The Wind Waker Baton is a magical conductor's baton first introduced to fans in the Legend of Zelda: The Wind Waker game. Given to Link by the King of Red Lions, the baton was originally used by the King of Hyrule to conduct the sages. The baton's magic allows Link to control the direction of the wind and call upon the powers of the gods to help him along his quest.
Fans can view a complete tour schedule with new show dates and ticketing information as well as sign up for a regularly updated digital newsletter at http://zelda-symphony.com.
Upcoming shows:
London, UK, SSE Wembley Arena; April 23
Santiago, CL, The Theatre Cariola; May 6, 7
Guadalajara, MX, Teatro Diana; May 11
Monterrey, MX, Arena Monterrey; May 13
Mexico City, MX, Arena de Ciudad; May 15
Nashville, TN, Schermerhorn Symphony Center; May 20
San Antonio, TX, Majestic Theater; May 21
Los Angeles, CA, Dolby Theater; June 13
Austin, TX, Long Center; June 23
Montreal, CA, Place Des Arts; June 25
Newly added shows:
Denver, CO, Boettcher Concert Hall; July 14
San Diego, CA, Copley Symphony Hall; July 22
Orlando, FL, Walt Disney Theater; Aug. 6
San Francisco, CA, Davies Symphony Hall; August 21
Atlanta, GA, Cobb PAC; Sept. 10
Seattle, WA, Benaroya Hall; Sept. 14
Portland, OR, Arlene Schnitzer Concert Hall; Sept. 17
Edmonton, CA, Northern Jubilee; Sept. 21
Calgary, CA, Jack Singer Concert Hall; Sept. 22
Vancouver, CA, Queen Elizabeth Theatre; Sept. 23
Philadelphia, PA, Mann Center PAC; Sept. 25
Amsterdam, ML, Heineken Music Hall; Sept. 29
Milan, IT, Teatro degli Acromboldi; Sept. 30
Zurich, CH, Hallenstadion; Oct. 1
Stuttgart, DE, Porsche Arena; Oct. 2
Vienna, AT, Stadthalle; Oct. 5
Geneva, CH, Geneva Arena; Oct. 7
Paris, FR, Palais Des Congres; Oct. 8
Birmingham, UK, Symphony Hall; Oct. 9
Antwerp, BE, Stadsschouwburg Antwerp, Oct. 12
Manchester, UK, Bridgewater Hall; Oct. 13
Lisbon, PT, Coliseu de Lisboa; Oct. 14
Essen, DE, Grughalle; Oct. 15
Stockholm, SE, Ericcson Globe; Oct. 19
Glasgow, UK, Royal Concert Hall; Oct. 20
Berlin, DE, Tempodrom; Oct. 21
Warsaw, PL, Filharmonioa Narodowa; Oct. 22
Prague, CZ, Dvorak Concert Hall; Oct. 23
Barcelona, ES, Auditori Forum; Oct. 28
Madrid, ES, Palacio Vistalegre; Oct. 29
Bilbao, ES, Palacio Euskalduna; Oct. 30
Washington D.C., Warner Theater; Nov. 5
Louisville, KY, The Whitney; Nov. 10
Rochester, NY, Kodak Hall; Nov. 11
Chicago, IL, Auditorium Theater; Nov. 12
Newark, NJ, NJPAC; Nov. 13
Charleston, SC, NCPAC; Nov. 17
Houston, TX, Revention Center; Nov. 18
Milwaukee, WI, Riverside Theater; Nov. 19
Fresno, CA, William Saroyan Theater; Nov. 20
Phoenix, AZ, Phoenix Symphony Hall; Nov. 21
Salt Lake City, UT, Abravenal Hall; Dec. 4
Fort Worth, TX, Bass Performance Hall; Jan. 7
Honolulu, HI, Neil Blaisdell Center; Jan. 13
Oklahoma City, OK, Civic Center Music Hall; Jan. 21
Assets
For a press kit with images and logos, visit: https://app.box.com/ZeldaSymphonyMasterQuest.
About Jason Michael Paul Productions, Inc
A pioneer and leader in the live symphonic concert industry, Jason Michael Paul Productions, Inc. has been responsible for producing world-renowned concerts including events for The Three Tenors, Luciano Pavarotti, Dear Friends ~ Music from FINAL FANTASY, More Friends ~ Music from FINAL FANTASY, PLAY! A Video Game Symphony, rePLAY: Symphony of Heroes, The Legend of Zelda- 25th Anniversary Concerts,  The Legend of Zelda: Symphony of the Goddesses.
About Nintendo
The worldwide pioneer in the creation of interactive entertainment, Nintendo Co., Ltd., of Kyoto, Japan, manufactures and markets hardware and software for its Wii U™ and Wii™ home consoles, and Nintendo 3DS™ and Nintendo DS™ families of portable systems. Since 1983, when it launched the Nintendo Entertainment System™, Nintendo has sold more than 4.3 billion video games and more than 680 million hardware units globally, including the current- generation Wii U, Nintendo 3DS, and Nintendo 3DS XL™, as well as the Game Boy™, Game Boy Advance, Nintendo DS, Nintendo DSi™ and Nintendo DSi XL™, Super NES™, Nintendo
64™, Nintendo GameCube™, and Wii systems. It has also created industry icons that have become well-known household names such as Mario™, Donkey Kong™, Metroid™, Zelda™ and Pokémon™. A wholly owned subsidiary, Nintendo of America Inc., based in Redmond, Wash., serves as headquarters for Nintendo's operations in the Western Hemisphere. For more information about Nintendo, please visit the company's website at http://www.nintendo.com.
Media Contact
TriplePoint PR for Jason Michael Paul Productions, Inc
jmpp@triplepointpr.com
415.955.8500