Asmodee's Beloved, Best-Selling Card Game Goes Digital, Free-to-Play Today
Paris – June 28, 2017 – Asmodee Digital today announced the global release of Spot It! Duel – A Dobble game for iOS and Android. Spot It! Duel – A Dobble game brings the quick-paced, addictive symbol-matching fun of Asmodee's record-selling tabletop card game, Dobble to mobile devices… For free!
Since its debut in 2009, the Dobble franchise has sold over 10 million units worldwide, becoming a party game phenomenon among families and fans around the world, and winning numerous prestigious toy awards along the way. Co-developed by Asmodee Digital and Virtuos Games, Spot It! Duel – A Dobble game is the brand's first-ever freemium mobile adaptation.
On iTunes App Store: https://itunes.apple.com/gb/app/spot-it-a-card-game-to-challenge-your-friends/id1199075455
On Google Play: https://play.google.com/store/apps/details?id=com.asmodeedigital.spotitduel
In Spot It" Duel – A Dobble game, players match symbols as fast as they can, collecting rewards, Dobble characters and bragging rights along the way. Building up bigger combos will score extra points, but players must balance their strategy and speed to survive. The game's vibrant presentation and simple play mechanics are perfectly accessible for all ages, but increasingly difficult challenges will keep even the fastest fans on their feet. In short, Spot It" Duel – A Dobble game is a family game night just waiting to happen.
"Given the enormous popularity of Dobble! with people of all ages around the world, recreating the classic, fan-favourite experience in a digital adaptation was truly a labour of love. We worked hand-in-hand with Virtuos to make Spot It" Duel – A Dobble game one of the best games in the franchise, both for the existing community and newcomers alike," says Asmodee Digital.
In Arena Mode, each player chooses one Dobble character from their collection to battle head-to-head against an opponent. Tougher arenas filled with more ferocious adversaries await as players climb the leaderboard and claim greater rewards. Spot It" Duel – A Dobble game also features new ways to play against friends and other players worldwide, including Special Events with unique rules for added variety. The classic Dobble experience comes to life in Challenge Mode, where players can sharpen their reflexes, earning special rewards as they master new rules, and build a collection of Dobbles – each with unique skills to train and customize. Solo challenges include Classic, Speed and Combo Master rule variations.
Spot It" Duel – A Dobble game press kit: https://drive.google.com/drive/folders/0B5lYG2AqaGi_b2toTm0tVDQ5Wjg?usp=sharing
Leave the cards at home and take the experience anywhere. Spot It" Duel – A Dobble game is the latest addition to Asmodee Digital's ever-growing line-up of premium tabletop – video game translations.
For more information:
–        Visit our website: www.asmodee-digital.com/spotitduel
–        Like us on Facebook: https://www.facebook.com/asmodeedigital/
–        Follow us on Twitter: https://twitter.com/asmodeedigital
–        Subscribe to us on YouTube: https://www.youtube.com/asmodeedigital
–        Follow us on Instagram: https://www.instagram.com/asmodeedigital/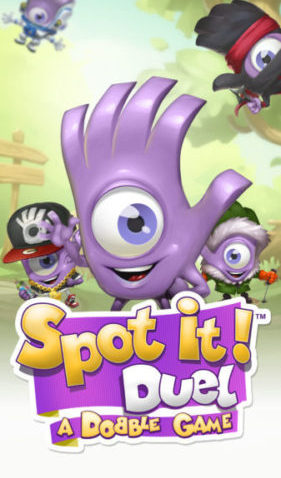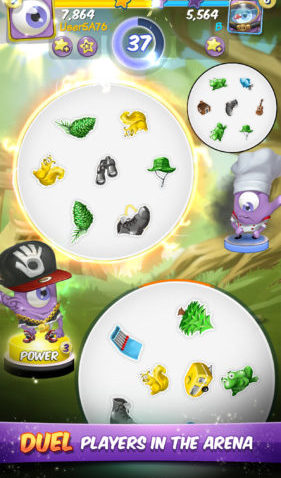 About Asmodee
Founded in 1995 in France and with offices in 7 countries including England, China and the United States, Asmodee is a publisher and distributor of popular board and card games like 7 Wonders, Jungle Speed ​​and Dobble. With six studios publishing and distributing games in more than 44 countries, Asmodee sells more than 10 million games per year. Asmodee's reputation for delivering strategically challenging games with attractive design, has earned the company unfailing loyalty from fans, families, hard core players and also casual gamers. 
About Asmodee Digital
Asmodee Digital, a fully owned subsidiary of the Asmodee Group, is an international publisher and distributor of digital board games with operations located in Europe, North America, and China. Asmodee Digital manages the creation, design, development, publishing, and marketing of board and card games on leading digital platforms for Asmodee studios as well as for third-party publishers. The current Asmodee Digital catalog includes best-selling digital games such as Ticket to Ride, Splendor, Pandemic, Small World 2, Colt Express, Mysterium, Potion Explosion, Onirim, Jaipur and digital versions of many other well-known board games.
About Virtuos
Virtuos is one of the largest game developers specializing in 3D art and game software development for consoles and mobile devices. The company has locations in Shanghai, Chengdu, Xian, Saigon, Vancouver, San Francisco, Paris, Tokyo and Seoul, and employees representing 15 nationalities. Virtuos' clients include 15 of the top 20 digital entertainment companies worldwide as well as renowned independent studios. For more information, please refer to: www.virtuosgames.com.
Media Contact
TriplePoint for Asmodee Digital
asmodeedigital@triplepointpr.com
(415) 955-8500