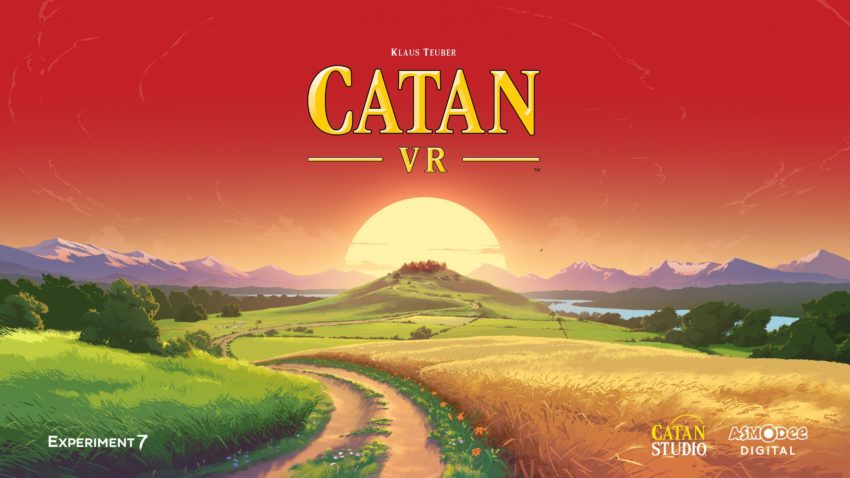 Classic, best-selling board game coming to VR for the first time for Holiday 2017
SEATTLE – Sept. 1, 2017 – Catan GmbH, Catan Studio, Asmodee Digital and virtual reality game developer Experiment 7 announced a partnership to bring the acclaimed Catan® board game to VR. Catan VR™ is an immersive take on Klaus Teuber's landmark title that revolutionized modern board gaming. This amazingly engaging game is set to release on Oculus Rift and Samsung Gear VR for Holiday 2017.
Announcement Trailer: https://youtu.be/OjMkj_YjToI
True to the classic, but optimized for virtual reality, Catan VR allows tabletop fans and new players alike to experience the best-selling board game in a fresh, fully-immersive format. Whether taking on other players around the world, or playing against Catan personalities, players can watch the island come to life in VR for the first time, with beautiful in-game environments and cross-play functionality. Created in conjunction with Klaus and Benjamin Teuber, along with the Catan and Asmodee Digital teams, Catan VR brings everything board gamers love to the Oculus Rift and Samsung Gear VR. The fun begins at launch, with additional VR platforms to follow.
"The first time I saw Catan on the Magic Table™, I was fascinated by what VR has to offer," said Catan creator Klaus Teuber. "The game I made in our living room with my family 25 years ago in Virtual Reality? It's incredible. I never imagined actually stepping into the world of Catan when we first started making cut-outs and dreaming about exploring new lands."
###
ASSETS
Game Site: www.experiment7.com/catanvr
Press Kit: https://drive.google.com/drive/folders/0B5kadNdeNhycbWExTk9aMUVnMUk
Social Media
** Facebook: facebook.com/experiment7inc
** Twitter: twitter.com/experiment7inc
** YouTube: youtube.com/c/Experiment7
** Instagram: instagram.com/Experiment7Inc
** Facebook: facebook.com/asmodeedigital/
** Twitter: twitter.com/asmodeedigital
** YouTube: youtube.com/asmodeedigital
** Instagram: instagram.com/asmodeedigital/
** Facebook: facebook.com/settlersofcatan/
** Twitter: twitter.com/catan
** YouTube: youtube.com/thesettlersofcatan
** Instagram: instagram.com/settlersofcatan
ABOUT CATAN GMBH
Catan GmbH is based in Germany and specializes in the development and licensing of entertainment concepts. The company's focus is on developing and marketing the world-renowned CatanⓇ family of board and card games. Catan GmbH's works closely with its trusted publishing and development partners, particularly Catan Studio, Asmodee, Kosmos and USM, all of whom share a creative, cooperative and comprehensive strategic vision regarding the Catan brand development. www.catan.com
ABOUT CATAN STUDIO
A fully owned subsidiary of the Asmodee Group, Catan Studio serves three roles: (1) as the global English-language publisher of analog Catan games; (2) as a principal content developer and publisher of Catan stories, events, and merchandise; and (3) as a developer of digital products based on Catan stories. www.catanstudio.com
ABOUT ASMODEE DIGITAL
Asmodee Digital, a fully owned subsidiary of the Asmodee Group, is an international publisher and distributor of digital board games with operations located in Europe, North America, and China. Asmodee Digital manages the creation, design, development, publishing, and marketing of board and card games on leading digital platforms for Asmodee studios as well as for third-party publishers. The current Asmodee Digital catalog includes best-selling digital games such as Ticket to Ride®, Splendor®, Pandemic®, Small World 2™, Mr. Jack London™, Lexigo Rush™, Story Cubes™, Colt Express™, Mysterium™, Potion Explosion™, Onirim™, Jaipur™, Spot It! Duel™ and digital versions of many other well-known board games. www.asmodee-digital.com
ABOUT EXPERIMENT 7
Experiment 7 is a VR games studio based in New York and San Diego. We develop high quality strategy games with broad market appeal. Our staff combines battle-tested game design leadership with unparalleled game data expertise and a dream team of VR, mobile, console and PC veterans. We believe in collaborative creative development, sound quality of life and an uncompromising commitment to product quality. Learn more at Experiment7.com.
# # #
Media Contact
TriplePoint for Asmodee Digital
(415) 955-8500