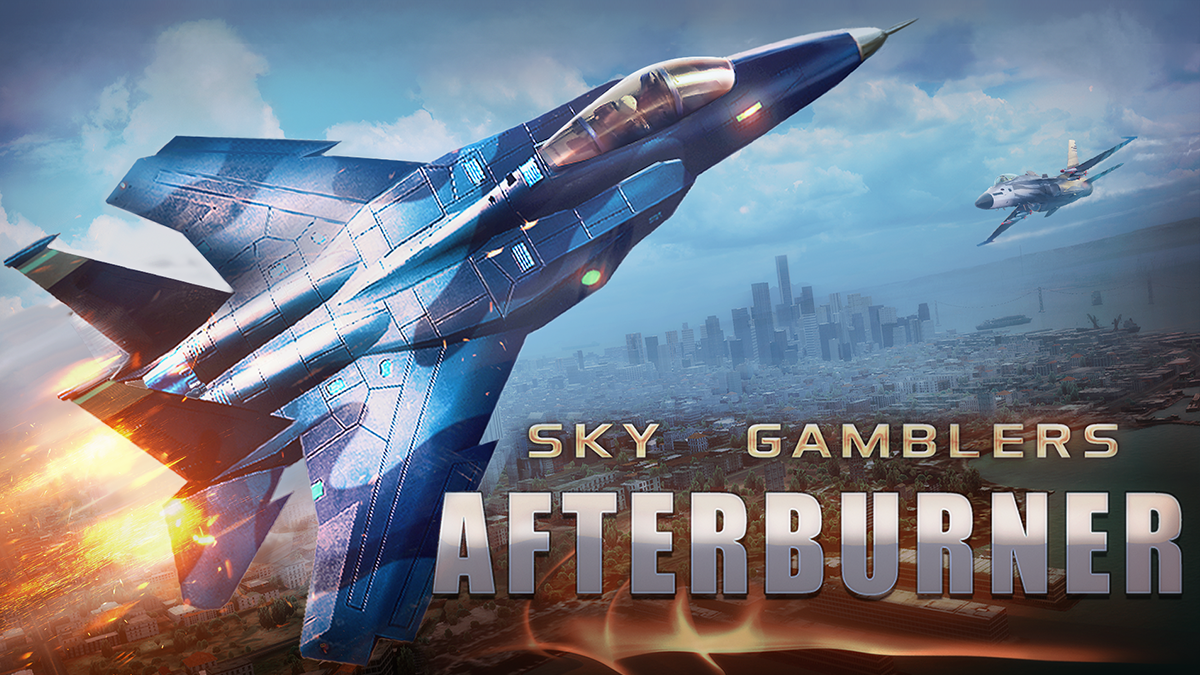 The premier developer for mobile flight simulators expands to Nintendo Switch with a new game this February.
Mountain View, CA – Jan. 31, 2019 – Atypical Games, the leading developer of handheld flight combat simulators, today announced the newest iteration in its award-winning Sky Gamblers series: Sky Gamblers: Afterburner for Nintendo Switch. Engineered with Atypical Games' groundbreaking tech and 10 plus years of experience, Sky Gamblers Afterburner re-imagines Sky Gamblers: Infinite Jets as the genre-defining jet simulator for Nintendo Switch. The game will be available digitally on the Nintendo Game Store for $19.99 USD starting February 7.
Features of Sky Gamblers: Afterburner include:
OPTIMIZED FOR SWITCH –  Controller compatibility and user interface have been worked from the ground up to deliver a streamlined, optimized experience for Nintendo Switch players. Pilots can steer their aircraft using Joy-Con controllers, Pro Controller and Motion Controls.
PLANES ON FLEET – Unlock, upgrade and customize the weapons and defenses of 30 contemporary and futuristic planes, each graphically enhanced for Nintendo Switch. Stick to real-world accuracy or cruise in an all-new creation from your own imagination.
AROUND THE WORLD – Soar over the majestic skylines of Rio de Janeiro, San Francisco, Hawaii and more, painstakingly recreated panoramas with real-world accuracy. Don't let the view distract you, though – the skies, seas and SAM sites are crawling with armed adversaries at every turn.
ALL SYSTEMS ONLINE – Untangle a story of great bravery and despicable treason that spans the globe through the single-player campaign, or match up with (and against) the best pilots online in a number of competitive and cooperative modes including Team Deathmatch, Free For All, Defend the Base, Capture the Flag, Last Man standing, Survival and more.
A press kit for Sky Gamblers: Afterburner can be found at https://drive.google.com/open?id=1wlftng0TkvkTaOHRBc2gdCnWTEZ7-5jr.
About Atypical Games
Founded by a group of passionate video game developers, Atypical Games is a California-based company with a fresh take on publishing. Bringing the focus back to the player's experience and the true values of game design, Atypical promises to bring to the public games of the highest quality and great value. Atypical's developers are the makers of all Sky Gamblers™, Radiation Island™ and Battle Supremacy™  titles and are considered the premier maker of combat flight games for mobile devices.
Official Website | Facebook | @AtypicalGames
Media Contact
TriplePoint PR
Jesse Bandeen
jbandeen@triplepointpr.com
415-955-8500