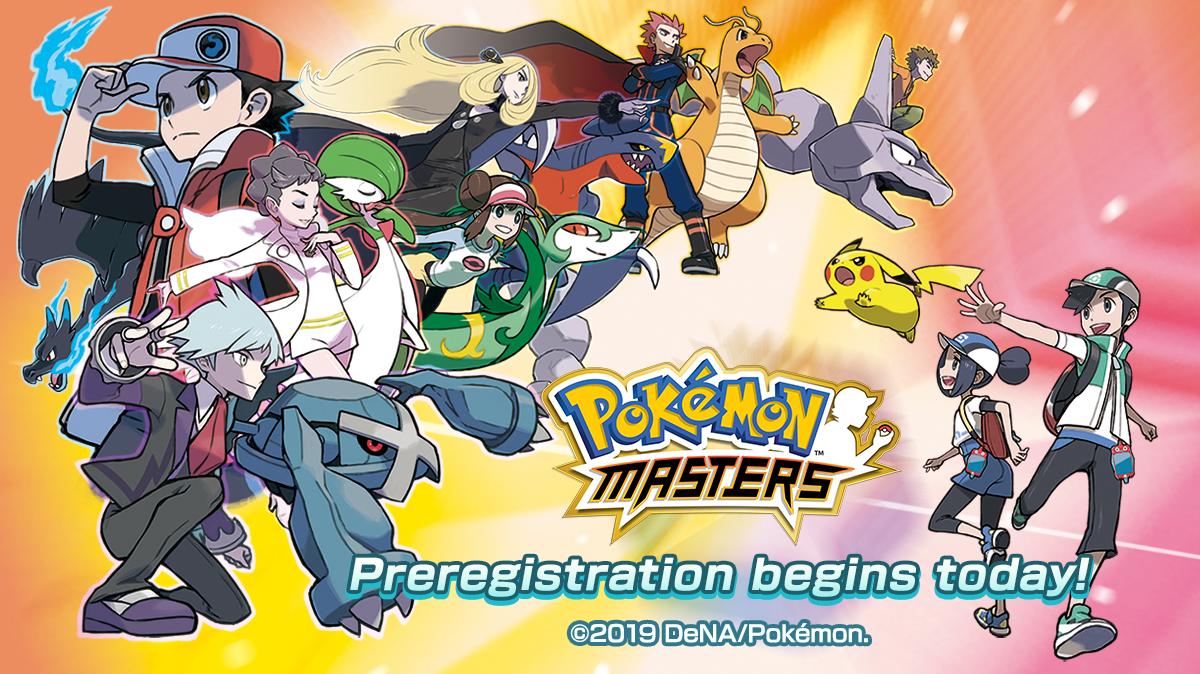 New series of gameplay trailers showcase the game's world and major features, such as the battle and progression systems and ability to evolve Pokémon 
TOKYO — July 23, 2019 — DeNA Co., Ltd., in partnership with The Pokémon Company, began opening pre-registration today for Pokémon Masters on Google Play and the App Store. Pokémon Masters is a strategy and battling game where players form teams of sync pairs (the combination of a Trainer and their partner Pokémon) to engage in 3-on-3 real-time battles against AI opponents. The game takes place in an all-new location – the island of Pasio, where Trainers and their partner Pokémon from every known Pokémon region will gather to compete. Players who pre-register for the game will receive a notification when it launches later this summer. 
Pre-Registration Links
A new series of six gameplay trailers was also released today on the official Pokémon Masters YouTube channel (https://www.youtube.com/c/PokemonMastersGame) to provide fans with a deeper look into the world of Pokémon Masters and its major gameplay features. These trailers include:
An overview of the game's battle and progression systems

A preview of the Story Mode, including a look at the Pokémon Masters League (PML), a tournament that takes place only on the island of Pasio

How to evolve Pokémon in this game and the special powers that come with evolution

A look at the unique features of cooperative play, such as the ability to switch between sync pairs during battle 

How to build the perfect team based on each sync pair's strengths and specific role (Strike, Support, Tech), as well as how to add new sync pairs to your team
In addition, a preview version of Pokémon Masters will launch on supported Android devices in Singapore starting tomorrow and will be coming soon to Canada. In the preview version, players in these regions will be able to enjoy select content from the game before it launches worldwide without needing to pre-register on Google Play. All player progress during this time period will be saved and carried forward to the final version of the game. 
Pokémon Masters will be available worldwide as a free-to-start game with in-app purchases on compatible Android and iOS devices, with release planned for summer 2019. The game will be available in English, French, German, Italian, Japanese, Korean, Spanish, and Traditional Chinese. Fans can learn more about Pokémon Masters at https://pokemonmasters-game.com/en-US.
They can also stay tuned to the official social media channels on Twitter (https://twitter.com/PokemonMasters), Facebook (https://www.facebook.com/PokemonMastersGame), and Instagram (https://www.instagram.com/pokemonmastersgame), as well as the official YouTube channel (https://www.youtube.com/c/PokemonMastersGame) for upcoming news about the game.
###
Assets
All assets, including a fact sheet containing game information and a list of sync pairs announced to date, can be downloaded here.
About DeNA
DeNA (pronounced "D-N-A") develops and operates a broad range of mobile and online services including games, e-commerce, entertainment, healthcare, automotive and other diversified offerings. Founded in 1999, DeNA is headquartered in Tokyo with over 2,000 employees. DeNA's aim is to delight and impact the world through the use of the internet and AI. DeNA Co., Ltd. is listed on the Tokyo Stock Exchange (2432). For more information, visit: dena.com/intl/.
About Pokémon
The Pokémon Company International, a subsidiary of The Pokémon Company in Japan, manages the property outside of Asia and is responsible for brand management, licensing and marketing, the Pokémon Trading Card Game, the animated TV series, home entertainment, and the official Pokémon website. Pokémon was launched in Japan in 1996 and today is one of the most popular children's entertainment properties in the world. For more information, visit www.pokemon.com.
Media Contacts for Information Inquiries
North America: DeNA@triplepointpr.com
Europe: DeNA@hopeandglorypr.com
Note: Please refrain from using this information in articles.