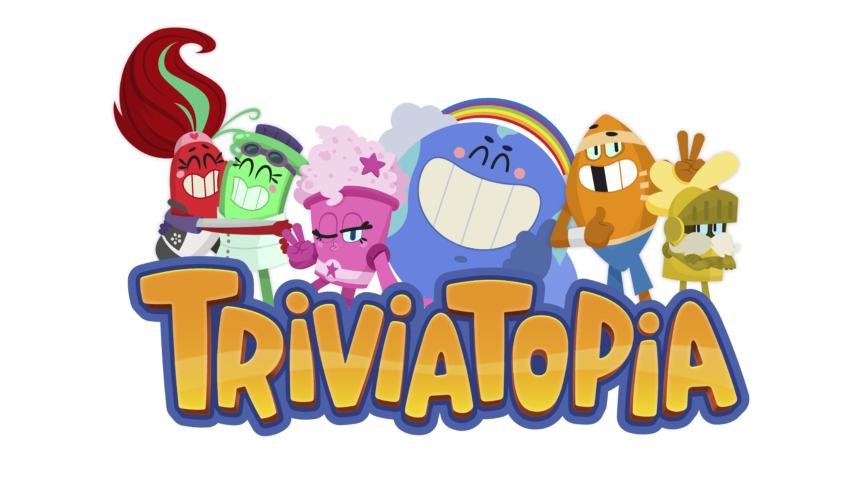 Inspired by the family of Trivia Crack games with more than 500 million worldwide installs and over 150 million yearly active users, "Triviatopia" hits YouTube and YouTube Kids on Thursday, September 12 in English, Spanish and Portuguese
Buenos Aires – September 12, 2019 – Etermax, a leading social game developer and maker of the global phenomenon Trivia Crack, premieres "Triviatopia," an all-new animated series based on the beloved personalities from the hit game. Fans can expand their knowledge by watching "Triviatopia," available on YouTube and YouTube Kids starting on Thursday, September 12, with the first four episodes available for binge watching.
"Millions of people, of all ages, already play and learn with the Trivia Crack universe of games, which has become more than a game: today it is a cross-platform entertainment family with worldwide recognition. We are proud to further develop our characters in a new series of adventures that will continue to spark wonder and curiosity everywhere," said Maximo Cavazzani, Founder and CEO of Etermax.
"Triviatopia" is the land of curious minds, lovers of knowledge and adventure seekers. It's also home to a cast of six quirky, upbeat heroes based on each of the cherished characters from Trivia Crack's knowledge categories: Tina represents arts and creativity, Hector loves history, Pop sets the trends of the entertainment, Bonzo represents strength in sports, Tito explores geography and Alison brings her knowledge of science. Together they make up a great team, and thanks to the curiosity that characterizes them and their different visions of the world, they never miss the opportunity to learn in each of their journeys.
How did the universe begin? How can we save the oceans? Can we live on other planets? When did we start playing soccer? What is the smallest living thing in the world? How can we reduce our carbon footprint? Who's the woman in the Mona Lisa? These are some of the questions that arise in "Triviatopia."
With a spirit of fun and learning true to the game's experience, "Triviatopia" will take families around the world in a journey through time and space to teach messages of acceptance and inclusion. It will also incorporate some of the most popular questions and answers from the mobile game, inviting grownups and children alike to learn the most interesting facts about our planet, ourselves and the universe. There is no such thing as a boring day in "Triviatopia" as every day is an opportunity to learn something new!
The 20 animated shorts of two minutes each were developed by Etermax. Its catchy theme song is created and sang (in the English version) by multi-Grammy winning and Emmy nominated songwriter, composer, producer and musician Jared Faber. 
Watch the series trailer here. 
To download assets for 'Triviatopia', visit the digital press kit.
About Trivia Crack
Trivia Crack is a social mobile games franchise for friends and family to challenge each other in trivia games. The objective is to answer questions correctly and unlock all of six characters, each representing a knowledge category: Art, Science, Sports, Entertainment, Geography and History. Characters are won by answering the questions correctly, with challenges along the way to one-up your opponents. With power-ups, freebies, and multiple game modes, the app consistently remained at the top of Apple App Store and Google Play charts since its launch in 2013 and has been ranked the number one app in over 45 countries.
About Etermax
Founded in 2009 in Argentina, Etermax is the fastest growing videogames development company in the region. Its most popular games include: Aworded Crack (most downloaded game of all time in Spain), PictionaryTM, Trivia Crack, Trivia Crack 2 and Trivia Crack Kingdoms. Etermax's games have already surpassed 700 million installs worldwide. Over the past few years, Etermax has established itself as a reference in matters of social games with the help of an ever growing team in its offices located in Argentina, Germany, Mexico and Uruguay. For more information, visit us online at www.etermax.com.
# # #
Media contacts (press only):
Roger Pérez Cervantes
Press & Communications | Etermax
+54 911 2261-1435
TriplePoint PR, for Etermax
+1 (415) 955-8500