PLAN 8, Crimson Desert, and DokeV Teased Prior to Press Conference and Livestream on Nov. 13
MANHATTAN BEACH, Calif. – November 7, 2019 – Pearl Abyss today revealed three new games currently in development – PLAN 8, Crimson Desert, and DokeV. Trailers and additional gameplay details for each title will be released at Pearl Abyss Connect 2019, the company's press conference, at G-Star 2019 in Busan, South Korea, on November 13 at 8:00pm PST. Viewers unable to attend can tune in to the live broadcast on the company's official Twitch and YouTube channels. 
Visit the official G-Star teaser websites for PLAN 8, DokeV, and Crimson Desert.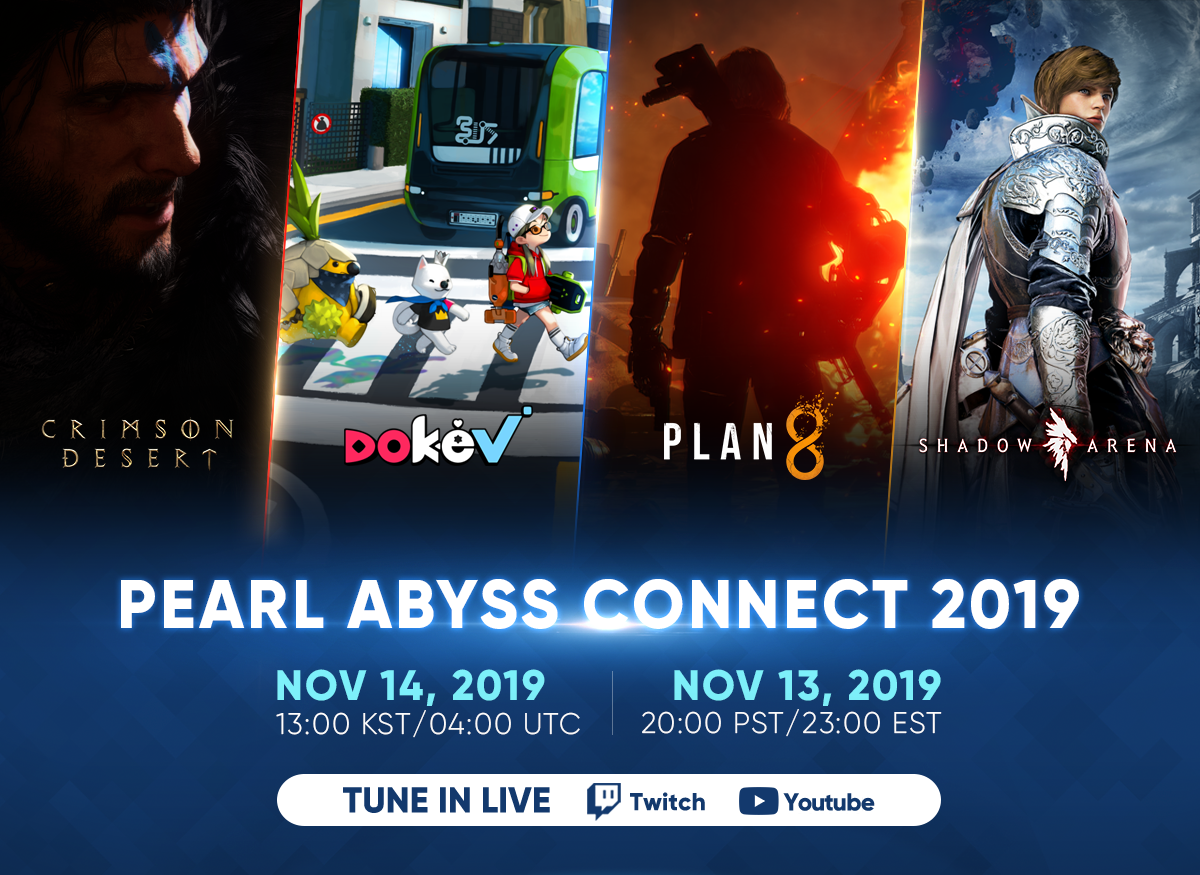 PLAN 8 is an exosuit MMO shooter, a title spearheaded by Minh Le as Technical Advisor, also known as the co-creator of the Counter-Strike franchise. A trailer for Plan 8, the first shooting game from Pearl Abyss, will be released at Pearl Abyss Connect. The game's production is led by Seung-ki Lee, former Environment Art Director of Black Desert Online and Black Desert Mobile.
DokeV is a collectible MMORPG for all ages. DokeV is led by Sang-young Kim, former Animation Director of Black Desert Online, and Suh Won Choi, former Game Design Director of Black Desert Online.
Crimson Desert is an open-world MMORPG set in an epic-fantasy world. In a war for survival, three tribes will fight for control of the Pywell continent. Crimson Desert has been produced since 2018 by Jason Jung, former Game Design Director of RYL Online. Working alongside Jason Jung on RYL Online, one of Korea's most famous first-generation action MMORPGs, was Dae-il Kim, the founder of Pearl Abyss. Eter Lee, former Lead Combat Designer of RYL Online and C9, is in charge of the action combat system for the title. 
In addition, Pearl Abyss revealed an upcoming Closed Beta Test and trailer for Shadow Arena, a new fantasy arena fighter game. Shadow Arena is produced by Kwang Sam Kim, lead producer of Black Desert on consoles. The ultimate survival game features fast-paced, action-packed combat and hands-on gameplay will be available at G-Star 2019. Please find more information for Shadow Arena on the website.
Pearl Abyss Connect will be held at G-STAR 2019 within the Busan Exhibition and Convention Center in Busan, South Korea. Attendees and viewers can look forward to more information on these titles during the conference, which represent a significant departure from Pearl Abyss's first franchise, Black Desert. Credentialed press in attendance may reach out to Justin Rende at jrende@triplepointpr.com for more information and to request an appointment. 
For more information about Pearl Abyss, visit the official website.
About Pearl Abyss
Best known for the MMORPG franchise Black Desert, Pearl Abyss is a leading developer in the game industry. Established in 2010, Pearl Abyss has since developed Black Desert for PC, mobile and console. With all their games built on their proprietary engine, their games are renowned for their cutting-edge graphics. The company is developing Crimson Desert, DokeV, Plan 8 and Shadow Arena, and is poised to continue its growth through 2019 and beyond to maintain its position as one of Asia's leaders in game development. More information about Pearl Abyss is available at: www.pearlabyss.com.
Media/ PR Contact:
TriplePoint on behalf of Pearl Abyss
(415) 955-8500