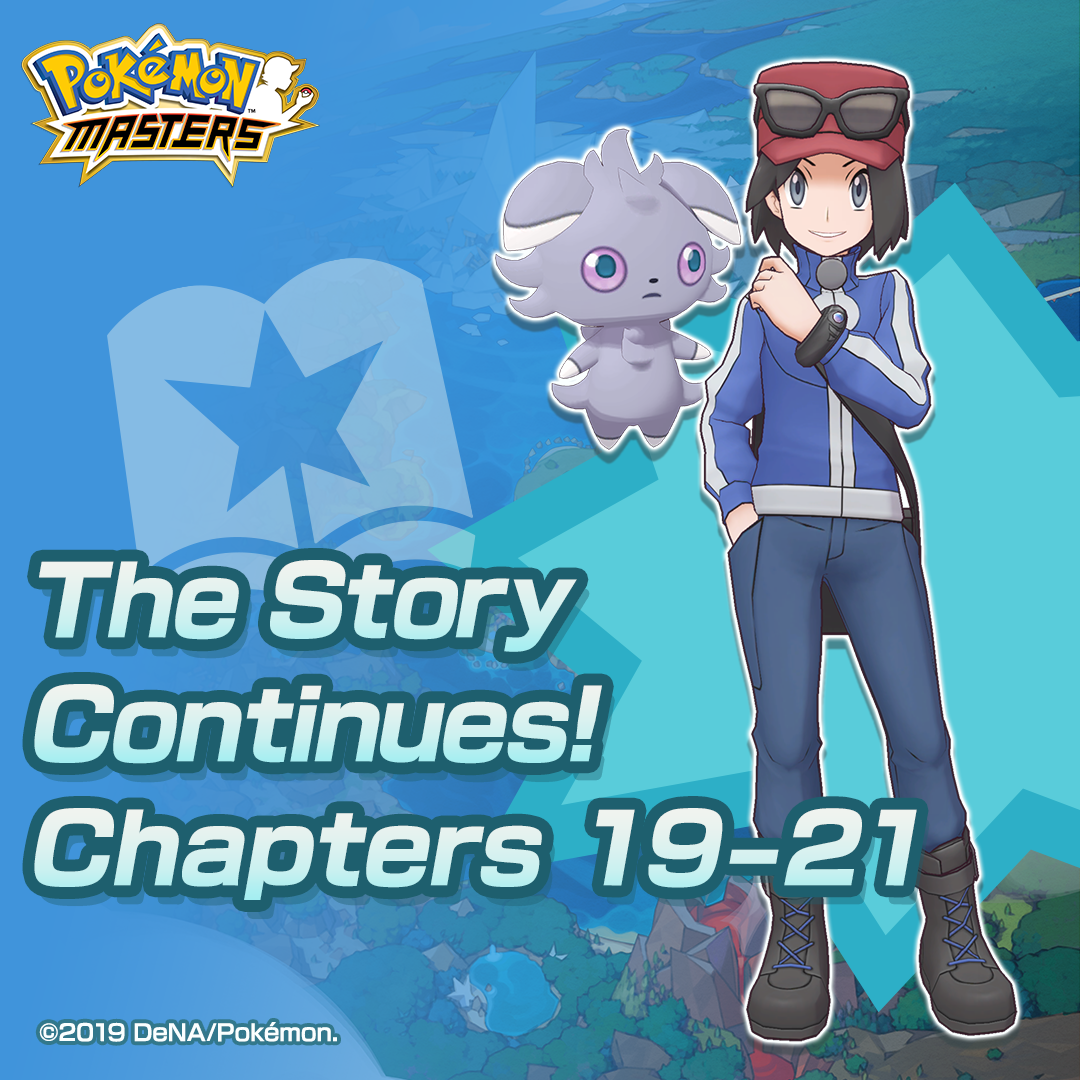 Exciting content updates allow players to add Calem & Espurr to their teams and partner with Torchic as the Main Character's Pokémon 
TOKYO – November 7, 2019 – Today, DeNA Co., Ltd. and The Pokémon Company released highly anticipated updates for Pokémon Masters, a real-time battling and strategy game for compatible iOS and Android devices.
Three new story chapters were added to the Main Story of the game, allowing players to continue the story of Pokémon Masters and play up to Chapter 21. Completing these new story chapters will also allow players to add the 5★ sync pair of Calem & Espurr to their team. Calem is a Trainer best known as one of the main characters from Pokémon X and Pokémon Y.
DeNA also announced that players can now have the game's Main Character pair up with Torchic, the Fire-type Pokémon from Pokémon Omega Ruby and Alpha Sapphire. This is the first time in Pokémon Masters that the Main Character will be able to pair up with a Pokémon other than Pikachu. 
To celebrate these exciting new updates, a special in-game event called "The Story Continues! Special Rally!" will be available for a limited time from now until November 27 at 9:59PM Pacific time, and will reward players with up to 2,000 gems for playing special missions and logging into the game. Additional login bonuses of up to 4,200 gems will also be available to earn for players that login consecutively for 14 days, available for a limited time from now until December 1 at 9:59PM Pacific time. Please check the in-game menus for more information. Note that event dates are subject to change without notice. 
Pokémon Masters is a free-to-start game with in-app purchases on compatible Android and iOS devices and can be downloaded at the links below:
The game is available in English, French, German, Italian, Japanese, Korean, Spanish, and Traditional Chinese. Fans can learn more about Pokémon Masters at https://pokemonmasters-game.com/en-US.
They can also stay tuned to the official social media channels on Twitter (https://twitter.com/PokemonMasters), Facebook (https://www.facebook.com/PokemonMastersGame), and Instagram (https://www.instagram.com/pokemonmastersgame), as well as the official YouTube channel (https://www.youtube.com/c/PokemonMastersGame) for news about the game.
###
Assets
All assets, including a fact sheet containing game information and a list of sync pairs announced to date, can be downloaded here: https://drive.google.com/open?id=1hxpy2-i9ctM5GGOkszGe7lPUkQgt2Rf-
About DeNA
DeNA (pronounced "D-N-A") develops and operates a broad range of mobile and online services including games, e-commerce, entertainment, healthcare, automotive and other diversified offerings. Founded in 1999, DeNA is headquartered in Tokyo with over 2,000 employees. DeNA's aim is to delight and impact the world through the use of the internet and AI. DeNA Co., Ltd. is listed on the Tokyo Stock Exchange (2432). For more information, visit: dena.com/intl/.
About Pokémon
The Pokémon Company International, a subsidiary of The Pokémon Company in Japan, manages the property outside of Asia and is responsible for brand management, licensing and marketing, the Pokémon Trading Card Game, the animated TV series, home entertainment, and the official Pokémon website. Pokémon was launched in Japan in 1996 and today is one of the most popular children's entertainment properties in the world. For more information, visit www.pokemon.com.
Media Contacts for Information Inquiries
North America: DeNA@triplepointpr.com
Europe: DeNA@hopeandglorypr.com
Note: Please refrain from using this information in articles.