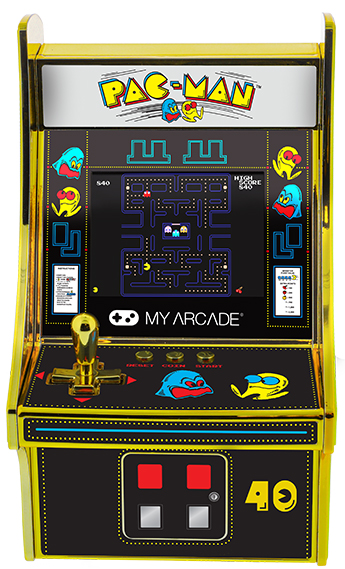 Dressed in gold accents and featuring an Arcade version of the classic game in a table-top form factor
LOS ANGELES – May 22, 2020 – My Arcade, the leading manufacturer of licensed retro gaming collectibles, today announced the PAC-MAN™ 40th Anniversary Edition Micro Player. Created in partnership with BANDAI NAMCO Entertainment Inc., this gold-clad version of My Arcade's popular Micro Player line features lenticular "moving" labels on the cabinet sides and an arcade version of the classic PAC-MAN. The PAC-MAN™ 40th Anniversary Edition Micro Player will be available later this summer for MSRP $39.99.
Dripping with classic 80s style, the PAC-MAN™ 40th Anniversary Edition Micro Player is the perfect collectible to celebrate 40 years in one of gaming history's most iconic moments. It is ideal as a gift for old school gamers looking to relive the arcade age or those that want to meet PAC-MAN™ for the first time. Standing at just over six inches tall, this collectible arcade cabinet can be comfortably placed on a desk or put on display in an entertainment center.
"We are extremely happy to partner with our friends at Bandai Namco to celebrate 40 years of PAC-MAN," said Amir Navid, SVP of Product Development and Creative Director of My Arcade. "We 're commemorating this special occasion with a beautiful, unique collectable that is as fun to look at as it is to play, and we hope fans of the franchise enjoy it."
PAC-MAN™ 40th Anniversary Edition Micro Player features:
Full color screen
Arcade version of PAC-MAN™ adapted for Micro Player
Glowing coin trap
Removable joystick – Play in your preferred way, either with or without the joystick
Lenticular labels that animate the classic arcade cabinet graphics
While waiting for the PAC-MAN™ 40th Anniversary Edition Micro Player™, gamers can check out My Arcade's current line-up of BANDAI NAMCO Entertainment Inc. retro collectibles with titles including PAC-MAN™, Ms.PAC-MAN™ and many more!
A press kit with assets can be found here: https://drive.google.com/drive/folders/18BA4KtnqY4DGhn4xZQQt5PY3NiwngvaY
Keep up with My Arcade's mission in bringing arcade nostalgia from memory lane to your tabletop at myarcadegaming.com, Instagram and Twitter.
About My Arcade
My Arcade is a retro-focused gaming accessories manufacturer that offers an exciting array of portable handhelds, Mini Arcades, Plug N' Play gaming devices, collectibles and unique accessories for classic consoles. My Arcade is dedicated to becoming a go-to source for all things retro. For more information on My Arcade and its wide selection of retro gaming products, check out myarcadegaming.com, follow on Instagram @MyArcadeRetro and Twitter @MyArcadeRetro.
About BANDAI NAMCO Entertainment America Inc.
BANDAI NAMCO Entertainment America Inc., part of BANDAI NAMCO Holdings Inc. is a leading global publisher and developer of interactive entertainment for all major video game consoles, iOS, Android, and online platforms. The company is known for creating and publishing many of the industry's top video game franchises including PAC-MAN™, GALAGA™, TEKKEN™, SOULCALIBUR™, and ACE COMBAT™. BANDAI NAMCO Entertainment America Inc. is the premier publisher in the Western hemisphere for anime based video games including NARUTO SHIPPUDEN™, DRAGON BALL Z™, and ONE PIECE™. More information about the company and its products can be found at bandainamcoent.com, facebook.com/BandaiNamcoUS or twitter.com/BandaiNamcoUS.
# # #
Press Contact
TriplePoint PR for My Arcade
myarcade@triplepointpr.com
+1-415-955-8500