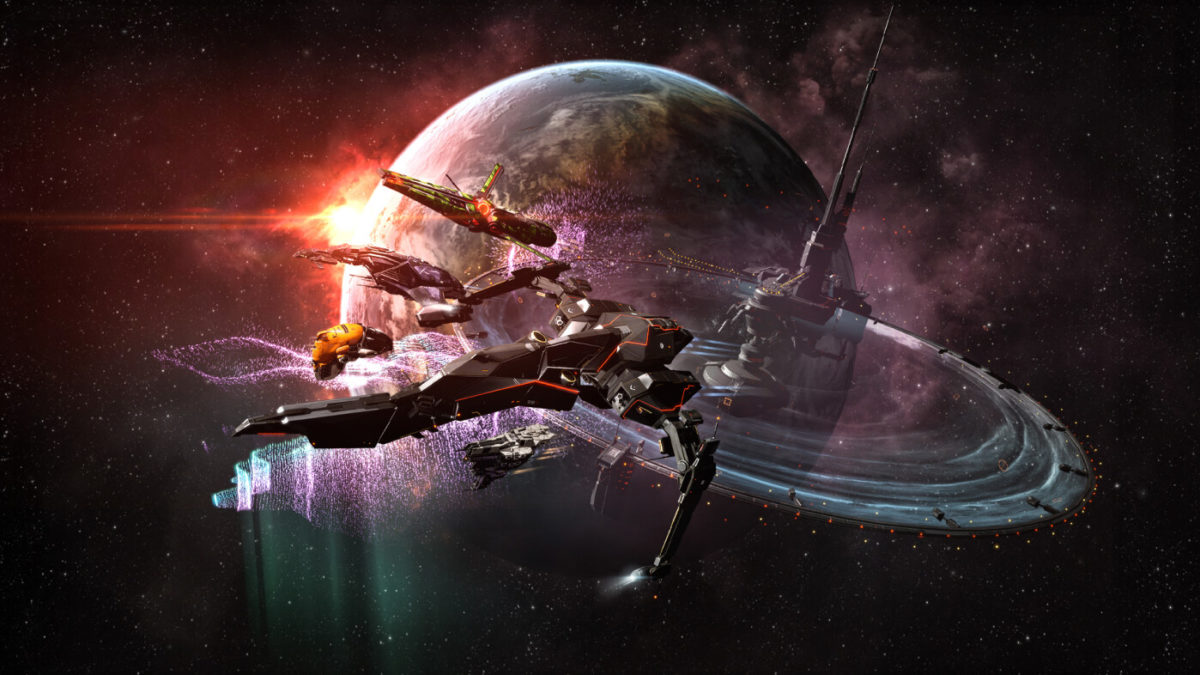 EVE Online players reach a staggering 41.4 million submissions in the fight against COVID-19 with third phase of citizen science initiative Project Discovery
September 22, 2020 – Reykjavík, Iceland – Today CCP Games, in conjunction with Massively Multiplayer Online Science (MMOS), are calling on EVE players to re-engage with the third phase of Project Discovery, the groundbreaking citizen science project and mini-game found within EVE Online, CCP's deep and uniquely player-driven spacefaring MMO.
Since June, Project Discovery participants have contributed to a major real-life scientific program that aims to understand the immune system's response to the novel coronavirus (COVID-19). By marking cell populations on graphs that researchers are then able to analyse, players have been helping scientists further understand how COVID-19 specifically affects blood cells.
Today, CCP is pleased to announce that it has already received an astounding 41.4 million submissions, with over 466,000 already verified and now able to be used in scientific research – a quantity and accuracy of data that would not exist without the efforts of EVE's dedicated players around the world.
With such an astounding level of engagement, CCP Games is therefore excited to announce that scientists behind the project – including teams at McGill University, BC Cancer and front-line COVID-19 clinicians such as Dr Andrea Cossarizza (Professor of Immunology at the University of Modena and Reggio Emilia School of Medicine in Italy) – are asking players to level up and provide even more complex submissions that will help further the accuracy of fresh COVID-19 data.
This new level of challenge will provide scientists with advanced data that will be able to be shared with the global scientific community and contribute towards research aimed at understanding the pandemic.
Prospective participants can find further information on how they can better contribute to the fight against COVID-19 in CCP's developer blog: www.eveonline.com/article/qh27bw/project-discovery-level-up.
Progress updates from the team of computer scientists and bioinformaticians based at the School of Computer Science at McGill University can be found via https://dnapuzzles.org/.
EVE Online can be downloaded for free by visiting www.eveonline.com. For all the latest information about the game, please visit EVE Updates.
"The current phase of Project Discovery is perhaps one of the most timely issues we have ever engaged in and the response from players has been nothing short of astounding," said Bergur Finnabogson, EVE Online's Creative Director at CCP. "With over 40 million submissions made by our players I am reminded once again of the amazing community that sits at the core of EVE Online, and the proof that we can once again achieve the impossible over the insurmountable."
"We have been working on Project Discovery for five years and it is amazing to see how the EVE player community even after all this time keep tirelessly participating in research efforts. This contribution is especially important and valuable in these pressing times. Thank you all!" said MMOS CEO and co-founder Attila Szantner.
"The participation and quality of the data produced by the EVE community has been truly amazing and exceeded all our projections. We are thrilled to be able to mine this unique source of wisdom for the immediate benefit of biomedical research," said Jérôme Waldispühl, Associate Professor, School of Computer Science, McGill University.
"This project is crashing through all my expectations, with players continuing to show great engagement and interest in the work we are doing, as well as providing huge amounts of high-quality data for our research," said Dr Ryan Brinkman, Professor in Medical Genetics, the University of British Columbia, Distinguished Scientist at BC Cancer. "Their efforts will not only contribute to the understanding of COVID-19, but the data they are generating will also be freely and widely shared with the entire scientific community. There is a very high interest in re-using their results for the generation of machine learning algorithms. There is simply no other resource out there for this anywhere close to what is now being generated."
"EVE Online players are doing an exceptional job. The accuracy of their analyses is very high, which demonstrates the extraordinary attention that is paid to what is not just a game but actually a real fight against COVID. Players from all over the world are proving that collaboration with scientists is absolutely successful and that together we can do a lot, in a very difficult moment in which the uncertainties are much greater than ever," said Dr Andrea Cossarizza, Professor of Pathology and Immunology at the University of Modena and Reggio Emilia School of Medicine in Italy.
Media Contact
Journalists seeking interviews with the scientists or information about CCP and its products should contact media@ccpgames.com.
About EVE Online®
EVE Online (PC/Mac) is a compelling, community-driven sci-fi MMO game where players can build and pilot a wide variety of spaceships, traversing vast solar systems for free and choosing their own path from countless options, experiencing space exploration, immense PvP and PvE battles, mining, industry and a sophisticated player economy in an ever-expanding sandbox. EVE is a captivating game in which hundreds of thousands of players compete for riches, power, glory and adventure, forging their own destinies in a single thriving universe. For more information, visit www.eveonline.com.
About CCP Games
CCP is a leading independent game developer that has been praised for its artistry, technology and game design that facilitates emergent behavior, empowering players with compelling means of self-expression. With the launch of EVE Online in May 2003, CCP established itself as a pioneer of cutting edge massively multiplayer games, winning numerous awards and receiving critical acclaim worldwide. Founded in 1997 on the principle of pushing the envelope and breaking new ground on all levels, CCP is on a mission to create virtual worlds more meaningful than real life. CCP is headquartered in Reykjavik, Iceland, and has additional studios in London and Shanghai. For more information, visit www.ccpgames.com.
About MMOS
Massively Multiplayer Online Science (MMOS) is a Swiss start-up bringing innovation to citizen science and gaming by introducing citizen science micro-tasks in major videogames. Past projects include the award-winning previous editions of Project Discovery in EVE Online and Borderlands Science in Borderlands 3. These science mini-games engaged over 1.5 million players and contributed with hundreds of millions of player submissions to advance science. For more information visit www.mmos.ch.
About McGill University
Founded in Montreal, Quebec, in 1821, McGill University is Canada's top-ranked medical doctoral university. McGill is consistently ranked as one of the top universities, both nationally and internationally. It is a world-renowned institution of higher learning with research activities spanning two campuses, 11 faculties, 13 professional schools, 300 programs of study and over 40,000 students, including more than 10,200 graduate students. McGill attracts students from over 150 countries around the world, its 12,800 international students making up 31% of the student body. Over half of McGill students claim a first language other than English, including approximately 19% of our students who say French is their mother tongue.
About The University of Modena and Reggio Emilia (UNIMORE)
UNIMORE has a longstanding tradition (it was founded in 1175) and is considered one of the best universities in Italy for teaching and research. UNIMORE offers a wide range of degree programmes at all levels in most disciplinary areas, from the humanities and social sciences to engineering and technology, and from physical and natural sciences to life science and medicine, and has over 300 international exchange agreements and cooperation programs. UNIMORE is located in important cities of art and culture, in the heart of one of Europe's wealthiest and most dynamic regions, which is world-renowned for its production of mechanical parts, engines, sports cars (e.g. Ferrari and Maserati) as well as for its agro-food sector (balsamic vinegar), ceramic tiles and manufacturing industries. The School of Medicine has several research and clinical centres of excellence and is considered one of the best in the country.