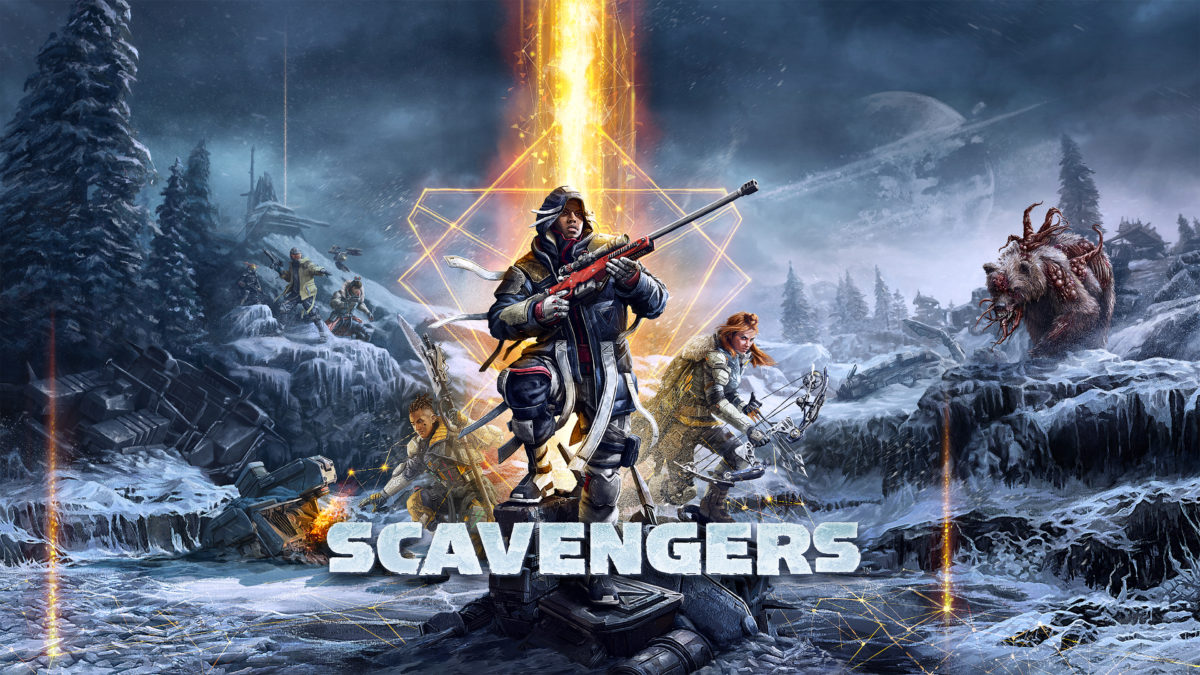 Midwinter Entertainment is collaborating with Twitch for limited-time event, granting players first access to Scavengers through Twitch Drops
Kirkland, USA – April 26, 2021 – Midwinter Entertainment revealed today details about how players will be able to join Scavengers' Early Access when it launches for PC on April 28. In collaboration with Twitch, this limited-time Twitch Drops event will give players across the world the opportunity to be the first to play Scavengers' Early Access release before anyone else.
New players can play Scavengers in Early Access by watching Scavengers Twitch streams and following these steps:
Creating an Improbable game account and linking it with their Twitch account
Watching 30 minutes of any Scavengers stream
After you have claimed your Twitch Drop, you'll receive an email with the Scavengers Steam Key and you can start playing.
Longstanding Scavengers community members who have either signed up for or participated in previous playtests will automatically have access.
Watch the Scavengers Early Access sizzle trailer here: https://youtu.be/wK9Vm88EigM
"Kicking-off our Early Access with Twitch will give new fans a way to learn about Scavengers from the community," says Josh Holmes, CEO and co-founder of Midwinter Entertainment. "Going 'always-on' with Early Access means we can significantly expand our ability to tune the game, implement new systems, and take in more feedback from all of our players. This is a major milestone ahead of our full launch later this year."
Developed by veterans from the Halo, Battlefield, and Battlefront franchises, Scavengers drops players into a hostile frozen wasteland, where squads of three compete to survive and score datapoints against rival teams. Explorers are equipped with a combination of powerful abilities and futuristic weaponry to survive in a strategic battleground that blends sandbox-style PvE and class-based PvP.
The environment of post-apocalyptic Earth is harsh and unforgiving. To maneuver through the frozen terrain and successfully recover datapoints, Scavengers offers players the ability to:
Secure Victory in Various Ways: To win a match in Scavengers teams must survive, battle against both AI opponents and rival squads, and exfil the planet with the most datapoints. How you do it is up to you: avoid contact with other players, stealthily pick off vulnerable foes from afar, or go toe-to-toe by boldly challenging rivals head-on. A team only loses when all three members are eliminated.

Choose Unique Explorers: Players have multiple characters, or "Explorers", to choose from. Each Explorer comes equipped with a signature weapon and a unique ability; a range of dynamic powers to buff defense, agility, utility, and more. 

Set Dedicated Loadouts: Mix-and-match weapons, items, and abilities to build the ideal loadout to fit a variety of playstyles. While many weapons can be found throughout the frozen wasteland, players can also create distinctive weapons via crafting recipes to further diversify their equipment.
The Early Access limited-time Twitch Drops event begins at 12 am PST / 3 am EST / 8 am BST on April 28, with plans to open up to all players thereafter. Scavengers is currently in development for PC, with a full release planned during 2021. A console release is due at a later date. Register your interest to play Scavengers at www.playscavengers.com.
About Midwinter Entertainment
Midwinter is a new Washington-based video game development studio established by veterans of the Halo, Battlefield, and Call of Duty franchises, among many others. Josh Holmes (CEO), Fredrik Persson (CTO), Daryl Anselmo (Director of Art and UX), and Peter Burzynski (Director of Engineering) co-founded the studio after successful careers in AAA gaming. Holmes most recently served as Creative Director of Halo 4 and Studio Head of 343 Industries during the making of Halo 5: Guardians. Midwinter was acquired by Improbable in September 2019. For more information, please visit www.midwinter.net.
About Improbable
Improbable provides better ways to make multiplayer games, and helps multiplayer developers to meet any challenge. Designed specifically for game developers, Improbable's services include managed hosting & orchestration, networking, online services, development tools, as well as advice, support and full co-development.

Improbable also makes innovative multiplayer titles using its own technology, with studios in Canada, the US and Britain.
Founded in 2012 and headquartered in London, Improbable employs more than 600 staff in Europe, China and North America.
www.improbable.io