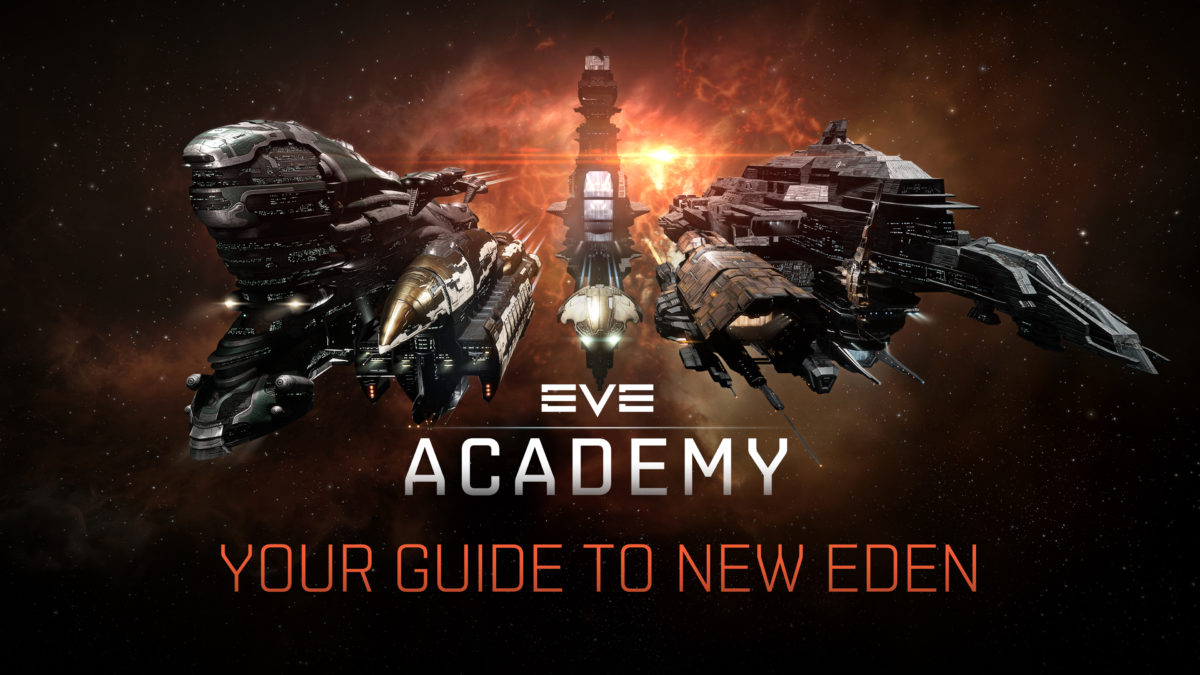 The living website offers insightful videos, guides, and articles to help Capsuleers embark on their intergalactic journey after completing the tutorial
Reykjavík, Iceland – June 13, 2021 – Today, CCP Games – creator of the player-driven spacefaring MMO EVE Online – officially launched EVE Academy, a resource website designed to assist new players forge their own path in New Eden after completing the game's tutorial. EVE Academy houses key information about the MMO's available career paths in one easily navigable location. It is localized in English, German, Russian, French, and Japanese, which are languages natively supported in EVE Online.
Watch the reveal video from the PC Gaming Show at E3 2021 on YouTube here: EVE Online | Welcome to EVE Academy
"It's no secret that EVE Online is a complex game, and its unmatched freedom has a lot to offer players who are hungry for adventure," says Bergur Finnbogason, Creative Director for EVE Online. "We've learned that players who have goals they want to accomplish in EVE Online get more enjoyment out of the game. Everyone has to start somewhere, and EVE Academy gives us an opportunity to help new Capsuleers learn the ropes and set their own goals."
Created with input from EVE players with expertise in the game's different professions and specializations, EVE Academy contains vital information about the game's varied mechanics and intricate systems all in one easy-to-navigate location, making the galaxy-spanning MMO more accessible to new players. After deciding on a career path in EVE Academy, Capsuleers should be well-equipped with everything they need to confidently explore the vast universe of New Eden.
EVE Academy helps players:
Get Started: With information on character creation, the onboard AI "Aura", and the available career paths.
Find a Path: EVE Academy outlines four distinct career paths, each offering a different experience for Capsuleers.
Jump into Activities: Whether pilots are looking to get involved in the massive player-vs-player battles, explore New Eden's 8,000 solar systems, build an industrial corporation, or join one of the NPC empires, EVE Academy gives Capsuleers a place to start their journey across the stars.
Set Goals and Aspirations: EVE Academy offers a variety of achievable goals to those who are looking for guidance. With EVE Academy, players of all skill levels can explore new paths and quickly master the game's intricate systems.
Each of these career paths will be updated with more content over time that will benefit new and returning players.
Assets for EVE Academy can be found here.
EVE Academy can be reached via eveonline.com/eve-academy. EVE Online can be downloaded for free by visiting www.eveonline.com. For all the latest information about the game, please visit EVE News.
About EVE Online®
EVE Online (PC/Mac) is a compelling, community-driven sci-fi MMO game where players can build and pilot a wide variety of spaceships, traversing vast solar systems for free and choosing their own path from countless options, experiencing space exploration, immense PvP and PvE battles, mining, industry and a sophisticated player economy in an ever-expanding sandbox. EVE is a captivating game in which hundreds of thousands of players compete for riches, power, glory and adventure, forging their own destinies in a single thriving universe. For more information, visit www.eveonline.com.
About CCP
CCP is a leading independent game developer that has been praised for its artistry, technology and game design that facilitates emergent behavior, empowering players with compelling means of self-expression. Founded in 1997 on the principle of pushing the envelope and breaking new ground on all levels, CCP is on a mission to create virtual worlds more meaningful than real life. With the launch of EVE Online in May 2003, CCP established itself as a pioneer of cutting edge massively multiplayer games, winning numerous awards and receiving critical acclaim worldwide. CCP is headquartered in Reykjavik, Iceland, and has additional studios in London and Shanghai. For more information, visit www.ccpgames.com.
Media Contact
Journalists seeking information about CCP or its products, wanting to set up interviews or needing further assets should contact media@ccpgames.com.