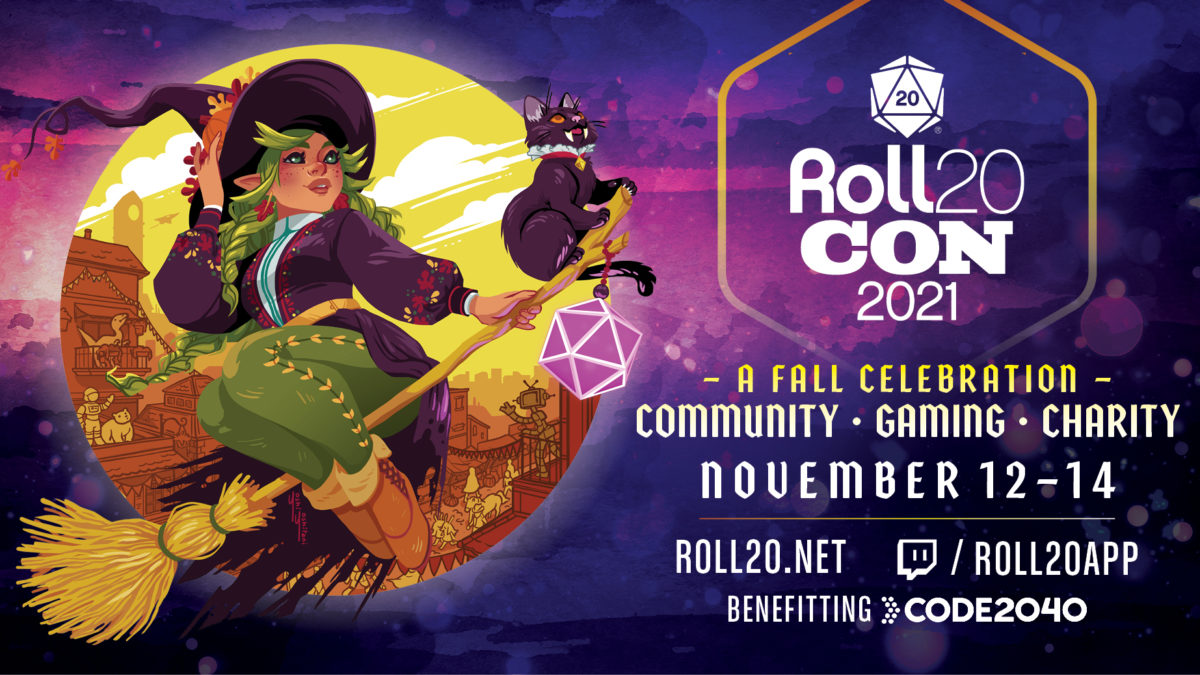 Las Vegas, NV – Oct. 27, 2021 – Everyone's favorite virtual tabletop, Roll20, is equipping their players and GMs for the sixth annual Roll20Con on November 12th through November 14th, 2021. Roll20Con is a celebration of tabletop games and the community, all to raise money for a good cause. Over the course of three days, the online tabletop role playing game (TTRPG) community comes together to dungeon crawl their way through various campaigns, "meet up" and chat with new party members, and check out the latest Roll20 product updates with a look towards the future of the virtual tabletop platform. You especially won't want to miss Sunday's Product Announcement streaming live on November 14 at 2:00 PM here. 
This year, Roll20 will be partnering with the charity Code2040, an nonprofit organization dedicated to ending racial inequality within the tech industry. Throughout the three days, Roll20 will be partnering with streamers, publishers, and other members of the TTRPG industry to raise money. Fans can learn more about Code2040 and can also donate through here: https://tiltify.com/+roll20/roll20-community
"Roll20Con is the perfect opportunity to celebrate the online tabletop community, while also giving back to our own industry and community at the same time," said Amber Cook, Director of Marketing for Roll20. "We are able to receive so much joy, happiness, and connection from tabletop games, that it only makes sense to try and return some of that positivity back to the community that is giving it to us."
At this year's Roll20Con, attendees are also in for a variety of surprises, including a few exclusive announcements coming from Roll20. There will also be a preview of an exciting new title coming soon to the Roll20 Marketplace…so GMs, be sure to lead party members in the right direction and hopefully everyone makes it out in one piece.
Learn more about how Roll20 and Code2040 are bringing the industry together and gaming for good at Roll20Con 2021: https://roll20con.net/. Fans can also view live demos organized with major and indie publishers.
Please find the press kit and assets for Roll20Con here
A full schedule for the event is here, and can be found at https://con.roll20.net.
| | | |
| --- | --- | --- |
| Date | Session Name | Time (PT) |
| 11.12 | First Look at the New Roll20 Mobile App & New D&D Book StrixHaven | 7:00 PM – 10:00 PM |
| 11.12 | Vampire: The Masquerade Playthrough | 4:00 PM – 7:00 PM |
| 11.13 | Call of Cthulhu: The Deep Ones: Investigate dark rituals and the undead with these doomed investigators | 7:00 PM – 10:00 PM |
| 11.13 | Code2040 Fundraiser | 4:00 PM – 7:00 PM |
| 11.14 | Bringing The Power Rangers (a new licensed IP!) to Roll20 | 12:00 PM – 2:00 PM |
| 11.14 | What's Next on Roll20 | 2:00 PM – 4:00 PM |
| 11.14 | The Festival of Emerelda – a new free Roll20Con Game by creators Gabe Hicks and Elise Renendez | 4:00 PM – 6:00 PM |
About Roll20Con
Roll20Con is Roll20's annual online (virtual) convention that celebrates community, gaming, and charity. In partnership with Code2040, an organization dedicated to ending racial disparity in the tech industry, Roll20 will continue to match community donations up to $50k during this weekend-long event. Roll20 is celebrating the TTRPG (tabletop role playing game) community with previews of upcoming RPG releases, actual plays, demos, free content, and plenty of gaming.
About Roll20
Roll20 is the all-in-one solution for organizing and playing tabletop games online, allowing you to play your games anywhere and share them with anyone virtually. With the ability to choose from a number of popular titles built ready for your virtual tabletop, your adventures are limitless and you can get started playing with little to no prep. Dive into advanced features like Dynamic Lighting or explore macros and APIs to add some extra depth to your game. Roll20 lets you play your tabletop games, your way. For more information, please visit https://roll20.net/.
Media Contact
TriplePoint on behalf of Roll20