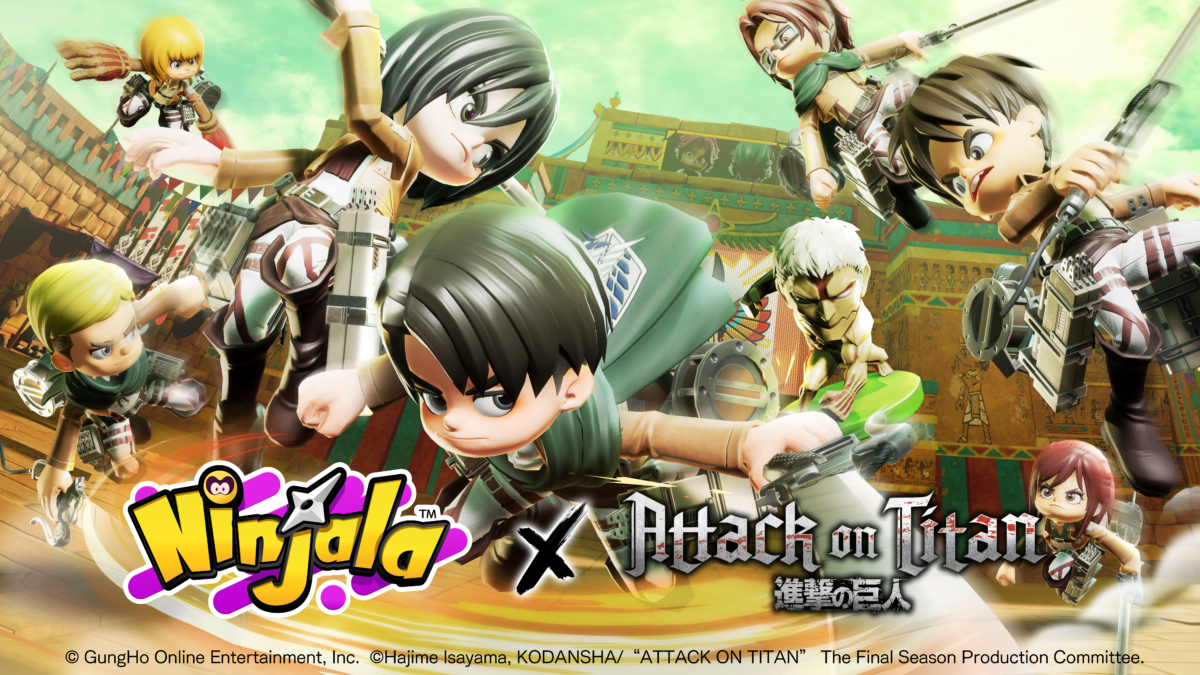 Join the Survey Corps and slay Titans in style today through April 26, 2023
TOKYO, Japan – March 16, 2023 – Put on the Wings of the Scout Regiment as Attack on Titan arrives in Ninjala today. GungHo Online Entertainment's gum-based ninja action game kicks off a collaboration with the hit anime and manga series as part of Season 12. Now through April 26, players can race through the skies like a Titan slayer with swag and embody humanity's last line of defense.
Gear up for battle with special outfits, emotes, stickers, and other limited-time items:
Offer Up Your Wardrobe: Dress the part of a Scout Regiment member! Visit the Shinobi Shop for outfits based on characters like Eren Jeager, Mikasa Ackermann, and Armin Arlert. Plus, show off your tidying skills with the "Levi's Cleaning Style" outfit. Players can also receive two special outfits based on Levi and the New Omni-Directional Mobility (ODM) Gear Style from the collab gacha.
A Thunderous New Weapon: Wield the mighty Thunder Spears or harness the Titan's power with collab Ninja-Gums.
Unleash the Power of the Titans: Relive moments from Attack on Titan with emotes based on the anime, including "Titan Transformation," "Levi's Attack," and "Offer Up Your Hearts." Set your pre-battle emote to "Offer Up Your Hearts" to perform the Scout Regiment salute with your team before heading into the fray.
Command Titans: Transform into "Eren's Titan," "Colossal Titan," "Armored Titan," and "Female Titan" with collab Gum Utsusemi. These chibi-fied terrors can be purchased from the Shinobi Shop.
Stock Up on Rations: There are plenty of other special items coming to the Shinobi shop, including outfits based on the Survey and Cadet Corps, IPPON decorations, Sticks, and Gum Bottles. A Gum Bottle based on the ODM Gear features a rugged mechanical design and will look great with collab outfits.
Prove Your Cadet Skills
Held on April 22, the Attack on Titan Cup is a six-hour, limited-ranking battle for all regions. Players can obtain special rewards based on ranking, including IPPON decorations, collab avatar items, Gold Medals, and Gacha Coins. The top 2,000 players will receive Military Police Regiment-themed outfits. All participants will receive an "Attack on Titan Logo" Sticker.
Keep The Battle Going
During the collab, the Battle Bonus will be in effect. Players can earn collab Stickers, Research Points, and Gacha Coins by participating in battles. Completing Shinobi challenges during the collab period will also earn Research Points, Ninja Medals, and an outfit based on the Garrison Regiment. Players who finish 'Round 5' of the challenges will receive a Garrison Regiment T-shirt.
Matsuri Madness
A GOEMON Matsuri will also take place during the collab, with the great vigilante ninja thief GOEMON handing out Jala to players. Use this free currency to purchase Attack on Titan items or pick up a Ninjala Pass. The SUPER Ninjala Pass Matsuri, hosted during the collab, will let players earn double tier points from daily Ninja Missions. Players will be able to refresh missions as many times as they want during the Matsuri.
Ninjala is an online Ninja-Gum action game featuring a colorful cast of ninjas who battle it out in action-packed clashes while free-running across dynamic environments. These young descendants of ancient ninja clans wield a variety of special items and abilities, highlighted by the use of distinctive "Ninja-Gum" weapons. Check out the trailer here.
Press assets can be found here.
To learn more about Ninjala, visit the official website, Twitter, Facebook, or YouTube.
---
©Hajime Isayama, KODANSHA/ "ATTACK ON TITAN" The Final Season Production Committee.
ABOUT GUNGHO ONLINE ENTERTAINMENT AMERICA
GungHo Online Entertainment America, Inc. (GOEA) is a multiplatform publisher dedicated to delivering the best titles, content, and support for the online gaming community. Established in 2012 and led by former Square Enix U.S.A. and XSEED Games executive Jun Iwasaki, GOEA is the US division of GungHo Online Entertainment (GOE), an established Japanese publisher. GOEA's content partners include leading developers SUPERTRICK GAMES, Game Arts, Acquire, and Gravity, all of which are subsidiaries of GOE. GOEA publishes and distributes network-oriented games for console, handheld, mobile, tablet, and MMO-style games for PC. GOEA is located in Redondo Beach, CA. For more information, visit www.gunghoonline.com.
Trademarks are property of their respective owners. Nintendo Switch is a trademark of Nintendo.
© GungHo Online Entertainment, Inc.
MEDIA CONTACT
GUNGHO ONLINE ENTERTAINMENT AMERICA
Natsuki Nishikawa
Senior Communications Coordinator
natsuki@gunghoonline.com
TriplePoint on behalf of GOEA
gungho@triplepointpr.com
+1-415-955-8500