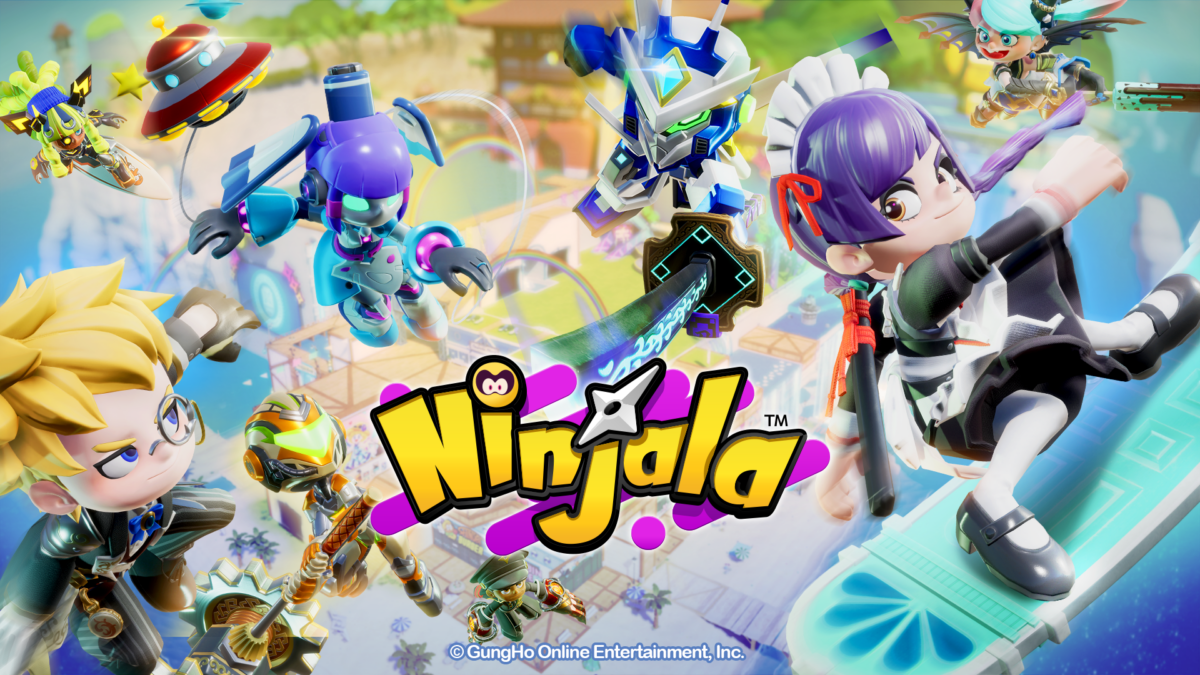 A high-tech season brings back virtual star Hatsune Miku
TOKYO, Japan – November 9, 2023 – The world-famous virtual singer, Hatsune Miku, will soon be making her return to Ninjala on December 20. GungHo Online Entertainment (GOE) today revealed details surrounding the upcoming robot-themed season for their colorful, free-to-play action game Ninjala. In addition to the collaboration, Ninjala plans to celebrate Cyber Monday with special events and in-game shop discounts.
Check out the full dev diary here.
Hatsune Miku Returns with Magical Mirai 2023
Beginning December 20, the renowned virtual singer Hatsune Miku takes the stage again in GOE's bubble-gum action game. Fans can cosplay as their favorite electronic performers, with the shop now including outfits for the characters KAITO and MEIKO. Players will also have another chance to obtain past Hatsune Miku collab items from her Magical Mirai 2021 tour.
Gum Ninjutsu Surprise
This season introduces the Iron Fist Dive Gum Ninjutsu, which allows players to warp directly above their targets and rapidly descend to attack. This attack generates an explosive shockwave that not only hits the target but surrounding opponents as well. Players can use this Gum Ninjutsu's long range to warp through walls and perform powerful sneak attacks.
Next-Gen Gum Weapons
No one can escape with two highly mobile weapons: the Yo-yo type gum weapon Spinning UFO and the Board type gum weapon Knockout Door:
Spinning UFO: This seemingly extraterrestrial weapon's Gum Shoot ability is Gum Boomerang, allowing Spinning UFO to return to players after they throw it – a first for Yo-yo type weapons. With the Iron Fist Dive Gum Ninjutsu, players can warp above their foes and disrupt groups with the far-reaching Alter Special Golden March.
Knockout Door: Shut the door on your opponent's strategies using the Gum Needle Gum Shoot ability, which forces enemies to guard. By combining this ability with the weapon's mobility, players can effectively time their attacks to chase down foes using the Gum Ninjutsu Iron Fist Dive and the Alter Special Surfing Cannon.
Cyber Monday Celebrations
During this season, players can look forward to Cyber Monday events that offer limited-time special discounts and increased odds of obtaining highly sought-after items.
Cyber Monday 2023 Sale: All items in the Shinobi Shop will be 20% off for players or 40% off for Ninjala Pass holders.
Gumchi Shop Lottery: The Research Points redemption rate for grand prizes will increase from 2% to 10%. This can be combined with shop discounts to advance Ninja-Gum research.
Cyber Monday 2023 Big Chance Gacha: Odds will increase from 5% to 7.5%, giving players a greater likelihood of acquiring the Sakura Petals Style and Dark Angel Suit.
Assets for Ninjala Season 15 are available here.
###
© Crypton Future Media, INC. www.piapro.net

© GungHo Online Entertainment, Inc.
What's Hatsune Miku?
https://piapro.net/
Hatsune Miku is a software program developed by Crypton Future Media, Inc. that anyone can use to make a song just by inputting lyrics and a melody. Many creators have posted the music they've made with Hatsune Miku onto the internet, giving rise to a cultural phenomenon. Virtual singers have even achieved worldwide popularity as characters, becoming the inspiration for a variety of merchandise and even appearing in live concerts.

*Kagamine Rin, Kagamine Len, Megurine Luka, MEIKO, and KAITO are all virtual singers developed by Crypton Future Media, Inc.

What is Hatsune Miku "Magical Mirai"?
https://magicalmirai.com/2023/
Hatsune Miku "Magical Mirai" is a combined event of 3DCG live concert of virtual singers such as Hatsune Miku, and an exhibition where you will be able to experience the creative culture surrounding Hatsune Miku. Held every year since 2013, in 2023 the event was held with the theme of "hero" in Osaka and Tokyo. Hosted by Tokyo Metropolitan Television Broadcasting Corp., Crypton Future Media, INC.
ABOUT NINJALA
Ninjala is a free-to-play online action game featuring a colorful cast of ninjas who battle by unlocking the secret powers of "Ninja-Gum." These young descendants of ancient ninja clans wield a variety of special items, abilities, and distinctive gum weaponry as they clash and dash across vibrant, dynamic arenas. Fly through the air and hurl binding bubbles at rivals and smack competition out of the arena using super-sized weapons–for every ninja, endless combos await. Style your shinobi by choosing from hundreds of outfits and customization items or become one with your surroundings like a true student of stealth. Ninjala is available on the Nintendo Switch™, where it has received over 10 million downloads worldwide. Visit ninjalathegame.com to learn more.
ABOUT GUNGHO ONLINE ENTERTAINMENT AMERICA
GungHo Online Entertainment America, Inc. (GOEA) is a multi-platform developer and publisher dedicated to delivering fun & unique titles like Puzzle & Dragons, Ninjala, and LET IT DIE. GOEA is the US division of GungHo Online Entertainment (GOE), whose studios include leading developers SUPERTRICK GAMES, GAME ARTS, Acquire, and Gravity. GOEA distributes games for consoles, handhelds, mobile devices, and PC. GOEA is located in Redondo Beach, CA. For more information, visit www.gunghoonline.com.
Trademarks are the property of their respective owners. Nintendo Switch is a trademark of Nintendo.
MEDIA CONTACT
GUNGHO ONLINE ENTERTAINMENT AMERICA
Natsuki Nishikawa
Senior Communications Coordinator
natsuki@gunghoonline.com
TriplePoint on behalf of GOEA
gungho@triplepointpr.com
+1-415-955-8500