Hothead Games launches new Big Win Sports game for baseball fans.
VANCOUVER­ – June 27, 2012 – Here's the wind-up, and the pitch! Hothead Games steps up to the plate and hits a homerun! Feel the excitement of going for the Big Win in Big Win Baseball, the newest game from the Big Win Sports series, available today on the iTunes App Store and Google Play.
Get out of the stands and into the dugout and create your own unique dream team to compete against online opponents from around the world. Manage players by boosting their pitching, hitting and fielding skills then watch your team battle it out on the diamond and in the dust!
Aim to beat your opponents using Big Impact cards, and watch the game play out as your fans cheer you on to victory! Once you have mastered your team, get ready to compete against your friends in Friend's Pennant mode, or take on the world in the Daily Pennant for the ultimate BIG WIN!
Big Win Baseball features:
Full team and player customization for your very own fantasy baseball team
Bronze, Silver and Gold card packs to find new players and boost their skills
Big Impact cards that come to life during a game to improve chances — cards include "Plate Focus", "The Cannon", "The Wheelhouse", "Extra Bases" and many more.
Earn coins and Big Bucks from playing games, leveling up, and winning the Daily Pennants
Accessible and addictive gameplay for everyone
Big Win Baseball is available on iOS and Android now for FREE. Available for Kindle Fire and the Amazon App Store at the start of July.
App Store trailer: http://www.youtube.com/watch?v=QZyJm_Vjouk
Google Play trailer: http://www.youtube.com/watch?v=CaDH2HVUaOU
Download it on the App Store: http://itunes.apple.com/us/app/big-win-baseball/id491594085?mt=8
Download it on Google Play: https://play.google.com/store/apps/details?id=com.hotheadgames.google.free.bigwinbaseball
About Hothead Games
Hothead Games, from Vancouver, British Columbia, is an independent developer and publisher of mobile games. Our studio has brought to life original titles such as, Zombie Ace, Scarface, Jaws Revenge and the Big Win Sports series. Partnering with other indie studios has allowed us to bring games like Braid and Machinarium to more platforms and new audiences.
Official Website | Facebook | @HotheadGames
Media contacts
Ellen Manuszak, TriplePoint
ellen@triplepointpr.com
(646) 462-3166
Oliver Birch
Director of Marketing, Hothead Games
media@hotheadgames.com
Assets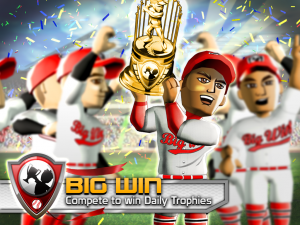 Download the press kit
Watch the App Store trailer on YouTube
Watch the Google Play trailer on YouTube