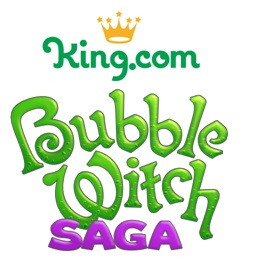 SAN FRANCISCO – June 27, 2012 – King.com, the leading casual social games company, will be debuting Bubble Witch Saga on mobile this July.
Bubble Witch Saga, the addictive hit bubble shooter game with over 4.5 million daily active players on Facebook, will be the first iOS game to offer complete progress synchronization with Facebook. Players who link their Facebook account can complete and unlock levels on their iPhone, iPod Touch or iPad device and continue their quest on Facebook, and vice versa. Both new and current players will enjoy over 150 levels free when Bubble Witch Saga debuts for iOS devices in July.
In Bubble Witch Saga, Witch Country is being overrun by dark, evil spirits. Players must help the Witch Coven free the villagers and drive away the darkness by taking on quests and challenges. They need to keep the cauldron bubbling by shooting and popping bubbles. Chaining successful consecutive bursts causes more spiders to appear – bouncing the bubbles off the spiders will net players even more points. Players can rise up the leaderboards and challenge friends' high scores in hundreds of levels, with new levels being added each week.
With the new, fully synchronized mobile version of Bubble Witch Saga, players will be able to play anytime, anywhere – picking up right where they left off whether for a quick "snackable" session or to eat up a whole lunch hour!
Bubble Witch Saga features:
Unlock magical charms, bubbles and items to aid you during the witching hour
Fully synced with Facebook: players can continue their progress and unlock new levels in both the Facebook and mobile versions!
New levels added every week
Sharp, vivid retina display visuals
Connect to Game Center to unlock achievements and challenge friends
Built-in online connectivity to see friends that are also playing
Learn more at http://about.king.com/games/bubble-witch-saga.
---
Assets

– Download the press kit, which includes assets and the trailer above.
---
About King.com
King.com is a worldwide leader in casual social games. King.com creates fun and simple games for everyone. Since 2003, King has been a leader and pioneer in making games for players all around the world, delivering casual, social games that have connected over 30 million players with over 2.5 billion game plays. King.com has launched 150 classic and fun new titles in 14 languages, across King's gaming network on the web, social and mobile.
King.com currently has offices located in London, Hamburg, Stockholm, Malmo, Milan, Malta, Bucharest and San Francisco.
---
Media Contact
Sam Dalsimer,Triplepoint for King.com
sam@triplepointpr.com
(212)730-9744