The Historic Jockey Club Brings Authentic Breeding, Training and Racing Action to Social and Mobile Platforms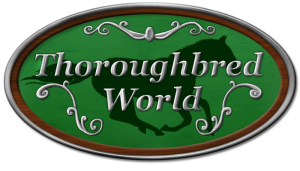 LEXINGTON, Ky. – August 14, 2012 – The Jockey Club today announced the release of Thoroughbred World, its first social and mobile game. Thoroughbred World, developed by ZeeGee Games, provides an unmatched, authentic Thoroughbred horse training and breeding experience from building the first paddock to entering the Winners' Circle. The game is available now on Facebook, and coming to iOS in the early fall.
Thoroughbred World combines the best gameplay elements of a sim builder and a resource manager. Players create the ultimate beautiful racehorse in custom training facilities, improving agility, balance, stamina and speed through a series of mini-games. Once their dream horse is prepared, players enter races against other players to win in-game currency and other items.
"For over a century The Jockey Club has worked to improve Thoroughbred racing and breeding," explained Jason Wilson, vice president of business development at The Jockey Club. "Thoroughbred World is part of our evolving strategy announced last year to help promote the sport to the mass market by adapting to technological changes and reaching fans through new media. We're very excited about this new era."
Key features of the game:
Use action points to nurture and train beautiful horses, then enter them in competitive races against other players
Purchase Thoroughbreds from the system and from other players using in-game and real-life currency …
… Or breed them yourself using realistic coat colors to produce beautiful and unique horses
Use Coins and Thoroughbucks to upgrade your training center and equip horses, trainers and jockeys
Earn in-game currency by winning races, selling horses or contracting out breeding services
Play every day to earn loyalty bonuses and chances to compete in special VIP races for Thoroughbucks, Coins and high-end game items
Play Thoroughbred World on Facebook today!
About The Jockey Club
The Jockey Club, founded in 1894 and dedicated to the improvement of Thoroughbred racing and breeding, is the breed registry for North American Thoroughbreds. In fulfillment of its mission, The Jockey Club provides support and leadership on a wide range of important industry initiatives and it serves the information and technology needs of owners, breeders, media, fans and farms, among others. Additional information is available at jockeyclub.com.
The Jockey Club maintains offices in Lexington, Kentucky, and New York City.
Official Website | @jockeyclub
About ZeeGee Games
ZeeGee Games was founded in 2002 by Dustin Clingman and Dave Arneson as a "pen and paper" role-playing game company and has expanded into other forms of gaming.  In 2008, ZeeGee Games and IMI Labs merged while remaining ZeeGee Games, a DBA of IMI Labs.
Today, ZeeGee Games is growing with creative and passionate individuals whose main focus is to create fun and innovative games for the web, mobile, and console platforms in a timely manner.  Our ability to understand both the business and technology of games has kept our customers happy and returning for more.
Official Website | @zeegeegames | Facebook
---
Media Contact
TriplePoint for Thoroughbred World
tjc@thoroughbredworld.com
Assets

A digital press kit for Thoroughbred World may be downloaded here.