SAN FRANCISCO – Oct. 18, 2012 – PlayFirst® Inc. today announced a major expansion for Hotel Transylvania Dash® on iPhone, iPad and iPad touch that offers players two hot new venues and four monstrous new guests. In addition to the 30 action-packed levels that made Hotel Transylvania Dash the No. 1 free iPad game when it launched last month, patrons of Dracula's five-stake resort can now try their hands – or claws, paws, or pincers – at running stylish new Hawaiian and Egyptian wings of the all-monster hotel. For the one million players who downloaded Hotel Transylvania Dash in just 20 days after its release, the updates are sure to be the perfect treat.
From palm trees to pyramids, both spooktacular additions are available as in-app purchases for just $0.99 each. Pick them up from within Hotel Transylvania Dash, available now on the App Store.
New characters include:
Wayne loves to have a howling good time at Hotel Transylvania.  Make sure he gets bones for his noisy pups!
You can usually spot Griffin, the Invisible Man, in any group photo…or can you?  Griffin loves to have his photo taken with all his spooky friends!
The Gargoyles love to hit the gym and enjoy the view at Hotel Transylvania.  If you can't find them in their room, check the roof!
The cute Mummy is a fashion icon in any century!  Make sure to deliver both of her suitcases to her room.
To access the new levels and characters, along with the original game, download Hotel Transylvania Dash for free on iPhone, iPad and iPod touch via the App Store.
More About Hotel Transylvania Dash
Hotel Transylvania Dash is based on the popular animated comedy from Sony Pictures, Hotel Transylvania, and represents the latest game in the successfulHotel Dash series from PlayFirst. In the game, players help Dracula create and manage a lavish resort exclusively for monsters.  (No humans allowed!) Guests include the charming characters from the movie, including Murray the Mummy, who adores the hotel's signature Worm Cakes; Frankenstein, who has a tendency to sleepwalk; and Wayne the werewolf, who travels with an entourage of pups. Players are sure to have a frightfully fun time helping Dracula book rooms, deliver room service, and attend to guests' needs while preparing a special 118th birthday surprise for his vampire daughter, Mavis. Dracula is in for a surprise when the human Jonathan stumbles into the hotel – the first human ever to discover the monsters-only retreat!
Assets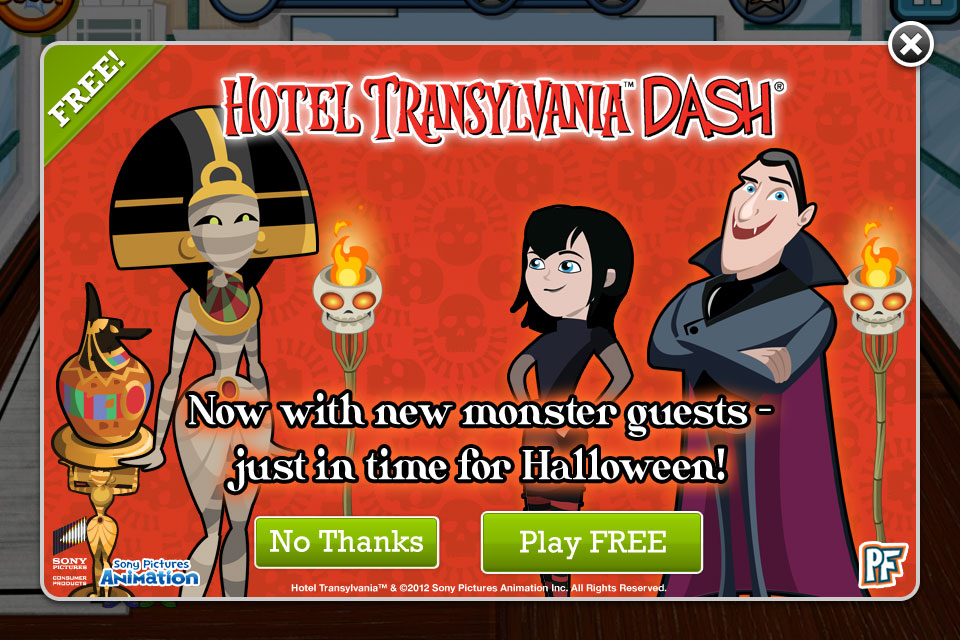 Download the full Hotel Transylvania Dash press kit, including assets from the expanded content, by clicking here.
---
More About Hotel Transylvania
Welcome to the Hotel Transylvania, Dracula's lavish five-stake resort, where monsters and their families can live it up, free to be the monsters they are without humans to bother them. On one special weekend, Dracula has invited some of the world's most famous monsters — Frankenstein and his wife, the Mummy, the Invisible Man, a family of werewolves, and more — to celebrate his daughter Mavis' 118th birthday. For Drac, catering to these infamous friends is no problem — but his world could come crashing down when a human stumbles on the hotel for the first time and befriends Mavis.  Directed by Genndy Tartakovsky.  Produced by Michelle Murdocca.  Screenplay by Peter Baynham and Robert Smigel.  Story by Todd Durham and Daniel Hageman & Kevin Hageman.
About PlayFirst
PlayFirst's mission is to be the world's first choice for fun. Through the success of worldwide megahits likeDiner Dash®, PlayFirst has become the leading creator of mobile fun for family and friends. With over 650 million downloads worldwide, games in the Dash portfolio, including Diner Dash, Wedding Dash®, Cooking Dash®, Hotel Dash® and SpongeBob Diner Dash®, are the global leaders in time management mobile games. PlayFirst games are crafted using the PlayFirst Recipe for Fun™ which uniquely combines brand, characters, relatability, engagement, authenticity and quality, with feedback from its worldwide player base, to create hit after hit, including the most recent hit freemium game, Mall Stars ®. For more information, please seewww.playfirst.com.
Official website | Facebook | @PlayFirst
About Sony Pictures
Sony Pictures Entertainment (SPE) is a subsidiary of Sony Corporation of America, a subsidiary of Tokyo-based Sony Corporation. SPE's global operations encompass motion picture production and distribution; television production and distribution; home entertainment acquisition and distribution; a global channel network; digital content creation and distribution; operation of studio facilities; development of new entertainment products, services and technologies; and distribution of entertainment in 159 countries. For additional information, go to http://www.sonypictures.com/
About Sony Pictures Animation
Sony Pictures Animation produces a variety of animated entertainment for audiences around the world.  The studio is following its worldwide comedy hits—the 2011 hybrid live action/animated family blockbuster, The Smurfs (3D) and the 2009 mouth-watering Cloudy with a Chance of Meatballs (3D)—with the family comedy Hotel Transylvania (3D) in September 2012 and the Smurfs 2 (3D) in July 2013.  Sony Pictures Animation, in conjunction with Aardman Animations, has produced two critically acclaimed feature films:  the CG-animated family comedy Arthur Christmas (3D); and the stop-frame animated high-seas adventure, The Pirates! Band of Misfits (3D).  In 2007, Surf's Up received an Academy Award® nomination for Best Animated Feature Film.  The division, whose first feature film Open Season led to a very successful movie franchise, is turning 10 this year.  Sony Pictures Animation is an operating unit of Sony Pictures Digital Productions.
PlayFirst, Diner Dash, Wedding Dash, Cooking Dash, Hotel Dash and Mall Stars are registered trademarks of PlayFirst, Inc. All other trademarks are property of their respective owners.