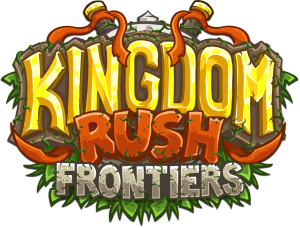 Upgrade towers…upgrade heroes…upgrade waiting in line at the post office…upgrade your daily commute…upgrade your LIFE!
MONTEVIDEO, Uruguay – June 6, 2013 – Ironhide Game Studio, the manipulative scoundrels who stole millions of otherwise productive hours with a little game called Kingdom Rush, today launched its latest assault on your sanity with Kingdom Rush: Frontiers, available now on iPhone, iPad, and iPod touch. As a bigger, badder, and beefed-up return to Kingdom Rush's intoxicating world of dwarfs and dragons, Kingdom Rush: Frontiers builds on the original game's furious tower-defense gameplay with flashy new towers, levels, and heroes. It's like a catapult-load of awesome features launched straight into your face… and it hurts so good!
Don your armor, sharpen your blades, and channel your fighting spirit with the game's official trailer, or the preview trailers for heroes like Ashbite the Dragon, Blackthorne the Pirate, Mirage the Assassin, Cronan the Beast Master and Alric the Warrior.
Or skip all that frivolity, download the game and to get rushin':
iPhone link: https://itunes.apple.com/us/app/kingdom-rush-frontiers/id598581396?ls=1&mt=8
iPad link: https://itunes.apple.com/us/app/kingdom-rush-frontiers-hd/id598581619?ls=1&mt=8
"To one-up our own tower-defense formula, we basically took the original Kingdom Rush, shoved it into a bottle of dragon's blood, gorilla hair, and arrowheads… then we shook things up and popped the cork. What spilled out is this bad-ass thing we call Kingdom Rush Frontiers," said Alvaro Azofra, Dark Arts Master and Co-founder of Ironhide. "It sounds messy, but after a full year of toil, we've got loads of content and deeper, more devilishly addictive gameplay than ever."
Kingdom Rush: Frontiers extends Ironhide's mastery of the tower-defense genre, keeping its signature accessibility while packing in a treasure-trove of new stuff for the brand's millions of fans. With dozens of new levels, towers, heroes, and enemies – and snazzy ways to murder them – the game really takes Kingdom Rush to a new… uh, frontier. Ka-blammo!
Like a necromancer's revived warriors, you'll be zombified with non-stop gaming delight thanks to the following features:

Eight New Special Towers – Blitz the battlefield with new units like spooky necromancers, dead-eye crossbow-women, and even earthquake machines… shake things up, literally.
Exotic New Levels – Fortify the frontier across three new terrains in desolate deserts, lush jungles, and the caves of the underworld ruled by the great Dark Lord. Oh, you thought spelunking was already scary enough?
A Whole New Horde – Slice, sizzle, and stomp more than 40 would-be assailants, from cursed mummies to mystical genies. What were you expecting? More goblins? That's so 2012.
A Heap of Heroes – Throw down the gauntlet with nine fully customizable heroes like Grawl the stone giant and Captain Blackthorne the renegade corsair. Yo-ho!
Bells and Whistles… and Giant Sandworms – If you like widgets and doo-dads, well… we're chock full of 'em. Seventy achievements, unlockable weapons, and even a Dragon that will set your enemies on fire — all that and plenty more.
Critical praise for Kingdom Rush: IGN Editor's Choice, Slide To Play Must Have, 148 Apps Editor's Choice, Jay is Games Game of the Year, Pocket Gamer Gold Award, Touch Arcade 4.5/5, CNET Best iPad Games
Join the battle with Kingdom Rush: Frontiers on iPhone and iPod from the App Store here for $2.99: https://itunes.apple.com/us/app/kingdom-rush-frontiers/id598581396?ls=1&mt=8

Or step things up with Kingdom Rush: Frontiers HD for iPad, available from the App Store here for $4.99: https://itunes.apple.com/us/app/kingdom-rush-frontiers-hd/id598581619?ls=1&mt=8
Assets
Download the press kit
About Ironhide Game Studio
Ironhide Games is a startup developer of casual indie games founded in January 2010, by Alvaro Azofra, Pablo Realini & Gonzalo Sande. Their goal is to produce high quality, well-designed, highly entertaining casual games and have fun doing so. Ironhide has released three titles so far, including Clash of the Olympians, Soccer Challenge: World Cup and Kingdom Rush.
Learn more at http://www.ironhidegames.com/
---
Media Contact
Rich Jones, TriplePoint for Ironhide Studios
rjones@triplepointpr.com
(212) 730-9744