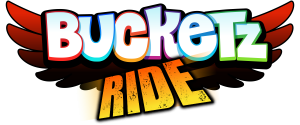 SAN FRANCISCO – June 13, 2013 – Picnic Hippo, a mobile game development studio behind the widely popular action-physics game Bucketz, has released the iOS exclusive sequel Bucketz Ride. Rocket into the sky by quickly stashing objects, with everything from blueberries to diamond rings to grand pianos getting swiftly crammed into the heroic buckets. The game features the original's goofy, personality-packed characters and fast-action physics with the goal of maintaining balance (and your composure) when things start flying fast. Players will re-unite with the Gang of Nine Bucketz, while the new endless format has them embarking on a colossal journey with their friends, racing asynchronously to see who can reach "The Big Secret" first!
Download Bucketz Ride today, free on the iTunes App Store:
For iPhone and iPod touch: https://itunes.apple.com/app/bucketz-ride/id606186000?ls=1&mt=8
For iPad: https://itunes.apple.com/app/bucketz-ride-hd/id607608563?ls=1&mt=8
Watch the Cinematic Trailer: http://www.youtube.com/watch?v=R7WGOtPd6cY
Bucketz Ride mashes up balance and physics gameplay, adding some twists to the "stash it fast" gameplay of the original.  In Bucketz Ride, players fuel their Rocket Ship (a teeter-totter scale at the bottom of the screen) by flicking and swiping over 1,000 different items, grabbing them from the sky and flinging them into the Bucketz below. To make their way out of The Pit and up into the sky, players will make split-second tactical choices to stash, juggle, avoid or utilize items as they careen across the screen.  Now with competitive multiplayer, gamers will feel the thrill of zooming past their rivals (not to mention the agony of having their top score bested).
Bucketz Ride features:
Colorful bucket characters oozing with personality, thanks to funny voice acting and animation
Fast, intuitive "flick and swipe" gameplay: stash items into the Bucketz rapid-fire, with everything from swim fins to electric guitars tipping the scale
Countless surprises and obstacles like devious shape-shifting minions and sneaky smoke grenades that obscures vision
Helpful power-ups including a Yin Yang that restores balance and a Pocket Watch that slows down the action (and paves the way for massive combos)
Seven worlds, with each level procedurally generated so that no two rides are the same
The "Ride" takes players through the planet's core to the oceans, bustling cityscapes and all the way beyond the stars. Uncover the "Big Secret" by reaching the top!
Achievements and leaderboards to compete with friends in real time and share results over Facebook and Game Center.
Asynchronous multiplayer lets you jockey for position as you strive to out-stash your friends.
"With Bucketz Ride we've created a fantastic journey for all types of players to embark on together," said Bora Kutlu, creative director at Picnic Hippo. "Actually, it's a journey that oddly mirrors our lives, beginning with birth… about keeping things in balance, avoiding the bad while reaching for the good, and finally, about our shared quest to uncover the mystery at the end.  With our game, you get all this from the perspective of a bunch of flimsy, loud-mouthed buckets!"
Download Bucketz Ride today for free on your iOS device:
For iPhone and iPod touch: https://itunes.apple.com/app/bucketz-ride/id606186000?ls=1&mt=8
For iPad: https://itunes.apple.com/app/bucketz-ride-hd/id607608563?ls=1&mt=8
Download the Press Kit
Join in on the fun on Facebook or follow on Twitter to stay updated on all the latest news.
About Picnic Hippo
Picnic Hippo is a developer of high-quality mobile game franchises including the critically acclaimed iOS and Android game Bucketz. Based in the UK with offices in Istanbul and Los Angeles, the studio was established in 2011. Picnic Hippo works with a team of talented individuals that share a passion for making games that break the mold in every possible way, blending the intuitive with the innovative. Delivering unforgettable experiences to gamers across the world is the company's ultimate goal — excellence in all aspects is non-negotiable.
For more information visit picnichippo.com. Fans can like the company on Facebook and follow on Twitter.
---
Media Contact
Lucas Cartwright, TriplePoint for Picnic Hippo
lcartwright@triplepointpr.com