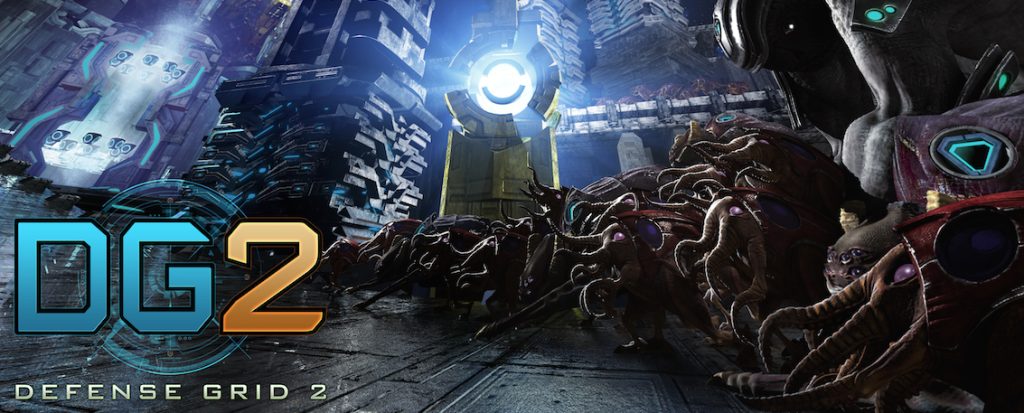 Sequel to the hit tower defense game blasts onto Steam,
 PlayStation® 4 and Xbox® One
WESTLAKE VILLAGE, Calif. — Sept. 23, 2014 – 505 Games and Hidden Path Entertainment  announced the official launch of Defense Grid 2 (DG2), the long-awaited sequel to the 2008 definitive tower defense game, Defense Grid: The Awakening. DG2 introduces new worlds and threats to test player's tower placement strategies in single-player mode, online player-versus-player and multiplayer co-op campaigns. With 21 engaging maps and endless ways to win, DG2 will challenge your strategy skills and once again define the tower defense genre.
Defense Grid 2 features gorgeous landscapes and intuitive gameplay as players defend against new threats to ensure the survival of the human race. The game features dynamic level movement, a rich story and cast of characters, hundreds of challenge mode experiences, new multiplayer modes, and a procedurally driven audioscore. DG2 also introduces players to DG Architect, a level creation tool set connected to Steam Workshop in which players can create their own unique levels to share and potentially sell.
Defense Grid 2 is priced at $24.99 for digital download on PC (Steam) (PC, Mac, Linux), PlayStation®4 and Xbox® One. A special edition of DG2, priced at $29.99, is also available on Steam and includes: the digital book, The Art of Defense Grid 2; the ebook, The Making of Defense Grid 2: The Complete Story Behind the Game by Russ Pitts; and additional content including "A Matter of Endurance," a new original audio story written by Hugo award-winning author Mary Robinette Kowal and performed by the English voice cast.
Defense Grid 2 for Mac and Linux is now available to play and will be optimized for each platform on October 14.
####
To request a review code for Defense Grid 2, press should contact Valerie Turpin at TriplePoint: vturpin@triplepointpr.com
Assets
Download the launch trailer
View the launch trailer on YouTube
For the latest screenshots, please visit www.505games.com/press
About Hidden Path
Hidden Path Entertainment is an independent video game company established to develop and produce interactive entertainment software for current and future generations of PCs, video game consoles and other computing platforms. Hidden Path focuses on immersive, fun, and well-designed game experiences that allow players to express themselves creatively as well. The company is currently working on independently funded and partner-funded projects with some of the most popular companies in gaming. For more information visit: http://www.hiddenpath.com/
About 505 Games
505 Games is a global video game publisher focused on offering a broad selection of titles for players of all ages and levels.  The company publishes games on leading console and handheld platforms as well as for mobile devices and social networks. Product highlights include: Sniper Elite V2, PAYDAY 2, Brothers – A Tale of Two Sons, Terraria, How To Survive, Tiny Brains, and the upcoming Sniper Elite 3 and Defense Grid 2.
505 Games has offices in Los Angeles, Milton Keynes, UK, Lyon, Munich, Milan and Madrid and a network of distribution partners within the Nordic territories and Australia.  For more information on 505 Games and its products please visit www.505games.com.
---
Media Contact
For 505 Games
Brandon Cox, 505 Games
bcox@505games.com
818-540-3013
Valerie Turpin, TriplePoint PR
vturpin@triplepointpr.com
212-730-9744
For Hidden Path Entertainment:
Shannon Gerritzen
shannon@hiddenpath.com
253-905-3478