Reserve Your Place to Start Battling with a New Strategy Title Set in WH40K Universe
SYDNEY – February 3, 2015 – Regicide, the strategy game based on chess set in the classic Warhammer 40,000 Universe from Games Workshop, is now taking pre-orders for Collector's Edition Bundles which feature PC game keys that grant in-development access to the game when it goes live. Regicide gives strategy fans a brutal take on chess gameplay with powered-up pieces, variable battlefields, and the rich, celebrated lore of the Warhammer 40,000 universe.
The Collector's Edition Bundles for Regicide include premium physical items; must-haves for a discerning collector of relics from the Warhammer 40,000 universe. Players who purchase these limited edition bundles will receive, in addition to the in-dev game key, a set of high quality art prints of iconic characters from the game, and limited edition apparel designed by acclaimed Warhammer 40,000 artist Stefan Kopinski.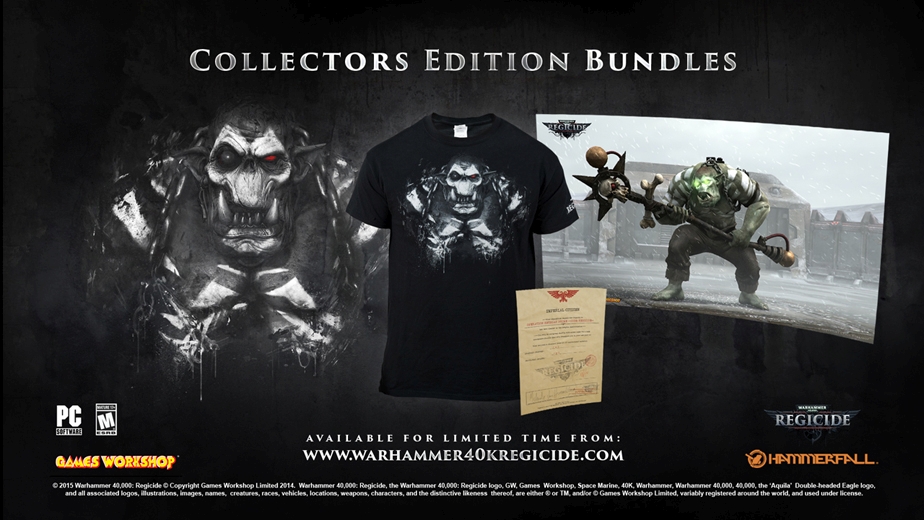 To claim your Warhammer 40,000: Regicide Collector's Edition bundle, visit: www.warhammer40kregicide.com/store
To accompany the launch of the Collector's Edition, Hammerfall has also released a cinematic trailer featuring in-engine shots of the game's brutal action. Check it out, here: https://www.youtube.com/watch?v=CC5871U4E4o

Regicide features a rich narrative, describing a perilous conflict between Space Marines and vile alien Orks. It reinvents the traditional game of chess with dynamic gameplay features. The game allows players to:
§  Power up pieces, unleash psychic powers, and crush foes through multiple phases of combat.
§  Match wits against the highly advanced Codex AI engine, or battle others PvP and score a checkmate at the end of a bloodied chainsword.
Regicide showcases a tactical, single-player Blood Angels campaign written by an original Warhammer  40,000 author. The game also features a cross-platform multiplayer experience that enables players to go to war anytime, anywhere against opponents worldwide as traditional gaming meets highly detailed production. For more information about Regicide, visit www.warhammer40kregicide.com.
To connect with fellow Warhammer fans, visit the Warhammer 40,000: Regicide forums at http://www.warhammer40kregicide.com/forums.
About Hammerfall Publishing
Hammerfall Publishing is an independent game developer based in Sydney. Inspired by the lore and legacy of the Warhammer® 40,000® universe, Hammerfall Publishing makes its debut with Warhammer® 40,000®: Regicide. Focusing on cross-platform gameplay, Hammerfall Publishing aims to meld high-calibre PC gaming with the Warhammer® 40,000® dystopia. For more information, visit www.hammerfallpublishing.com.
Games Workshop® Group PLC (LSE:GAW.L) is based in Nottingham, UK. Games Workshop designs, manufactures, retails, and distributes its range of Warhammer® and Warhammer® 40,000® games, miniature soldiers, novels and model kits through more than 400 of its own Hobby centres, the Internet and independent retail channels in more than 50 countries worldwide. More information about Games Workshop can be found at www.games-workshop.com and further details about all of Games Workshop's licensees and their products are at licensing.games-workshop.com.
Media Contact
TriplePoint PR for Hammerfall Publishing
hammerfall@triplepointpr.com
(415) 955-8500
© 2015 Warhammer 40,000: Regicide © Copyright Games Workshop Limited 2014. Warhammer 40,000: Regicide, the Warhammer 40,000: Regicide logo, GW, Games Workshop, Space Marine, 40K, Warhammer, Warhammer 40,000, 40,000, the 'Aquila' Double-headed Eagle logo, and all associated logos, illustrations, images, names, creatures, races, vehicles, locations, weapons, characters, and the distinctive likeness thereof, are either ® or TM, and/or © Games Workshop Limited, variably registered around the world, and used under license.