Streaming service sets industry standards with customizable modular interface, open platform, and 24/7 customer support
LOS ANGELES – August 5, 2015 – Azubu, the nothing-but-eSports livestreaming platform, today announced that its completely rebuilt 3.0 platform has officially launched. Designed with community feedback and expectations top of mind, Azubu 3.0 is an open-platform service that provides a new user interface and a customizable streaming experience for the eSports community. Transitioning from the beta.azubu.tv URL, the new Azubu experience will continue to be treated as a public beta, with rapid updates, new features, and constant refinement based on community feedback, accessable at Azubu.tv. For users who want to compare the new 3.0 experience to the earlier version of Azubu, Azubu 2.0 will be available for a limited time at oldschool.azubu.tv!
In the coming weeks Azubu will continue to roll out additional feature-rich tool sets, allowing streamers and viewers the ability to create and control their streaming experience. Broadcasters, eSports fans, and gamers can visit Azubu.TV to see the new platform in action and provide real time feedback to help the platform evolve.
"Since we launched, we've had phenomenal feedback – over 90% of it positive – and some great suggestions for improvement" said Azubu CEO, Ian Sharpe. "3.0 is bigger than an upgraded video player or a more streamlined global infrastructure. It is a reflection of our dedication to eSports. It is a way to empower the community. The need for an eSports-dedicated streaming platform is greater than ever and we want to continue to build out a platform that reflects just that: all eSports, all of the time."
In addition to allowing any user to stream, as well as a complete website and branding redesign, Azubu 3.0 introduces a new modular layout that gives broadcasters control over how their stream is being displayed to viewers. Broadcasters can custom-design pages to address their individual tastes and those of their viewers with the option of choosing a variety of modules, such as social, stats, profile, and chat, with more modules rolling out post launch. The modules are one of many features that are still being tested, fine-tuned, and evolved, so Azubu welcomes community feedback for this and all features on the platform.
Azubu 3.0 also has a feature not normally seen amongst livestreaming platforms: full 24/7 live customer support for broadcasters in 3 separate languages – English, Korean, and Portuguese – with more to come as Azubu continues to grow its global audience.
To see the new site and for more information on Azubu 3.0, please visit www.azubu.tv, follow Azubu on Twitter @AzubuTV, and like the Facebook page at www.facebook.com/AzubuMedia.
About Azubu
Azubu is a global entertainment network focused on eSports, providing unparalleled gaming, viewing, and interactive experiences for both broadcasters and the community. Coming together to watch the biggest names and tournaments, users across the globe engage in the highest definition eSports content. Created for and driven by the community, Azubu delivers a "lean-in" experience for viewers to interact with their favorite games, players, and organizations, while empowering broadcasters with unique toolsets, superior streaming technology, and more. Azubu was founded in 2011, and is headquartered in Los Angeles with offices in Seoul and Vancouver. For more information, visit www.azubu.tv.
Media Contact
Kat Jones, Azubu
kat.jones@azubu.com
(760) 362-3873
Erin Fan, TriplePoint
efan@triplepointpr.com
(415) 955-8500
Assets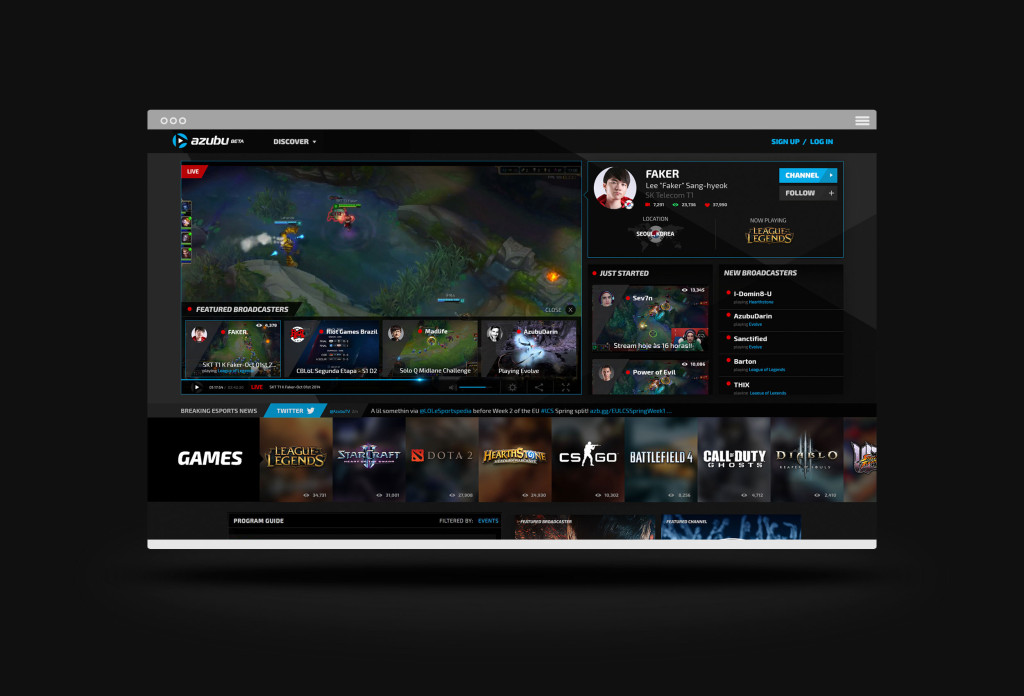 Download the press kit: Azubu 3.0 Press Kit