Industry-first stream engine shows statistics on each player and predicts match outcomes
LOS ANGELES – October 1, 2015 – Azubu, the global entertainment network focused on eSports, today announced a new broadcast feature to enhance the viewing experience of the League of Legends World Championships. Starting today, with the Group Stage matches, Azubu's official tournament stream will provide an option to activate the Azubu Prediction Engine (APE), which includes detailed analysis of each individual player on stage, ultimately predicting the outcome of the match.
"It is important to constantly push the technology that supports eSports broadcasting further. With overlays like these, we want to give fans the ability to choose what they see, when they see it." said Anton Ferraro, Director of Content at Azubu. "The team here has been working extremely hard to create a product that empowers viewers and streamers like never before. The Azubu Prediction Engine is only the first step of a product rollout that will set the bar for what video streaming should allow you to do."
Azubu Prediction Engine (APE) will be accessible via the Azubu player on www.azubu.tv/loleSports. Enabling APE will give viewers the option to see Azubu's predictions for the match outcome, which is based on historical data, as calculated by Azubu's proprietary match prediction algorithm. Predictions will become available for viewing five minutes prior to the start of each match, but disappear immediately before the match starts. Azubu will provide predictions for each match of the World Championships including the World Final.
Watch the League of Legends World Championships, and see the Azubu Prediction Engine (APE) in action starting today on the official LoL eSports channel at www.azubu.tv/lolesports.
For more information on Azubu:
About Azubu
Azubu is a global entertainment network focused on eSports, providing unparalleled gaming, viewing, and interactive experiences for both broadcasters and the community. Coming together to watch the biggest names and tournaments, users across the globe engage in the highest definition eSports content. Created for and driven by the community, Azubu delivers a "lean-in" experience for viewers to interact with their favorite games, players, and organizations, while empowering broadcasters with unique toolsets, superior streaming technology, and more. Azubu was founded in 2011, and is headquartered in Los Angeles with offices in Seoul and Vancouver. For more information, visit www.azubu.tv.
Media Contact
Kat Jones
Director of Marketing
kat.jones@azubu.com
Erin Fan, TriplePoint
efan@triplepointpr.com
(415) 955-8500
Assets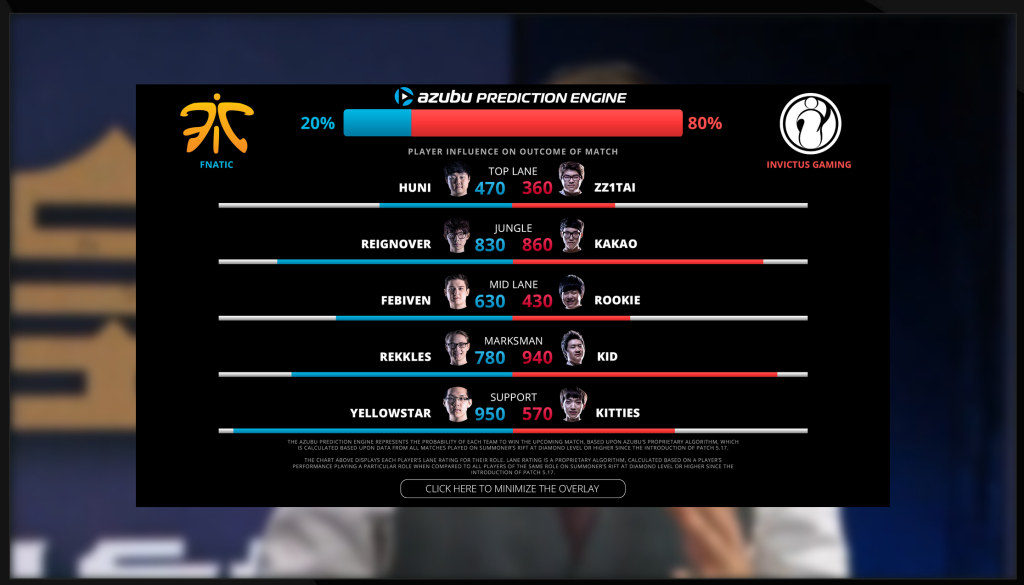 Download the press kit