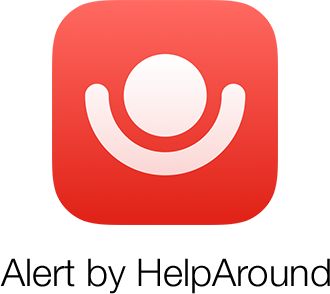 WatchOS 2 app enables seniors in distress to alert and contact their caregivers with a simple tap on the wrist, wherever they are; Sleek design rids of old-school panic button stigmas
TEL-AVIV, Israel – October 6, 2015 – HelpAround, Inc., the creator of the popular Diabetes Helpers peer-to-peer support network and the Alert app for iPhone, iPad and iPod touch, today announced Alert for Apple Watch with support for watchOS 2. Alert for Apple Watch provides seniors in physical or emotional distress a seamless way to simultaneously text their location and conference-in all of their caregivers at once with a simple tap on their wrist. Alert for iPhone, iPad and iPod touch launched in July as the first health app to act in real-time. The data is also incorporated into the Health app on iPhone, allowing care providers to access health information with user permission.
Many seniors forget or refuse to wear panic buttons due to the stigma associated with them, not wanting to come off as dependent and helpless.
"Many of our parents and grandparents really need a way to reach their caregivers when in distress, but are resistant to the idea of wearing a device that screams, 'I might need help!'," said Yishai Knobel, HelpAround co-founder and CEO. "We created Alert for Apple Watch to give our aging population a convenient and accessible way to reach their loved ones in times of need that seamlessly fits in with their everyday lives. Alert for Apple Watch gives them back their independence and allows them to go around freely with peace of mind."
Alerts are either manually initiated by the senior from the Watch face, or suggested to them as a result of physiological signals captured from the Apple Watch. This enables seniors to pre-emptively request assistance when they notice signs of trouble, rather than wait until they are in a critical state.
In chronic conditions such as diabetes where physiological symptoms cause fine motor skills to deteriorate and muddle thinking, operating a phone often becomes a challenge. Having the Alert for Apple Watch increases accessibility and allows disoriented or immobile users to quickly send alerts straight from their wrist without relying on their phone, which speeds up response time and care.
Alert for Apple Watch is available on the App Store, which can be found on the Apple Watch app on iPhone under the Featured tab. The users' alert contacts don't need to use a smartphone to receive alerts. The basic app is available for free and includes the text message service and three conference calls. An upgraded subscription is available for $9.95 a month and includes unlimited calls.
Download the press kit here.
About HelpAround
HelpAround, a Contextual Patient Support company, was founded by Health-Tech and Ad-Tech veterans with the mission of improving the lives of chronic patients by matching each individual with the right resource for their condition at the right time. Their first product, Diabetes Helpers, uses patient data and passive contextual data to pair people with diabetes with helpers in their immediate area. Their new product, Alert, expands on this functionality and makes it easy for users to quickly alert and conference-in their most trusted contacts before reaching out to the nearby community. For more information please visit http://helparound.co/.
###
Media Contacts
Shoshana Nacass
Community Success Manager, HelpAround
+1.917.809.4425
Surabhi Srivastava
TriplePoint, for HelpAround
+1.415.955.8500