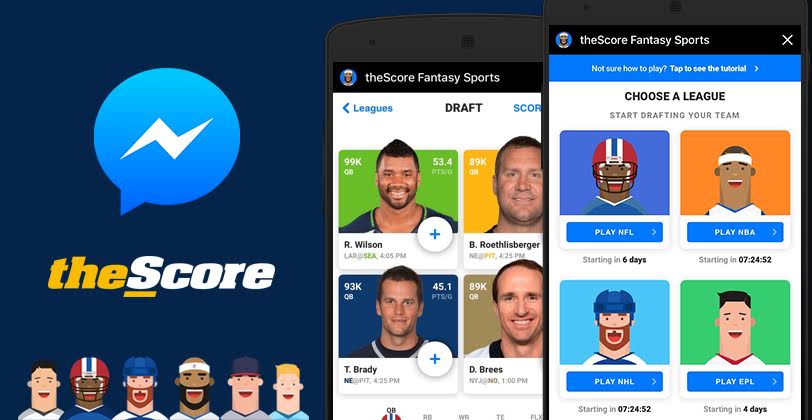 Users can challenge friends in free, daily contests for leagues including NFL, NBA, NHL and EPL on Messenger and Facebook News Feed
TORONTO, January 4, 2018 – theScore, Inc. (TSX Venture: SCR) ("theScore") today announced the launch of the first-ever fantasy sports game for the Instant Games platform on Messenger and Facebook News Feed, allowing friends to challenge each other for bragging rights in contests every single day.
theScore Fantasy Sports goes live today and offers contests for NFL Football, NBA Basketball, NHL Hockey, and EPL Soccer, with support for more leagues coming soon. theScore Fantasy is completely free-to- play and simple to enter. Five-man line-ups make challenges quick and easy to enter, while Messenger enables players to quickly challenge groups of friends and see who scores the most points.
Since launching just over a year ago, the Instant Games platform has continued to grow in popularity and is now home to more than 70 games, including much-loved and well-known titles from established developers. More than 1.3 billion people around the world use Messenger every month.
"We've always believed that the best fantasy sports experience is one that's highly social, with a focus on playing for fun with your friends," said John Levy, CEO and Founder of theScore. "This is why we think theScore Fantasy Sports and Messenger are truly made for each other. "It's extremely exciting to pioneer fantasy sports on Messenger, delivering a game that's fun, free, easy-to- to-play and accessible to sports fans everywhere on a platform with such incredible reach and engagement."
Sports fans simply have to choose a league to get started, draft five athletes within a set budget, challenge their friends, and then sit-back and watch the results roll-in. New challenges are created every single day, so there's always something for everyone.
Sports fans can get started with theScore Fantasy game by clicking here, or by opening Messenger, selecting 'Games' and searching for 'theScore Fantasy Sports.' A project delivered by theScore's Emerging Platforms team, more updates to the theScore Fantasy Sports will follow.

For more information:
James Bigg
Sr. Manager, Communications
theScore, Inc.
Tel: 416.479.8812 ext. 2366
Email: james.bigg@thescore.com

Neither TSX Venture Exchange nor its Regulation Services Provider (as that term is defined in the policies of the TSX Venture Exchange) accepts responsibility for the adequacy or accuracy of this release.
About theScore Inc.
theScore's mission is to create highly-engaging digital products and content that empower the sports fan's experience. Its flagship mobile app 'theScore' is one of the most popular multi-sport news and data apps in North America, serving millions of fans a month. The Company also creates innovative digital sports experiences through its web, social and esports platforms.
Forward-looking (safe harbour) statement
Statements made in this news release that relate to future plans, events or performances are forward-looking statements.  Any statement containing words such as "may", "would", "could", "will",  "believes", "plans", "anticipates", "estimates", "expects" or "intends" and other similar statements which are not historical facts contained in this release are forward-looking, and these statements involve risks and uncertainties and are based on current expectations. Such statements reflect theScore's current views with respect to future events and are subject to certain risks, uncertainties and assumptions. Many factors could cause the Company's actual results, performance or achievements to be materially different from any future results, performance or achievements that may be expressed or implied by such forward looking statements, including among other things, those which are discussed under the heading "Risk Factors" in the Company's Annual Information Form and Short-form Prospectus as filed with the TSX Venture Exchange and available on SEDAR at www.sedar.com and elsewhere in documents that theScore files from time to time with securities regulatory authorities. Should one or more of these risks or uncertainties materialize, or should assumptions underlying the forward-looking statements prove incorrect, actual results could differ materially from the expectations expressed in these forward-looking statements. The Company does not intend, and does not assume any obligation, to update these forward-looking statements except as required by applicable law or regulatory requirements.