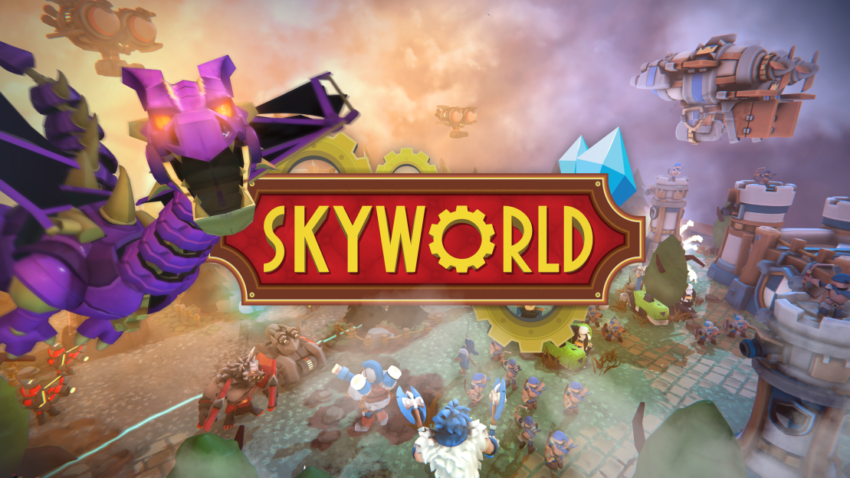 Climb the leaderboards with new player-progression features and rule over the VR battlefield with your army
ROTTERDAM, NL – March 26, 2019 – Vertigo Games and Wolfdog Interactive today launched the award-winning VR war game, Skyworld, for PlayStation VR. Available now on the PlayStation Store, Skyworld offers players the chance to command real-time battles and lead a kingdom at war in online or solo campaigns.
Experience the action of Skyworld in the new launch trailer: https://youtu.be/5P0VX8Vqqec
Following its initial launch on Oculus Rift, HTC Vive, and Windows MR platforms, Skyworld now introduces new features to explore on PSVR. A leveling system allows players to earn XP in single player campaigns and online matchmaking as well as from daily challenges. Special avatars are available, in addition to leaderboards to track player performance.
Skyworld offers a full single-player campaign to defend the universe against the invasion of powerful demons, as well as online match-making against friends and foes. Victory will ultimately be determined by the composition of your army, with 16 available units from Siege Tanks and Flying Fortresses to Knights and Archers.
"With the launch of Skyworld on PSVR, we're excited to bring the hybrid strategy game to a new platform with millions of players," said Richard Stitselaar, Managing Director at Vertigo Games. "We've had so much fun creating a world where players can be ruling both high above their kingdom as well as down low on the battlefield with their army."
Skyworld is now available for purchase at SRP $29.99/€29.99 on the PlayStation Store.
# # #
Assets
Launch Trailer: https://youtu.be/5P0VX8Vqqec
Press Kit: https://we.tl/t-dYcNpBTbrD
…
About Skyworld
Claim command over the VR battlefield! Put the power of a full army – even dragons – at your fingertips in Skyworld, the award-winning RTS/TBS wargame for VR from the creators of Arizona Sunshine. Build and command your forces right in the VR world, conquer all Skyworlds in a royal campaign, and wage war against friends in online multiplayer. http://skyworld-game.com
About Vertigo Games
Founded in 2008, Vertigo Games is a game developer and publisher that since the start of the modern VR era has exclusively developed and launched full-feature games for VR. The company is best-known for the platinum-selling VR FPS Arizona Sunshine, the VR puzzle adventure A Fisherman's Tale, and the award-winning VR strategy game Skyworld. http://vertigo-games.com
About Wolfdog Interactive
Wolfdog Interactive is a Dutch game development studio specializing in Virtual Reality. Founded back in 2014, the studio was one of the first companies to fully focus on the creation of VR entertainment games. We use all our VR knowledge to bring you the most immersive and interactive experience possible, with games that are designed from the ground up for VR. http://wolfdog-interactive.com
…
Press Contact
Vertigo Games
P.O. Box 21300
3001 AH Rotterdam
The Netherlands
…