Get ready for the biggest, Clankiest! Clank! you've ever experienced!
Denver, CO – 7/31/2019 – Dire Wolf Digital, in partnership with Penny Arcade, announced today that Clank! Legacy: Acquisitions Incorporated will be available this September at retailers everywhere!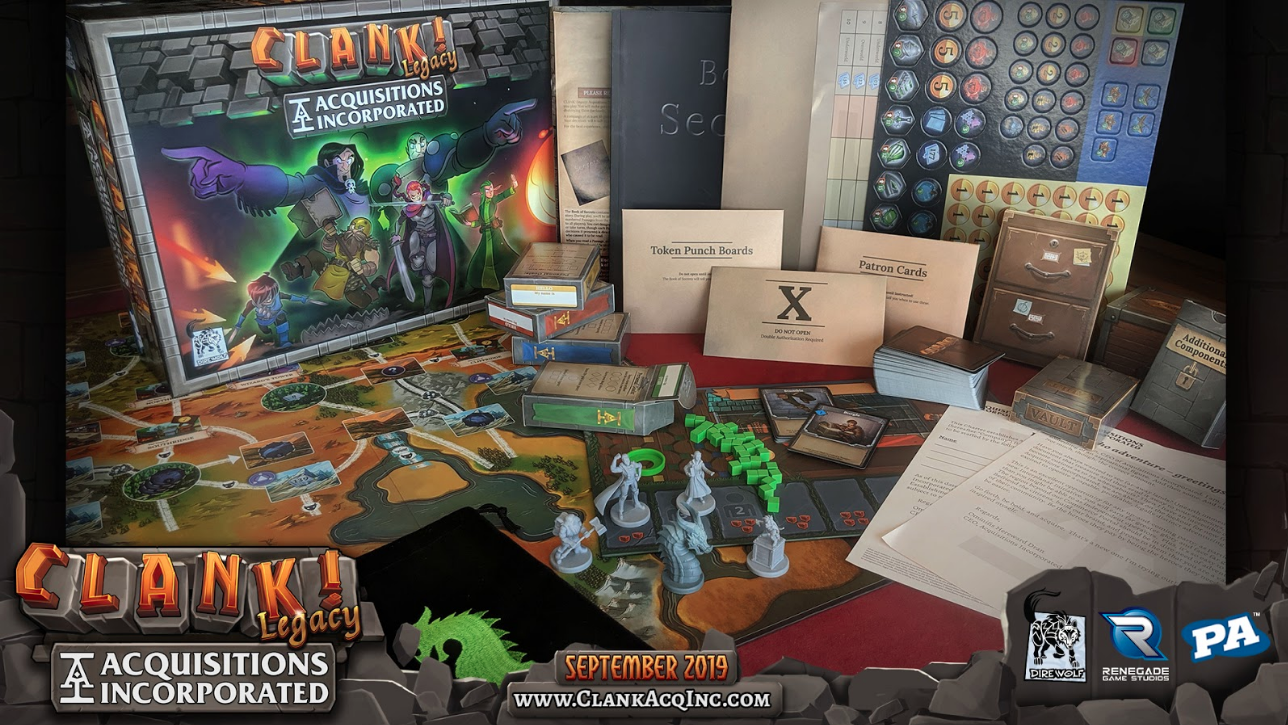 The 9-to-5 of adventuring can be a grind. Pesky gremlins, sinister vampires, and a giant dragon all stand between you and the treasure you so rightfully deserve. But you're not in it alone. In Clank! Legacy: Acquisitions Incorporated, you're part of the greatest adventuring company in all of the planes – and you may just end up saving the world!
"This is the biggest year ever for Acquisitions Incorporated, and joining Dire Wolf to deliver a Legacy Clank! experience has tantalized me to my very core," said Jerry Holkins, co-founder of Penny Arcade, Child's Play, and PAX. "I'm probably gonna have to get a whole new core now. But I welcome it."

Found your own franchise of the legendary adventuring company Acquisitions Incorporated, and shepherd your fledgling treasure-hunters to immortal corporate glory.
"We've wanted to turn Clank! into a legacy game pretty much since we took our first noisy steps into the dragon's dungeon," said Scott Martins, President of Dire Wolf Digital. "Getting behind the screen with the team at Penny Arcade to bring the Acquisitions Incorporated universe to life has been one hell of a fun adventure, and we can't wait to get it into the hands of Clank! players. (Watch out for Mimics!)"

In this Legacy game, you'll work with and against your co-adventurers through a 10+ game campaign. Your successes, failures, and choices will permanently affect the game and the world around you as your journey unfolds, resulting in a unique and fully replayable Clank! game. Clank! Legacy: Acquisitions Incorporated is a big box packed with everything a fledgling franchisee needs, including:
A two-sided game board

A franchise board

300+ cards

100+ tokens

140+ cubes

Four player miniatures

One dragon miniature

A cloth dragon bag

Sticker sheets

A rulebook

A book of secrets

…and much more!
Continuing the ongoing physical and digital publishing partnership between Dire Wolf and Renegade Game Studios, Clank! Legacy Acquisitions Incorporated will be co-published and distributed by Renegade. Gen Con attendees can get a first look at the game Friday night, August 2nd, at 8pm at the Renegade Rally in Room 139. And it will be on display at Dire Wolf's booth #2507 at Gen Con on Saturday and Sunday.  Limited quantities will be available at PAX West. Fans can pre-order beginning August 8th at www.ClankAcqInc.com, and games will be available at Friendly Local Game Stores everywhere in September.
About Acquisitions Incorporated
At Acquisitions Incorporated, you inquire – and we acquire™. For nearly twenty years, other people have had things you've really wanted and we've gone over there to get those things, even if they didn't want us to do that. Typically, they don't. But we don't work for them, we work for you™. We've acquired it all, but we specialize in staves, gems, and storied weapons of great lineage. We do apply a reasonable surtax for rods, because rods. It's been a problem. This is Acquisitions Incorporated in a nutshell: Defenses negotiable. Merchandise plentiful. Franchises available. 
Acquisitions Incorporated is the show that kicked off an entire genre based on a simple premise: "Friends having fun playing Dungeons & Dragons". Starting as a simple podcast in 2008, "Acq Inc." has grown into a beloved franchise encompassing sell-out live shows, videogame appearances, and weekly streamed spin-off show, Acquisitions Incorporated: The "C" Team.
About Clank!
Co-published by Dire Wolf Digital and Renegade Game Studios, Clank! A Deck-Building Adventure launched one of the most popular new board games lines of recent years.  Followed by expansions Clank! Sunken Treasures, Clank! The Mummy's Curse, and Clank! Expeditions: Gold & Silk, Clank! Expeditions: Temple of the Ape Lords and the out-of-this-world adventures of Clank! In! Space! and Clank! In! Space!: Apocalypse!.
About Penny Arcade
Since 1998, Penny Arcade (www.pennyarcade.com) has grown from a simple online comic strip into an industry-leading media company. With over 3.5 million monthly readers, the New York Times–bestselling "Penny Arcade" comic is widely considered one of the most authentic and influential voices in gamer culture and the gaming industry. Penny Arcade also created PAX — the largest consumer gaming festivals in the U.S and Australia — as well as Child's Play Charity, which has raised over $45 million to benefit children's hospitals.
About Dire Wolf Digital
Dire Wolf Digital is an independent game studio specializing in strategy card games and board games, both digital and physical. Based in Denver, Colorado, the Dire Wolf team includes more than 100 passionate designers, artists and engineers creating and operating games for some of the world's top brands (such as Pokémon TCG Online), as well as our own original properties (such as Eternal, Clank!: A Deck-Building Adventure, and Clank! In! Space!). For more information, please visit https://www.direwolfdigital.com/
About Renegade Game Studios
Renegade Game Studios is a premier developer and publisher of original award winning board and roleplaying games, including Clank! A Deck-Building Adventure, Lanterns: The Harvest Festival, Overlight, and more. Our mission is to publish games that are fun, challenging, and unique.  We believe that gaming is for everybody and that everybody is a gamer; you just have to find the right game!
Visit www.renegadegames.com for additional product information.
Media Inquiries / PR Contact:
TriplePoint for Dire Wolf Digital
direwolf@triplepointpr.com