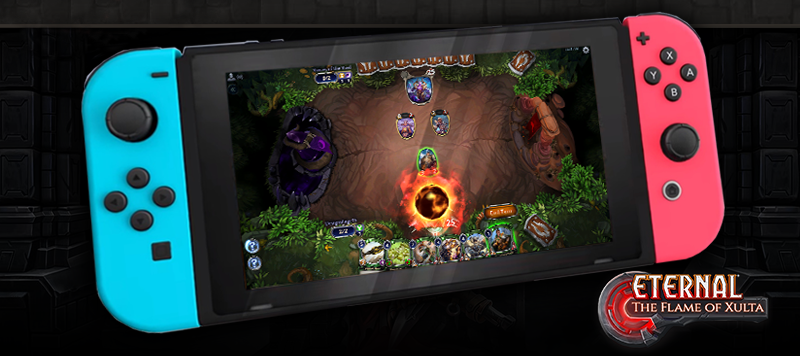 Dire Wolf's hit free-to-play collectible card game expands again with The Flame of Xulta
Denver, CO — Oct. 8, 2019— Dire Wolf Digital today announced that Eternal is now one of the first full-featured digital card games available on Nintendo Switch.
Eternal has won fans over as one of the most truly free-to-play digital card games, with fully-integrated cross-platform play and collection across Steam, iOS, Android, Xbox One and now Nintendo Switch. With a deep card pool and fast-paced strategic combat, Eternal brings the rich tactical gameplay of card games into a digital arena.
"Today is a really exciting day for Eternal, and we're thrilled to be expanding our cross-platform support to include Nintendo Switch," said Scott Martins, President of Dire Wolf. "With a new set, new options in how and when to play, and the return of our World Championship esports competition, there's a lot happening — and a lot more to come."
Yesterday Dire Wolf released a new cross-platform expansion for Eternal, The Flame of Xulta, and announced the second season of their Eternal World Championship esports competition.
With over 200 new cards, new mechanics and gameplay, Eternal's seventh set takes players beyond the Shadowlands, to an ancient world beneath a dying sun in Xulta. Here, gem-clad paladins channel great power to vanquish their foes, gladiators build their legacy in a grand arena, and a mighty dragon gathers the last of his kind for a savage assault. Rise – or fall – with The Flame of Xulta, available now!
Assets for Eternal are available in the press kit.
Get Eternal on Nintendo Switch here.
About Eternal
Eternal is a turn-based strategy card game with unlimited choices and infinite possibilities, and
has been praised as one of the most truly free-to-play digital card games on the market. Combining rich tactical depth with fast-paced action and polish, Eternal allows players to freely mix cards and build any deck imaginable. Pick a faction or create your own to claim the vacated Eternal Throne now – on Steam, iOS, Android, Xbox One and now Nintendo Switch.
About Dire Wolf
Dire Wolf Digital is an independent game studio specializing in both digital and physical strategy card games and board games. Based in Denver, Colorado, the Dire Wolf Digital team includes more than 100 passionate designers, artists and engineers creating games for some of the world's top brands, as well as original properties, including digital strategy card game Eternal, the hit board game Clank!: A Deck-Building Adventure, The Pokémon Trading Card Game Online, Game of Thrones: Oathbreaker, and the acclaimed recent release of Raiders of the North Sea for digital devices, with Yellow & Yangtze in Early Access on Steam and more on the way.
Media/ PR Contact:
TriplePoint on behalf of Dire Wolf
(415) 955-8500