Dire Wolf and Penny Arcade Deliver the Biggest Experience Yet from Award-Winning Clank! Board Game Franchise
DENVER CO. – November 6, 2019 – Dire Wolf Digital, in partnership with Penny Arcade and Renegade Game Studios, announced today that Clank! Legacy: Acquisitions Incorporated is now available at Friendly Local Game Stores across the US and Canada. The newest installment in the best-selling Clank! series brings deck-building adventure to the madcap corporate world of Penny Arcade's Acquisitions Incorporated in a 10+ game Legacy campaign that has early reviewers raving:
"

My favorite Legacy game that I've played."

– Tom Vasel, The Dice Tower

"It's awesome in a box…Best Legacy game ever!" – Man vs Meeple

"Recommend 1000%. You're gonna love it! You need to buy it. This is a Legacy-defining game!" – Brawling Brothers Podcast
Players' successes, failures, and choices will shape the fate of their new Acquisitions Incorporated franchise in a unique Clank! adventure that continues on after the campaign is done.
Clank! Legacy: Acquisitions Incorporated is co-published and distributed by Renegade Game Studios. Begin your climb up the fantasy corporate ladder today. Found your franchise of Clank! Legacy: Acquisitions Incorporated now and learn more at www.clankacqinc.com!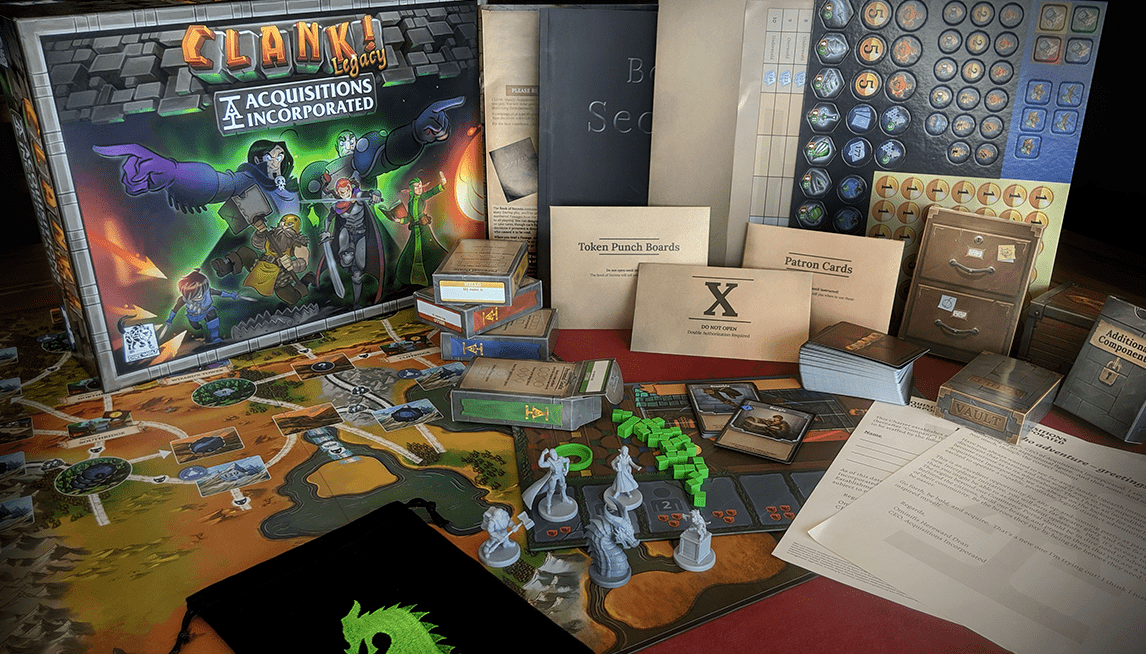 About Acquisitions Incorporated
At Acquisitions Incorporated, you inquire – and we acquire™. For nearly twenty years, other people have had things you've really wanted and we've gone over there to get those things, even if they didn't want us to do that. Typically, they don't. But we don't work for them, we work for you™. We've acquired it all, but we specialize in staves, gems, and storied weapons of great lineage. We do apply a reasonable surtax for rods, because rods. It's been a problem. This is Acquisitions Incorporated in a nutshell: Defenses negotiable. Merchandise plentiful. Franchises available.
Acquisitions Incorporated is the show that kicked off an entire genre based on a simple premise: "Friends having fun playing Dungeons & Dragons". Starting as a simple podcast in 2008, "Acq Inc." has grown into a beloved franchise encompassing sell-out live shows, video game appearances, and weekly streamed spin-off show, Acquisitions Incorporated: The "C" Team.
About Clank!
Co-published by Dire Wolf Digital and Renegade Game Studios, Clank! A Deck-Building Adventure launched one of the most popular new board games lines of recent years.  Followed by expansions Clank! Sunken Treasures, Clank! The Mummy's Curse, and Clank! Expeditions: Gold & Silk, and the out-of-this-world adventures of Clank! In! Space! and Clank! In! Space!: Apocalypse!.
About Penny Arcade
Since 1998, Penny Arcade (www.penny-arcade.com) has grown from a simple online comic strip into an industry-leading media company. With over 3.5 million monthly readers, the New York Times–bestselling "Penny Arcade" comic is widely considered one of the most authentic and influential voices in gamer culture and the gaming industry. Penny Arcade also created PAX — the largest consumer gaming festivals in the U.S and Australia — as well as Child's Play Charity, which has raised over $45 million to benefit children's hospitals.
About Dire Wolf
Dire Wolf Digital is an independent game studio specializing in both digital and physical strategy card games and board games. Based in Denver, Colorado, the Dire Wolf Digital team includes more than 100 passionate designers, artists and engineers creating games for some of the world's top brands, as well as original properties, including digital strategy card game Eternal, the hit board game Clank!: A Deck-Building Adventure, The Pokémon Trading Card Game Online, Game of Thrones: Oathbreaker, and the acclaimed digital adaptation of Raiders of the North Sea, with more on the way. Learn more at www.direwolfdigital.com.
About Renegade Game Studios
Renegade Game Studios is a premier developer and publisher of original award winning board and roleplaying games, including Clank! A Deck-Building Adventure, Lanterns: The Harvest Festival, Overlight, and more. Our mission is to publish games that are fun, challenging, and unique.  We believe that gaming is for everybody and that everybody is a gamer; you just have to find the right game! Visit www.renegadegamestudios.com for additional product information.
###
Media/ PR 
Assets are available in the press kit.