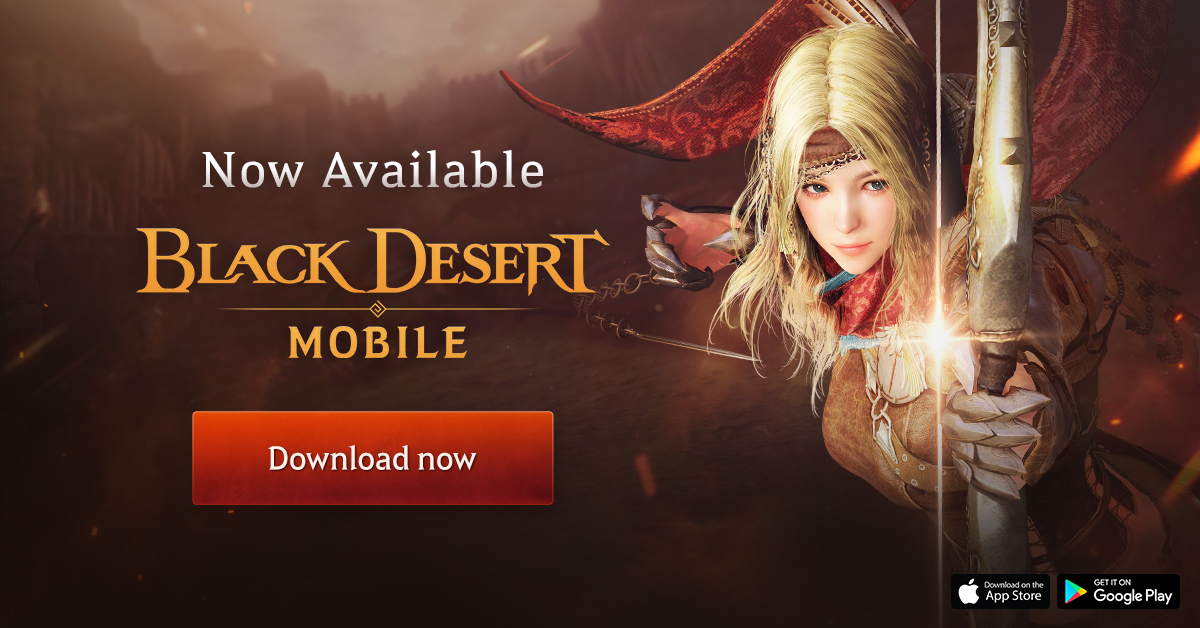 Action MMORPG brings AAA quality graphics to mobile, achieved more than 4.5 million pre-registrations
MANHATTAN BEACH, Calif. – December 11, 2019 – Pearl Abyss today launched the free-to-play open-world action MMORPG, Black Desert Mobile, now available globally on iOS and Android devices. Black Desert Mobile generated a strong player response with more than 4.5M pre-registrations following successful launches in Korea, Japan, Taiwan and the recent soft-launch in seven additional countries. Features include action-packed combat, a deep character customization system, and high graphical fidelity based on Pearl Abyss' proprietary engine. The Black Desert franchise has more than 20 million players on PC, Xbox One, PlayStation®4 and mobile platforms.  
Watch the new grand launch trailer: https://www.youtube.com/watch?v=IxGL5u3g488
Download Black Desert Mobile for free on the iOS App Store or Google Play Store
After choosing from one of five available character classes such as the Warrior, Witch, Ranger, Giant, or Valkyrie, players can take on quests to level up their character and build their camp. In addition to solo play, multiplayer content includes Ramoness, a 3-on-3 PvP mode with an efficient matchmaking system, and the Ancient Ruins co-op boss raid instance. The social experience of working with others is integral to Black Desert Mobile, allowing for collaborative combat in Node War and Conquest War to win unique loot or taking down World Bosses as a team.
Life Skills are another essential element to the player experience, with gathering, fishing, crafting, trading, and dyeing fabrics being vital to gaining resources. Players can build and expand their camps or hire their own workers to gather resources, manage nodes and trade materials and products.
Another special feature is Black Spirit Mode, an extended auto-play element. The mode can be utilized when the game is actively being played as well as when it's closed, allowing adventurers to gain EXP and Rewards through the use of AI simulation. As a result, players can complete tasks without worrying about data or battery usage.
To celebrate over 4.5 million pre-registrations, Pearl Abyss is rewarding all the Black Desert Mobile adventurers with in-game items and special gifts such as Bunny Bunny Ornament, a Tier 1 Horse Emblem, a Verdon Outfit Chest, and Krenvatz Barding. Items that buff character skills are included, such as Memory Fragments, Skillbooks, Chicken Soup and Pet Foods.
Additionally, Pearl Abyss today launched a special campaign in partnership with Amazon. Until March 17th 2020,  Amazon Prime members in any country where Twitch Prime is available can claim Black Desert Mobile rewards. Players can simply log in to their Amazon Prime account and use the event tab to receive in-game buffs, character cosmetics, and items. You can check the list of the eligible country here. 
Current language support includes English, German, Spanish, French, Russian, Thai, and Indonesian, with Portuguese to be added in 2020. More information such as device requirements and country availability can be found here.
For more information about Black Desert Mobile, visit the official website and connect with us on Facebook, Twitter and YouTube.
A press kit for Black Desert Mobile can be found here.
About Black Desert
Black Desert is an open-world action MMORPG with cutting-edge visuals and skill-based combat that redefines the genre. Black Desert has the most developed character customization system of any game that is currently on the market. This feature allows users to break out of the norm and make unique characters that truly represent each and every player. Its intuitive controls, beautifully designed world and extensive lore will excite both newcomers and veterans of MMO games and action RPGs. Black Desert has been successfully launched in over 150 countries, is available in 12 languages and has 20 million registered users.
About Pearl Abyss
Best known for the MMORPG franchise Black Desert, Pearl Abyss is a leading developer in the game industry. Established in 2010, Pearl Abyss has since developed Black Desert for PC, mobile and console. With all their games built on their proprietary engine, their games are renowned for their cutting-edge graphics. The company has three new projects in the works and is poised to continue its growth through 2019 and beyond to maintain its position as one of Asia's leaders in game development. More information about Pearl Abyss is available at: www.pearlabyss.com.
Media/ PR Contact:
TriplePoint on behalf of Pearl Abyss
(415) 955-8500