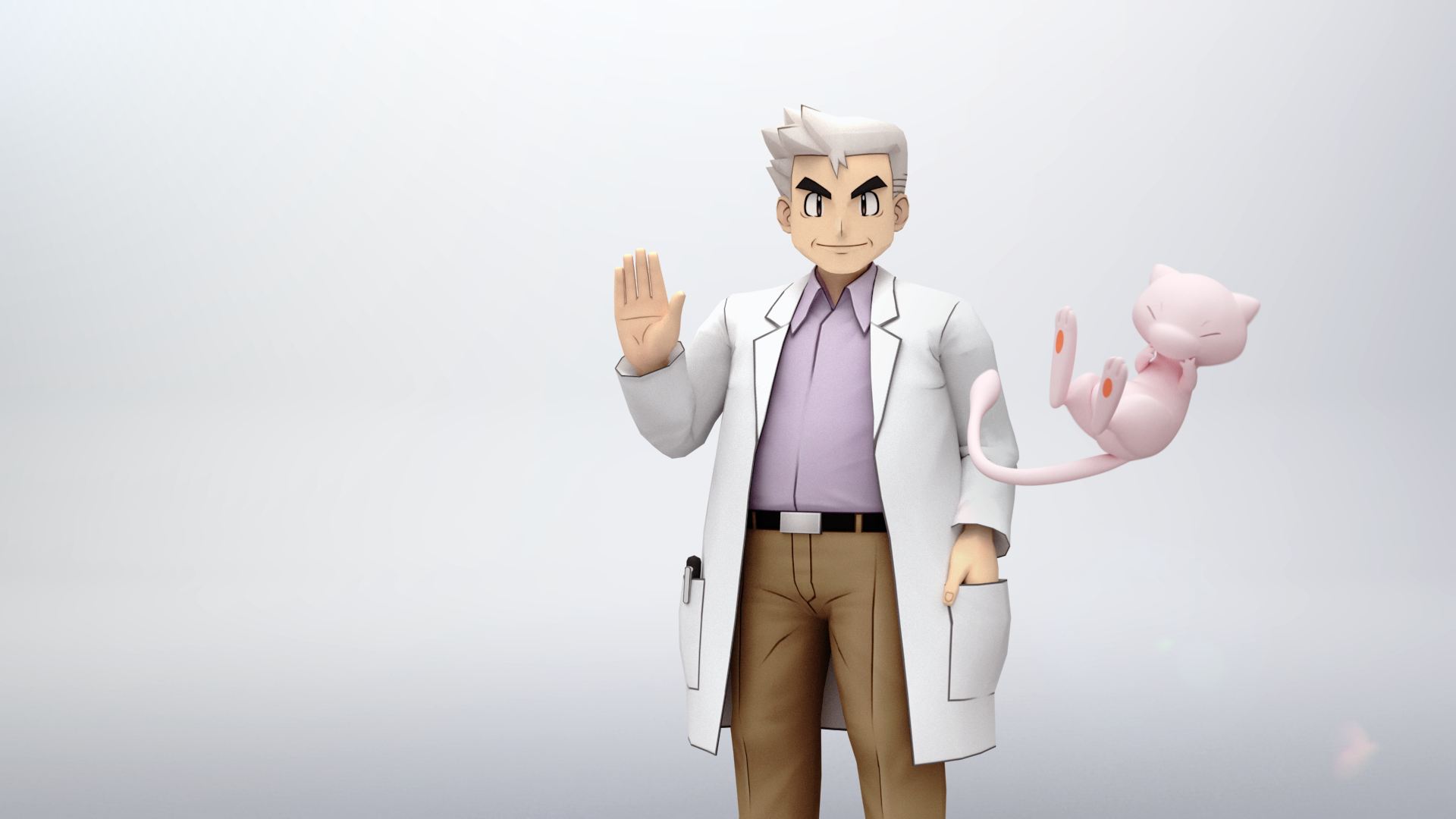 All players that log in during in-game event will receive Professor Oak and his partner Pokémon Mew on their teams
TOKYO — February 14, 2019 — DeNA Co., Ltd., in partnership with The Pokémon Company, has announced that for the first time ever in Pokémon games, Professor Oak will join the battle as a Pokémon Trainer. Accompanied by his partner, the mythical Pokémon Mew, these characters will be distributed to all players that have logged into the game and completed the tutorial before March 15 at 10:59PM Pacific time. Pokémon Masters, a real-time battling and strategy game, can be downloaded on compatible iOS and Android devices. 
A new trailer announcing this update and highlighting Professor Oak's appearances throughout the Pokémon video game series, including his debut with Pokémon Red and Pokémon Blue, can be found here on the official Pokémon YouTube channel: https://youtu.be/9bNDukSYGF8
After receiving Professor Oak & Mew, players that have completed Chapter 2 of the Main Story can upgrade this sync pair by completing "Professor Oak & Mew Special Missions." These missions are available now through March 15 at 10:59PM Pacific time. Players can also experience Professor Oak's "Sync Pair Story" and learn more about how he met Mew and formed a sync pair with this mythical Pokémon. Other Trainers and Pokémon like Red, Blue, Agatha, Bulbasaur, Charmander, and Squirtle also make appearances in this "Sync Pair Story." 
DeNA also announced that the Steel-type sync pair of Steven & Metagross has been added to the game. Players can learn more about Steven, the champion of the Hoenn region, in the in-game story event titled "The Strongest There Is," available to play now until March 15 at 10:59PM Pacific time for those that have completed Chapter 1 of the Main Story. Steven will also be available to obtain in the "Steven Spotlight Poké Fair Scout." A unique feature of this sync pair, shared only by a few others such as Korrina & Lucario, Blue & Pidgeot, and Agatha & Gengar, is that Metagross transforms into its Mega Metagross form after executing a sync move.   
To celebrate these exciting new updates and six months since the game's launch, players that log in each day from now until February 27 at 9:59PM Pacific time will be able to receive up to 3,000 free Gems. The in-game Pokémon Center will also have new decorations and background music.  
Players can check the in-game menus for more information. Note that in-game event dates are subject to change without notice.  
Pokémon Masters is a free-to-start game with in-app purchases on compatible Android and iOS devices and can be downloaded at the links below: 
The game is available in English, French, German, Italian, Japanese, Korean, Spanish, and Traditional Chinese. Fans can learn more about Pokémon Masters at https://pokemonmasters-game.com/en-US. 
They can also stay tuned to the official social media channels on Twitter (https://twitter.com/PokemonMasters), Facebook (https://www.facebook.com/PokemonMastersGame), and Instagram (https://www.instagram.com/pokemonmastersgame), as well as the official YouTube channel (https://www.youtube.com/c/PokemonMastersGame), for news about the game. 
### 
Assets
All assets can be downloaded here: https://drive.google.com/open?id=1H9Q1ydSMR6tdEOu_jJLm5G4MbEu80p_i  
About DeNA
DeNA (pronounced "D-N-A") develops and operates a broad range of mobile and online services including games, e-commerce, entertainment, healthcare, automotive and other diversified offerings. Founded in 1999, DeNA is headquartered in Tokyo with over 2,000 employees. DeNA's aim is to delight and impact the world through the use of the internet and AI. DeNA Co., Ltd. is listed on the Tokyo Stock Exchange (2432). For more information, visit: dena.com/intl/. 
About Pokémon
The Pokémon Company International, a subsidiary of The Pokémon Company in Japan, manages the property outside of Asia and is responsible for brand management, licensing and marketing, the Pokémon Trading Card Game, the animated TV series, home entertainment, and the official Pokémon website. Pokémon was launched in Japan in 1996 and today is one of the most popular children's entertainment properties in the world. For more information, visit www.pokemon.com. 

Media Contacts for Information Inquiries 
North America: DeNA@triplepointpr.com
Europe: DeNA@hopeandglorypr.com
Note: Please refrain from using this information in articles.