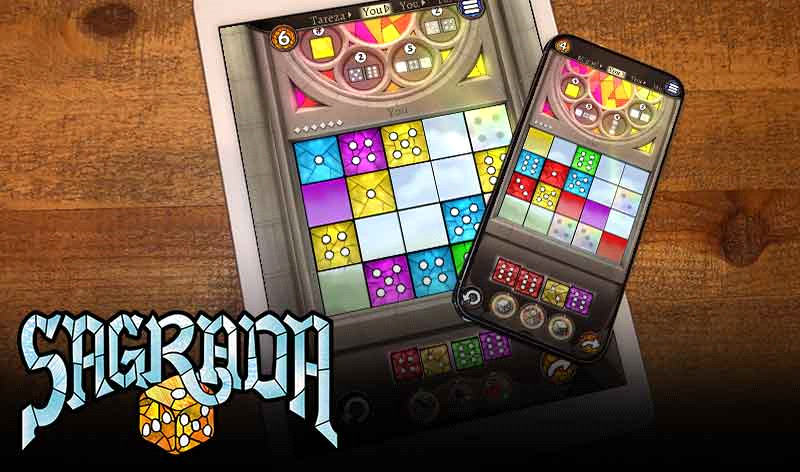 The dice-drafting board game comes to digital life from the team behind the acclaimed adaptation of Raiders of the North Sea.
DENVER, CO – April 1, 2020 – Dire Wolf announced today that their latest digital adaptation of a tabletop game, Floodgate Games' dice-drafting beauty Sagrada, is now available on Steam, iOS and Android.
Indie-darling Sagrada was one of the best-reviewed board games of 2017, and now joins the recent releases of Raiders of the North Sea and Yellow & Yangzte in Dire Wolf's growing library of digital tabletop adaptations.
In Sagrada, players take turns drafting colorful dice and placing them in gorgeous stained-glass windows to complete puzzling patterns. The artisan who creates the most beautiful window wins!
"The first time we played Sagrada, we knew it was something special," says Scott Martins, President of Dire Wolf. "The opportunity to take all of that luminous color and subtle strategy and wrap it up in a great digital game is exactly what we look for in a board game to adapt."
"Working with Dire Wolf to bring Sagrada to digital life has been an exciting process," says Ben Harkins, Owner of Floodgate Games. "They're raising the bar for how tabletop games can look and feel in digital media, and we couldn't be happier with how well Sagrada has come together."
"It's an odd time out there for everybody," continues Martins. "We're seeing a ton of interest in ways to move the social tabletop game experience into the digital world, and our hope is that games like Sagrada can scratch that board game itch from the comfort – and safe distance! – of your couch."
Sagrada is now available on Steam for $9.99 and on iOS and Android phones and tablets for $6.99. A Nintendo Switch release is planned for later this spring.
* * * * *
About Dire Wolf
Dire Wolf Digital is an independent game studio specializing in both digital and physical strategy card games and board games. Based in Denver, Colorado, the Dire Wolf Digital team includes passionate designers, artists and engineers creating games for some of the world's top brands, as well as original properties, including digital strategy card game Eternal, the hit Clank! board game line, The Pokémon Trading Card Game Online, Game of Thrones: Oathbreaker, and acclaimed digital adaptations of board games like Raiders of the North Sea, Yellow & Yangtze, Sagrada, and the forthcoming Root.
Learn more at www.direwolfdigital.com
About Floodgate Games
Floodgate Games is a tabletop game publisher focused on creating everlasting experiences through gaming with titles including Sagrada, Bosk, and the forthcoming Holi: Festival of Colors. Based out of Minnesota, the Floodgate team crafts games that blend relatable themes with deep, yet approachable, game play that delight gamers of all kinds.
Learn more at www.floodgategames.com
* * * * *
Key Requests & Media Contact
press@direwolfdigital.com
Download press assets here.